Drinks
Kitchen Garden tipples, classic cocktails and English wines in our cosy oval panelled Bar.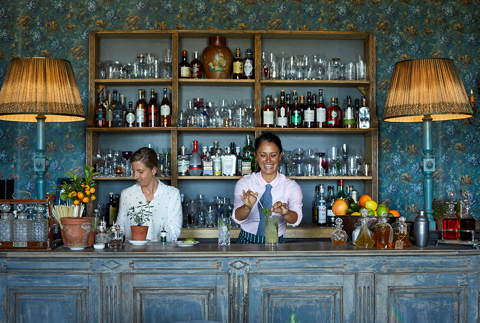 Discover our tipples from garden to glass...
Whether you're joining us first thing for a Garden Bloody Mary pick-me-up or a late nightcap, we will smash, muddle, blend, shake and throw our way to making you your perfect drink. All of our cocktails are designed with the Kitchen Garden in mind. 
Like our restaurant, our aim is to provide high quality products in the most sustainable, local and resourceful way possible.
Our location means we are lucky enough to be surrounded by some award-winning artisan breweries, wineries and distilleries, and you will find them all on our Bar List. Can we tempt you to try something just a little bit different?
English Wine
Wine brings people together – it is the perfect blend!
We believe that wine and food are all about sharing good times with family and friends, cracking open a bottle and settling into an evening together; wine is very much at the heart of THE PIG experience.
Loving local is in our DNA, and when it comes to wine we love nothing more than fruit from our own soil. Our wine lists across the litter boast a HUGE selection of the very best of English wine produced with 25 miles from THE PIG-at Harlyn Bay including Camel Valley (16 miles), as well as across the country including Tillingham (325 miles) and Danbury Ridge (336 miles). 
Beers & Ciders
Cool off from the coast with a cold craft ale or cider from some of the best breweries on the tip of the South West including Harbour Brewery (21 miles), Verdant (34 miles),  Atlantic Brewery (13 miles), Padstow Brewery (2 miles) and Haywood Farm Cider (14 miles).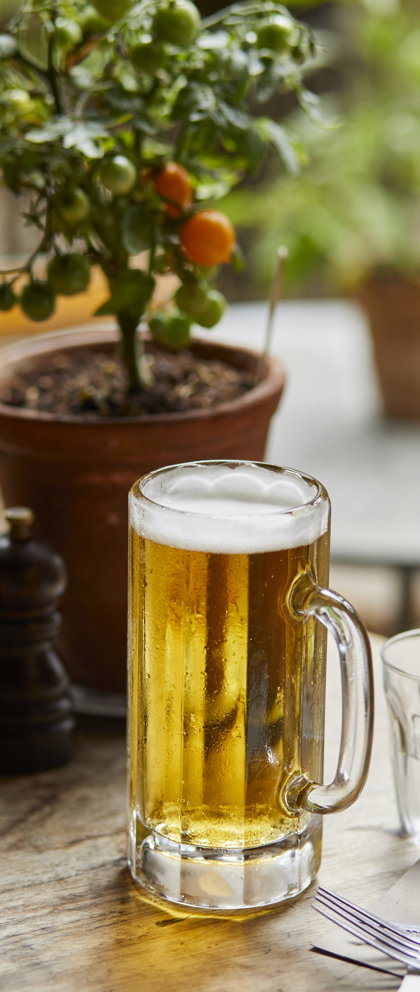 Sparkling Wines
We love a glass of something chilled at THE PIGs. Our signature 'Lobster & Camel' at The Lobster Shed is not to be missed – ultimate combo of lobster, thrice cooked chips and Camel Valley Pinot Noir Rosé Brut (16 miles).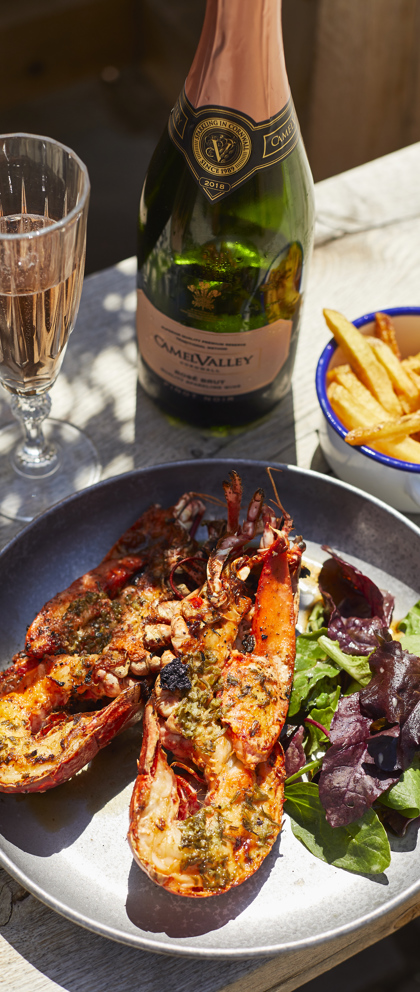 Local Spirits & Liquors
Or try something a little different with our Kitchen Garden to glass cocktails where we infuse with local Spirits and Liquors, including Tarquins Gin (3 miles), Trevethan Distillery (48 miles),  Atlantic Distillery (13 miles),  Caspyn (46 miles), Wrecking Coast (19 miles), Cape Cornwall (56 miles), Morvenna (40 miles) and Moorland Distillery (15 miles).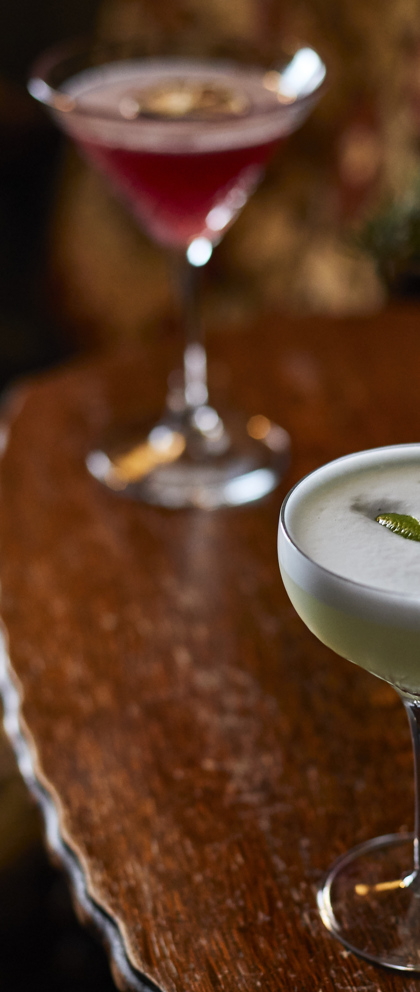 Wine List and Bar Menus
Take a look at what we are shaking, stirring and pouring at THE PIG-at Harlyn Bay.
No need to book!
Just drop by for a tipple or two in our bar lounge or outside on the terrace. Why not order some Piggy Bits whilst you're at it?
Online Availability

The availability shown online is live and always up-to-date. If you can't find the date you're after, please email reservations@thepighotel.com so we can add you to our waiting list.

However, it's worth checking out our other properties as we may have rooms or tables available elsewhere.

Contact Us

0345 225 9494. Our phones can get quite busy at certain times, so please do bear with us. You can also reach us by completing our online form, using our live chat system, by calling us on 01841550240 or by emailing us at reservations@thepighotel.com

Payments

We no longer accept American Express payments. 

Overnight stays at THE PIG-at Harlyn Bay are pre-paid and have a 7 day cancellation policy. Should you need to cancel or amend your reservation, this can be done up to 7 days prior to your arrival – if you cancel after this time it will result in our retaining the charge for the first night of your stay.

Bringing Dogs

We do not permit dogs inside THE PIG-at Harlyn Bay, although they are welcome to join you at The Lobster Shed. Please keep them out of the terrace, resident grounds including the Orchard and Stonehouse Yard, Kitchen Garden and away from our animals.

Dress Code

We'll never tell you what to wear. Our restaurants are informal places, so come in whatever makes you happy and comfortable.

Breakfast Rates

Unless we are running a special deal and it is stated within the terms, all of our rates are on a room only basis so are inclusive of VAT only.

Breakfast is served in the restaurant where you can choose to either dig into our PIG grazing breakfast tables or pick something hot from our breakfast menus. Prices range from £15.95-£19.95.

Food Service Times

Breakfast: Available for residents 7.30am-10am Monday to Sunday

Lunch: 12pm-3pm Monday to Sunday

Dinner: 6pm-9.30pm Monday to Sunday

The Lobster Shed: You can also book at The Lobster Shed for some outdoor all day dining 7 days a week 12pm - 8.30pm. 

Lunch bookings are advised, however, Dinner bookings are essential! 

If you would like to book you can do this online, giving our Reservations team a call on 0345 225 9494 or by emailing reservations@thepighotel.com 

 

 

Rates

Please note our rates stated are at a starting from price, and fluctuate throughout the year depending on season. We sometimes run offers and Late Pig Room Rates.

Electric Vehicle Charging

We currently have three Type 2 7.2kw 32A electrical charging points for vehicles at THE PIG-at Harlyn Bay if you require charging during your visit. These are free of charge to use for PIG guests, fully compatible with all electric cars. Please note you will need to bring your own charging lead, and once your car is fully charged we ask you move it to a regular parking space.

Gift Vouchers

We offer monetary vouchers, as well as lunch, dinner and treatment vouchers. These can be purchased here. 

Please kindly note that you are unable to redeem a Gift Voucher online to make a booking. Please book your room as normal and the team will refund any pre-payments with proof of your voucher. Please just contact reservations@thepighotel.com
Getting here
Far-reaching sea views, oodles of quirks and character and stacks of original features, THE PIG-at Harlyn Bay is in one of Cornwall's hot spots on the north coast.
By road
THE PIG-at Harlyn Bay is accessible following the A30, A389 and A39 heading towards Wadebridge and then follow signs for Padstow. As coming away from Padstow, follow the signs to Harlyn Bay. Once you've reached Harlyn Bay, cross the narrow bridge and continue up the hill. When you get to the top of the hill, turn right and you will get to THE PIG-at Harlyn Bay which is a short drive of around 200 yards away.
Popping our postcode PL28 8SQ into your sat nav will direct you there also.
Why not stop off at THE PIG-at Combe as you head East? Just off the A30 towards Cornwall it is the perfect place to break up the journey with an overnight stay or quick bite to eat.
It is around 2 hours from THE PIG-at Combe to THE PIG-at Harlyn Bay along the A30.
Nearest station
The closest station to THE PIG-at Harlyn Bay is Bodmin Parkway, around 20 miles away.  Trains run direct from London Paddington. The 11A bus runs towards Padstow from Bodmin Parkway, with a change to the A5 towards Newquay followed by a short walk between the bus stop and hotel.
Taxi service
If you're getting to us by taxi give Kjs taxis a call on 07875 637734 who'll be able to get you over to ours in no time. 
Nearest airport
Newquay Airport is 9 miles away from THE PIG-at Harlyn Bay and it takes just around 25 minutes to get there by car.