A little more about us
That dilapidated and overgrown walled kitchen garden, tucked away in the grounds of a tired country house hotel in the New Forest has a lot to answer for…!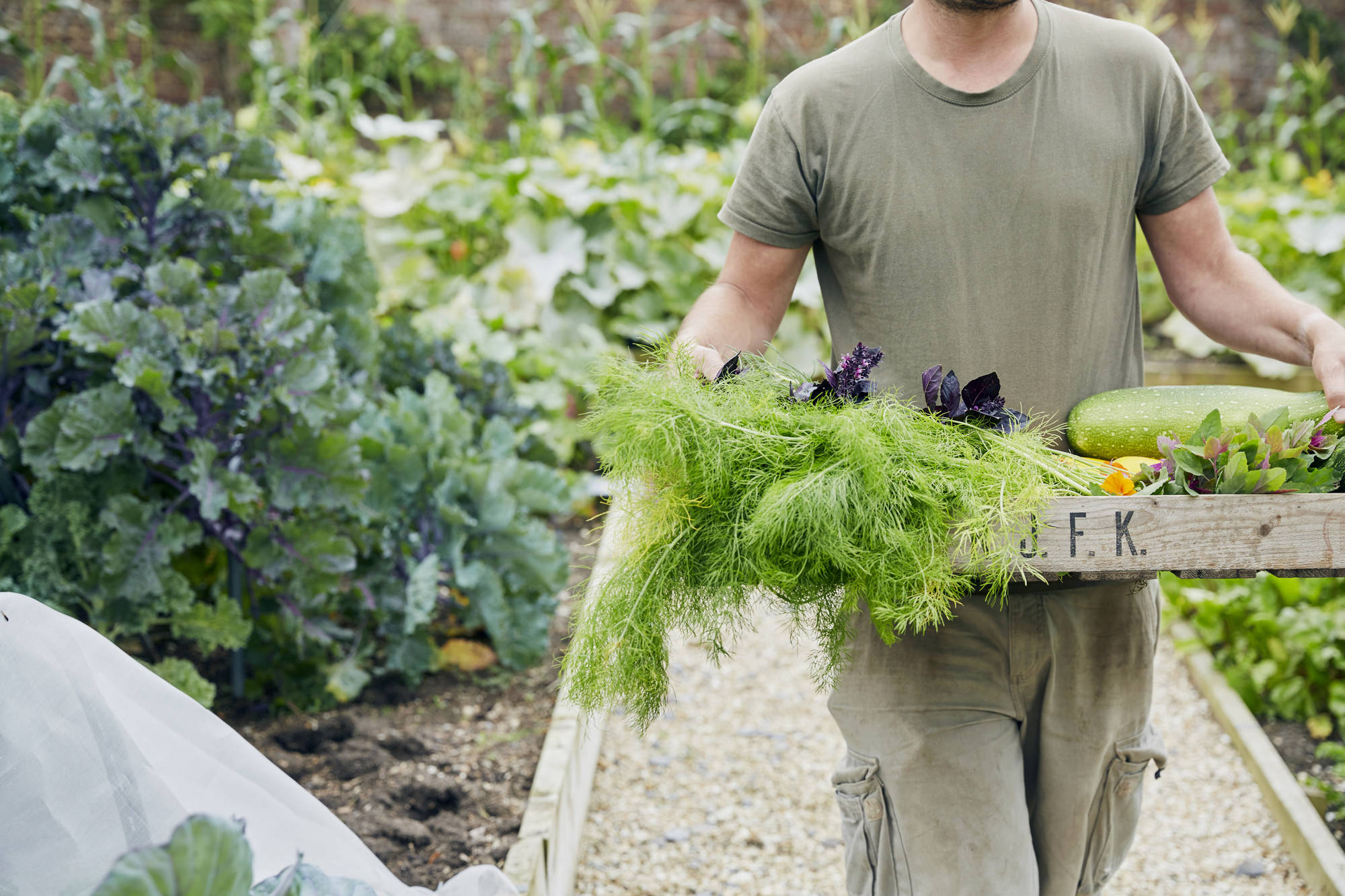 Sparking interests with its tumble-down charm and huge potential
The very first seed sown in the ground in 2011 has led the way to inform everything we do at THE PIG.
Now with eight PIGs in the litter, and by putting the emphasis firmly on the food with a very simple and honest philosophy to only use produce that we can grow ourselves in the kitchen garden or source from within 25-miles, our restaurants with rooms are home-grown in every way.
Each PIG has its own identity, each evolved rather than too designed, but each putting the kitchen garden at the very heart of the operation. This obsessive commitment to home grown and local produce means we can celebrate the seasons and use only what is fresh and available to us; our chef, kitchen gardener and forager work hand in hand to create a menu of uncomplicated and simple British garden food, true to the micro seasons with the emphasis squarely on fresh, clean flavours.
You will not just find that the kitchen garden influences your choices at lunch; its fresh zesty-ness will fill your morning mint tea, its gentle aromas will send you into a trance in our Potting Shed Treatment Huts, its wild flavours will infuse your new favourite G&T and its earthy colours will engulf you at the end of the evening as you fall into that snuggle-in sofa. 
Our local suppliers are some of the most exciting and inspiring artisan producers out there, and with the distinctive character of each of THE PIG's locations, with their unique combinations of ancient woodland, agricultural farmland, some within casting distance of the sea, means we have access to some of the freshest local fish, hand-picked fruits, amazing meats, award-winning cheeses and English wines in the country.
Click to expand galleries
Our sustainability commitment
As a team we are always looking for ways to reduce our footprint, care for and protect the environment and give back to the communities we are a part of. This approach is integral to how we operate and in turn we hope to demonstrate to others that you can succeed as a business in a natural and environmentally correct way.
Here are some of the ways we are working towards being a greener and more socially responsible business…
Garden, Greenhouse and Kitchen
Each hotel uses local food and beverage suppliers in line with our 25-mile menu ethos – reducing food miles and packaging
THE PIG, New Forest is an award-winning member of the Sustainable Restaurant Association, who firmly believe that by working as a collective in the hospitality industry we can improve the food on our plate which in turn will have a positive, measurable impact on the wider food system. Best practice as a member of SRA is then reflected in the way we run the restaurants in all PIG properties.
We produce around 17 tons of our own fruit and vegetables across our own sites each year, which require no packaging and do not need to travel!
We organically manage our Kitchen Gardens and polytunnels but are not certified
We grow our own mushrooms that are grown on spent coffee grounds that are a by-product of the restaurant waste therefore reducing waste
Since opening the mushroom house, 3472 kilos of mushrooms have been grown.  In 2019 we harvested 1400 kilos of mushrooms.
In one year at THE PIG,  THE PIG-near Bath, THE PIG-at Combe and THE  PIG- on the beach we collected 24,420 chicken eggs, 43,686 quail eggs and 756 duck eggs. Our estimate for 2020 is 36,000 chicken eggs, 60,000 quail eggs.
We forage from both land and sea working alongside a forager who has 40 years of experience in the field
We compost all garden waste
We recycle all cooking oil
We purchase Fish that is approved by the Marine Conservation Society
We work with Belu Water- A British social enterprise, Belu provides us with pure and natural mineral water from Powys in Wales in glass bottles that are made with 35% recycled glass, along with filtration systems which enable us to bottle still and sparkling water on-site. All profits from Belu are used to help end global water poverty; 100% of its profits go to WaterAid, transforming lives worldwide with clean water, decent loos and good hygiene. Since 2010 Belu have raised £5m for Water Aid and have helped to transform over 333,000 lives.
We cure our own meats – reduced food miles
We have our own beehives producing honey and pollinating the garden
We strongly support the English Wine industry, championing vineyards that are local to our hotels.
Reuse, recycle and re-purpose
We recycle glass, cardboard, paper and plastic.
We have removed all plastic from our bars including stirrers, straws and picks.
We are removing all plastic cotton buds and their plastic wrapping from rooms and replacing with paper.
We no longer order 11,000 plastic toothbrushes a year to go into rooms, each room now receives a Strawberry seed packet. If every room took a packet of seeds home 29,581kg of Alpine Strawberries would be planted in a year.
We recycle all coffee capsules from bedrooms
We recycle all menus to make coasters and napkin rings
Bedroom soaps are wrapped in paper
Plastic bottles for soaps are recycled
We rag old linen to use for cleaning
All lightbulbs have been updated to LED bulbs, reducing our overall electricity consumption
We use reclaimed and natural building materials where possible across all properties
We use many antique furnishings and upcycle furniture where possible to give the pieces a second life!
Our Community
We run an Apprenticeship Scheme designed to help young people get into hospitality and develop them into the chefs and hoteliers of the future. The bespoke PIG Chef Apprenticeship programme provides chefs with an accredited training pathway which will enable them to develop the unique knowledge and skills the industry requires.
We support local children's charities including Children's Hospice South West and Farms for City Children, and work with Adopt a School which helps children to develop healthy eating habits and encourages an enthusiasm and interest in food, cooking, food provenance and sustainability, as well as giving an insight into the hospitality industry.
We support Hospitality Action who offer vital assistance to all who work, or have worked within hospitality in the UK and who find themselves in crisis as well as supporting with sustainability in rural communities throughout the world.
We work with Foxes academy who help young adults with learning disabilities into the work place.