Drinks
Kitchen Garden tipples, classic cocktails and English wines in our cosy panelled Bar.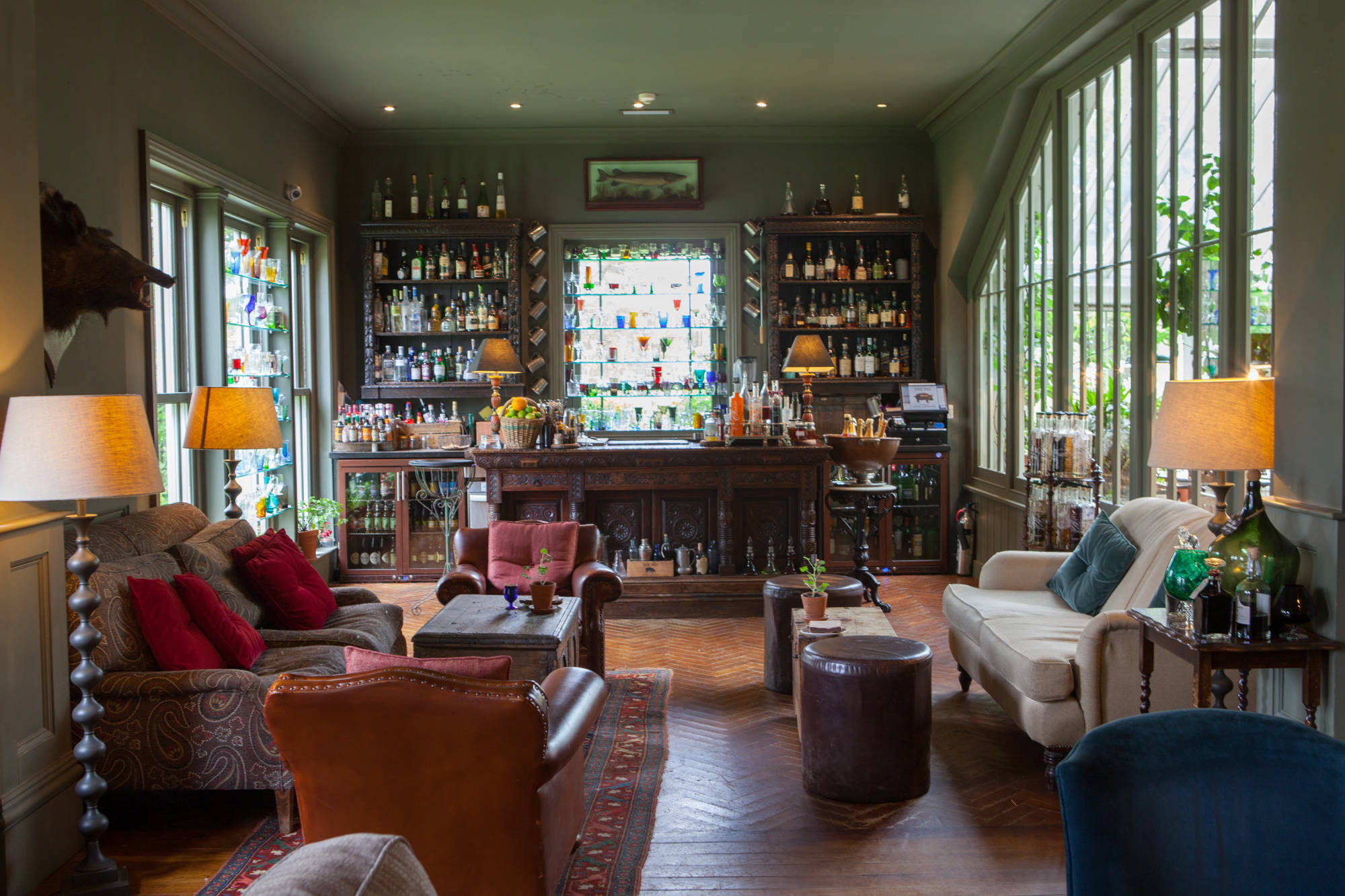 Discover our tipples from garden to glass...
Whether you're joining us first thing for a Garden Bloody Mary pick-me-up or a late nightcap, we will smash, muddle, blend, shake and throw our way to making you your perfect drink. All of our cocktails are designed with the Kitchen Garden in mind. Our Head Kitchen Gardener at THE PIG provides all of the essential ingredients to infuse our Chase Distillery Spirits with. Like our restaurant, our aim is to provide high-quality products in the most sustainable, local and resourceful way possible.
Just drop by for a tipple or two on the terrace or cosy up in our bar lounge during the colder months. Why not order some Piggy Bits whilst you're at it? No need to book, but please be aware that due to physical distancing we will be running at a limited capacity and seating will be on a first come first served basis.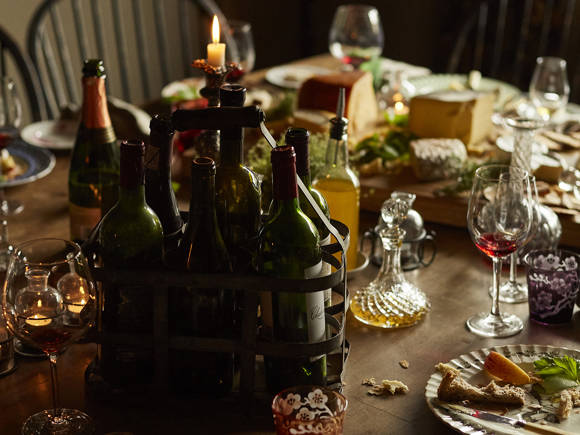 English Wine
Wine brings people together – it is the perfect blend!
We believe that wine and food are all about sharing good times with family and friends, cracking open a bottle and settling into an evening together; wine is very much at the heart of THE PIG experience.
Loving local is in our DNA, and when it comes to wine we love nothing more than fruit from our own soil. Our wine lists across the litter boast a HUGE selection of the very best of English wine produced with 25 miles from THE PIG including Danbury Ridge (27 miles), as well as across the country including Exton Park (34.5 miles), Winbirri (220 miles), Cottonworth (27.6 miles).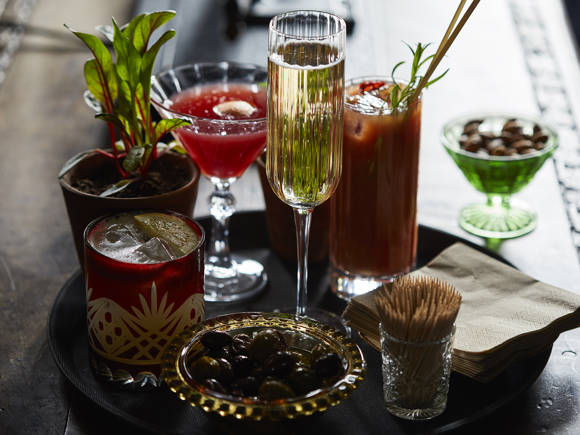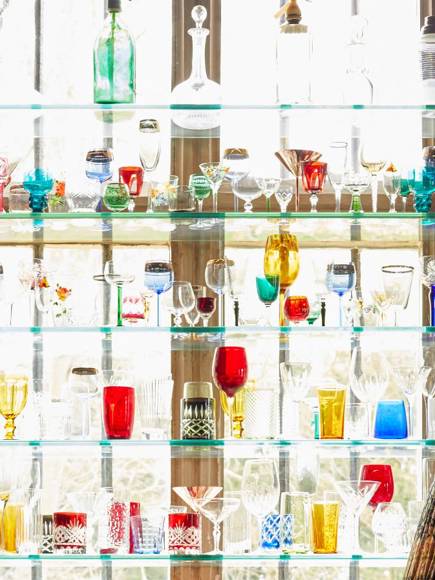 New Forest flavours
We are lucky in the New Forest to have award-winning breweries and distilleries right on our doorstep. You will find a selection of the best tipples around on our Bar List at THE PIG, so you know what's being poured has been produced locally to our very own bar. 
Local Spirits & Liquers
Whether in a cocktail or straight-up on ice, you can find a number of local spirits and liquers at THE PIG including Dancing Cow (6miles), Conker (10miles), Pothercary (9 Miles), Twisted Nose (24Miles) & Isle of Wight Distilleries (20Miles) ...to name a few!
Beers & Ciders
If cocktails aren't up your street, we have a wide selection of local craft ale and ciders from Andwell Brewing (47 miles), Unity Brewing (15 miles), Itchen Valley Brewery (32 miles), Flack Manor Brewery (15 miles), New Forest Cider (10 miles) and more.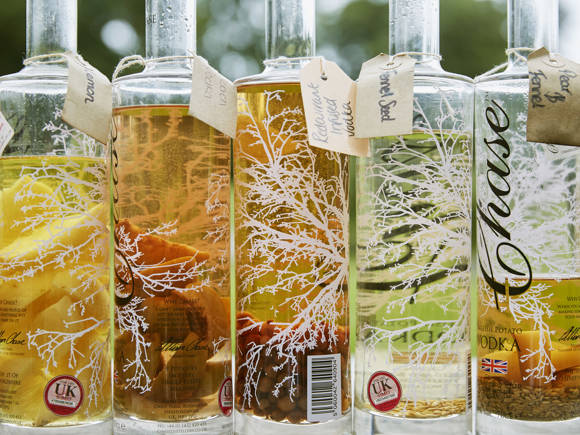 Garden infusions with Chase Distillery 
Head to the bar in any of our PIGs, and you'll notice our eclectic collections of botanical-infused vodkas with all sorts of garden pickings including Rosemary, Thyme, Basil, Horseradish, Cucumber, Strawberry and Pelagonium! The teams behind the bar at THE PIG are the curators of these diverse concoctions, made with herbs and flavours sourced from our kitchen gardens when they're at their absolute best.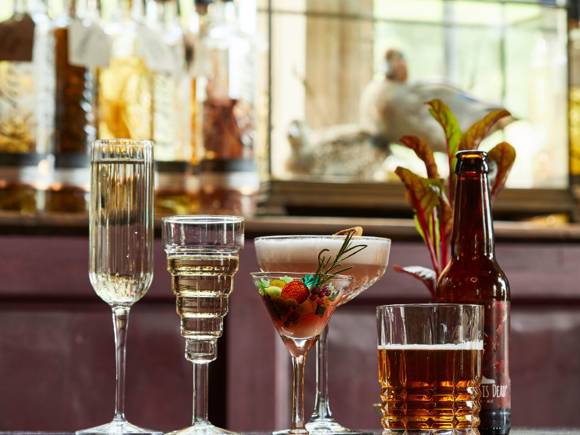 Garden to glass cocktails
We like to make the most out of our Kitchen Garden ingredients at THE PIG by bringing the garden to your glass... you won't find a bar around quite like ours.
Our Bar Team work with our Kitchen Gardeners to experiment with ingredients from our plot, so you can sip on something truly unique like our Garden Soda's which we create ourselves with a tasty mix of Purple Basil, Shiso and Pineapple Sage.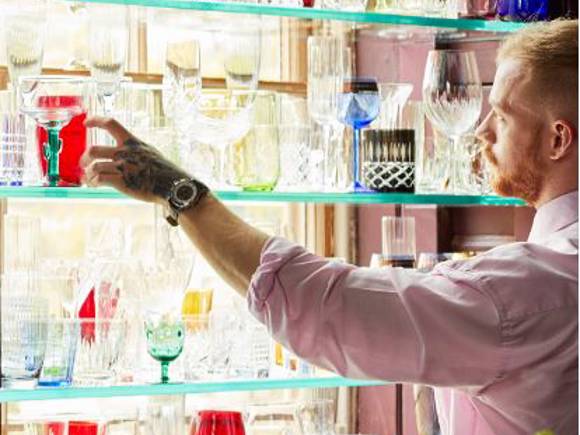 Wine List and Bar Menus
Take a look at what we are shaking, stirring and pouring at THE PIG.
Things to know before visiting
The availability shown online is live and always up-to-date. If you can't find the date you're after, please email reservations@thepighotel.com so we can add you to our waiting list.

However, it's worth checking out our other properties as we may have rooms or tables available elsewhere.
We do not permit dogs inside THE PIG, although they are welcome to join you on a stroll around the grounds. Please keep them out of the kitchen garden and away from our animals.
Children are more than welcome at THE PIG, both in the restaurant and to stay. At THE PIG in the New Forest we have family specific rooms, lodges and cottages.
We'll never tell you what to wear. Our restaurants are informal places, so come in whatever makes you happy and comfortable.
We serve Lunch from 12-2.15pm Monday to Friday, and 12pm-2.30pm Saturday to Sunday. Dinner will be served from 6.30-9.30pm daily. Lunch bookings are advised, however Dinner bookings are essential! Give our Reservations team a call on 0345 225 9494 if you'd like to book! 

We don't serve a traditional afternoon tea, however we do offer an afternoon menu of homemade piggy treats, including sandwiches and cakes. Our Afternoon menu is served from 12-5:30pm in our lounge areas and on our outside terrace.
Our Wood Oven Menu is available 12pm-5.30pm  during the summer months. As always, seating will be on a first come first served basis. Physical distancing will be strictly observed so numbers will be limited. 
THE PIG is a great place to hold a party. Our Green Room seats up to 14 people and even has its own garden terrace. Find out more here. For anything bigger, whether it's a wedding or any other event, we do offer an exclusive-use package from £40,000. The package is available for Monday-Thursdays between October-November and January-March, subject to availability. For more information, please get in touch with our events team at events@thepighotel.com
We offer monetary vouchers, as well as a lunch, dinner and treatment vouchers. These can be purchased here. 
We have extended the validity of all Gift Vouchers that are due to expire in 2021, to now expire on 31st December 2021, so that you still have an opportunity to use them at THE PIGs.
Please kindly note that you are unable to redeem a Gift Voucher online to make a booking. Please book your room as normal and the team will refund any pre-payments with proof of your voucher. Please just contact reservations@thepighotel.com
Unless we are running a special deal and it is stated within the terms, all of our rates are on a room only basis so are inclusive of VAT only.
Breakfast is served in the restaurant where you can choose to either dig into our PIG grazing breakfast tables or pick something hot from our breakfast menus. Prices range from £13.50-£18.50.
You can check in from 4pm at all of our properties, however, you're more than welcome to arrive earlier to drop off your luggage and explore the gardens. Due to current physical distancing guidelines, we are limiting capacity in the main hotel, so you might not be able to make the most of the lounges until you have checked in. The team will be on hand to help you when you arrive.
Check out is by 11am. We ask that you leave your room by this time, but please enjoy the surroundings all day. We can't guarantee an early check-in or late check-out, but stick around and let us know your plans and we will try our best on the day. 
At THE PIG we have wheelchair access to the ground floor rooms & garden of the hotel, with gravel tracks around the property. For more details please contact us by completing our online form, using our live chat system, or by emailing us at reservations@thepighotel.com
Please note our rates stated are at a starting from price, and fluctuate throughout the year depending on season. We sometimes run offers and Late Pig Room Rates, which you can view here for more information if available.
We are no longer accepting payments made in cash, we will only be accepting card payments at all hotels.
We no longer accept American Express payments.
Getting here
Our original PIG tucked away in the heart of the New Forest, our 32 bedroom country house is really a restaurant with rooms.
Nearest station
The closest station to THE PIG is Brockenhurst Station, only 1 mile away ( a 5 minute drive). London Waterloo run regular services to Brockenhurst which takes around 2 hours.
Taxi service
If you're getting to us by taxi, give Station Taxis a call on 01590 615141, who are based at Brockenhurst Station and will be able to get you over to ours in no time.
Nearest airport
Southampton airport is a short drive away around 20 miles (30 minutes in a car).