Gatherings
Roaring log fires, homely charm and stunning views of the Dorset coastline – the perfect relaxed retreat for entertaining!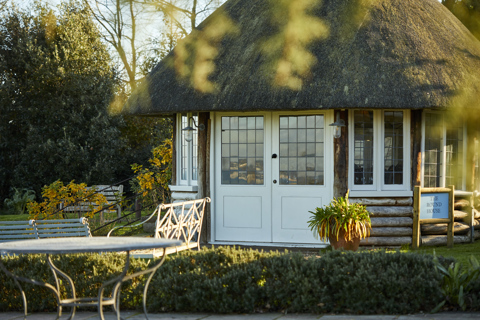 The Roundhouse
Tucked away in the garden with views of Old Harry Rocks, you'll find The Roundhouse, a cosy little thatched house bursting with individual charm! The Roundhouse seats up to 12 guests on a sociable round table made from an 'up-cycled' wine barrel end from a French vineyard. 
Business meetings
A unique seaside spot that lets in lots of natural light, The Roundhouse can be used for small meetings on request. 
Day meeting

£75 per person includes, 9am-5pm:

- Complimentary room hire
- Wi-Fi access
- Pens & flip-chart
- TV to connect to your laptop
- Arrival tea, coffee and pastries
- Mid-morning coffee, tea & biscuits
- 1-course working lunch 
- Mid-afternoon tea, coffee & cake
- Available for up to 12 people
Book with us
If you'd like to gather together at our house, please email us and tell us a bit about your event, including ideal dates and number of guests.