At the PIGs, we're passionate about really good wine – and that includes ones with little to no alcohol! Our Wine Teams have been busily hunting for the best non-alcoholic wines out there, and we are thrilled to say that across all PIGs we are now pouring two sparkling options, a white, and a red by the glass.
Greg, Head of Wine at THE PIGs, tells us more...
"We are huge advocates of our non-alcoholic beers and spirits found behind our bars, but pairing these tipples with dishes from our 25 mile menu can sometimes be limited. So, we are incredibly excited to have even more tools in our kit to bring to the table. We never want anyone to miss out on the experience of having the perfect blend of a glass of wine with our Kitchen Garden food, and our friends from Noughty, Wednesday's Domaine, and Wild Idol let us do just that!"
We feel that it is time that these wines get the credit that they deserve, and we're proud to give our friends a permanent spot on our wine lists!
Pop a cork with Wild Idol
THE PIG was one of the earliest stockists of Wild Idol and we're proud to continue our work together to this day! Wild Idol is a British owned brand that works with British winemakers based in Kent, not far from THE PIG-at Bridge Place, to produce their delicious alcohol-free sparkling wine.
Wild Idol has a small delicate bubble, producing its elegant velvety 'mousse'. This is a crafted process which is the result of being carbonated under very high pressure (5.4 bar) and then slowly passed through large stones, to produce an incredibly fine bubble that feels soft on the palate.
While most non-alcoholic products are made with alcohol which is then stripped out, Wild Idol's grapes do not undergo a process of fermentation. So, that means there is nothing to remove, and minimal handling is required, for a naturally alcohol-free drink.
Wild Idol is made in the same considered and careful manner as winemaking, with a focus on provenance they declare a vintage (year) on every bottle. The vintage reflects, the soil, terroir and weather conditions unique to that year. So, their products are a true reflection of nature. It makes the perfect present or accompaniment to any special moment!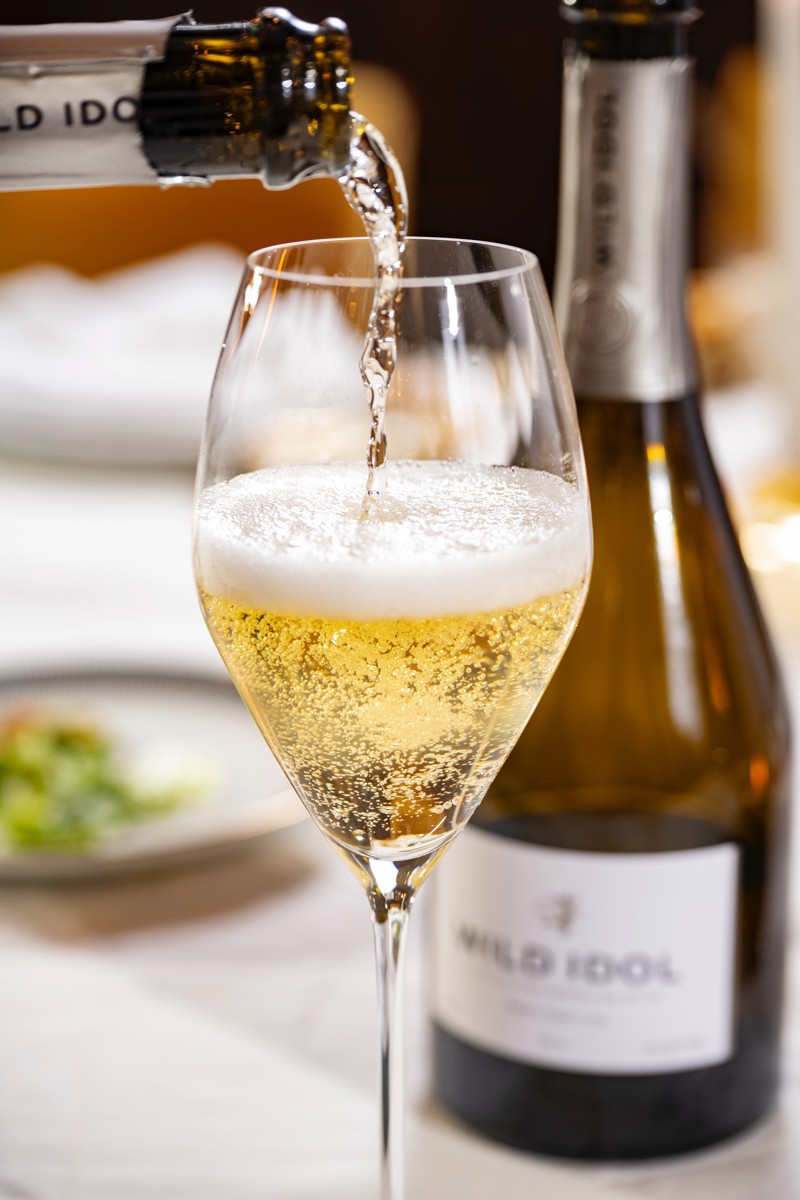 Share a bottle of Wednesday's Domaine
Founded by Luke Hemsley and crafted to pair with food for those occasions when only a glass of wine will do (something we can definitely get behind), Wednesday's Domaine is one of the newest additions to THE PIG's Wine Lists! 
Wednesday's Domaine's innovative production technique - taking dealcoholised wines from the La Mancha region of Spain and combining them with natural flavours - has won awards, and made them a firm favourite. You will find all of the body, flavour, aroma and complexity you'd expect from a premium wine. Piquant (0.04%), their white wine, is pale lemon in appearance and made with Airen Blanco grapes. It is crisp, clean and perfectly balanced, with hints of minerality and citrus notes.
Wednesday's Domaine is about inclusion, being part of the conversation, and the joy that comes with sharing a bottle, alcoholic or not.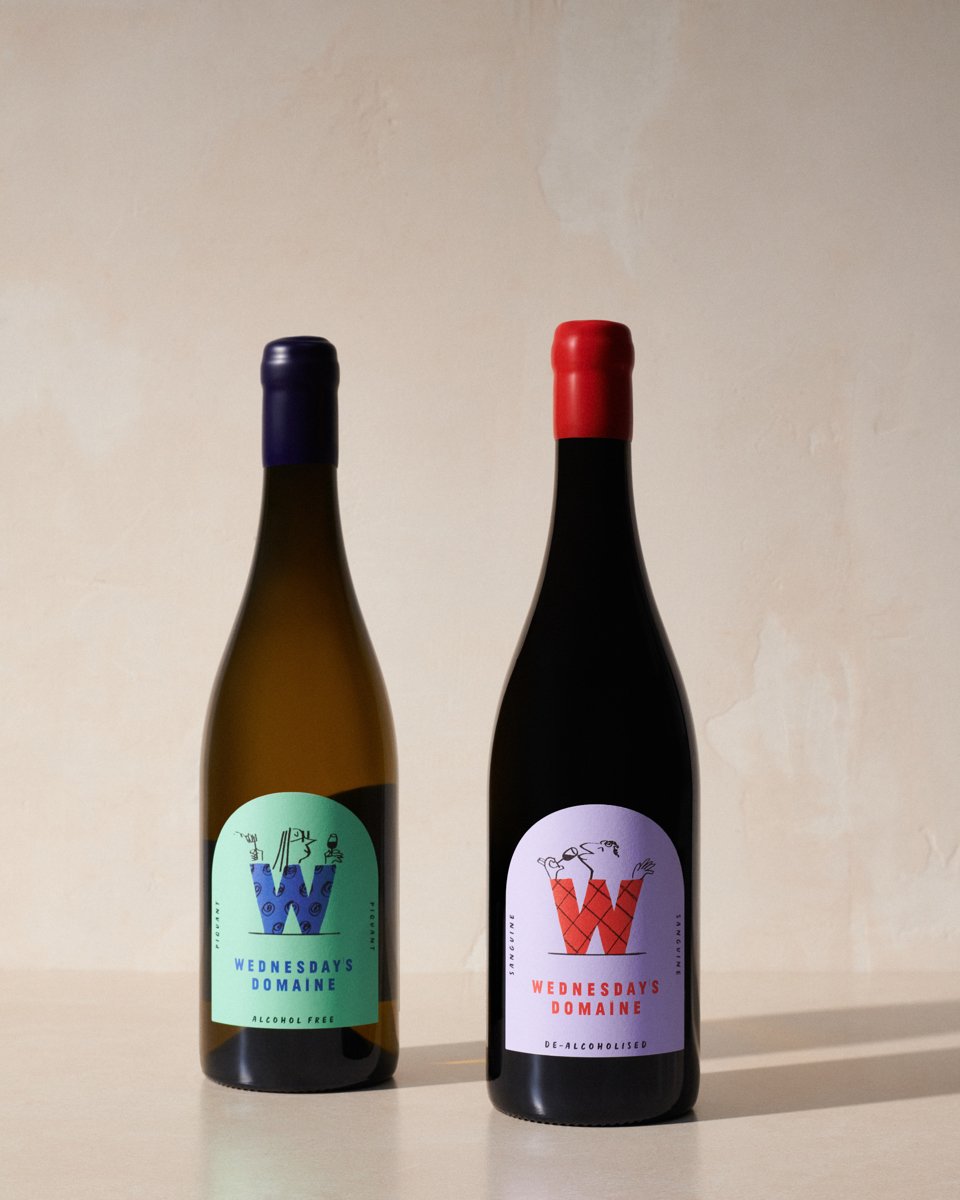 Meet our new Noughty
We've been pouring Noughty Non-Alcoholic Sparkling Chardonnay since 2019 – and, to see in the colder months, we're very excited to bring another member from the Noughty family to our bar menu: Noughty Rouge Non-Alcoholic Red Wine.
Noughty Rouge is crafted using a meticulous process – the wine undergoes a special dealcoholisation technique that preserves the rich flavours and aromas typically associated with red wine. Noughty Rouge offers a well-balanced and nuanced flavour with notes of blackberries, cherries, and a hint of oak.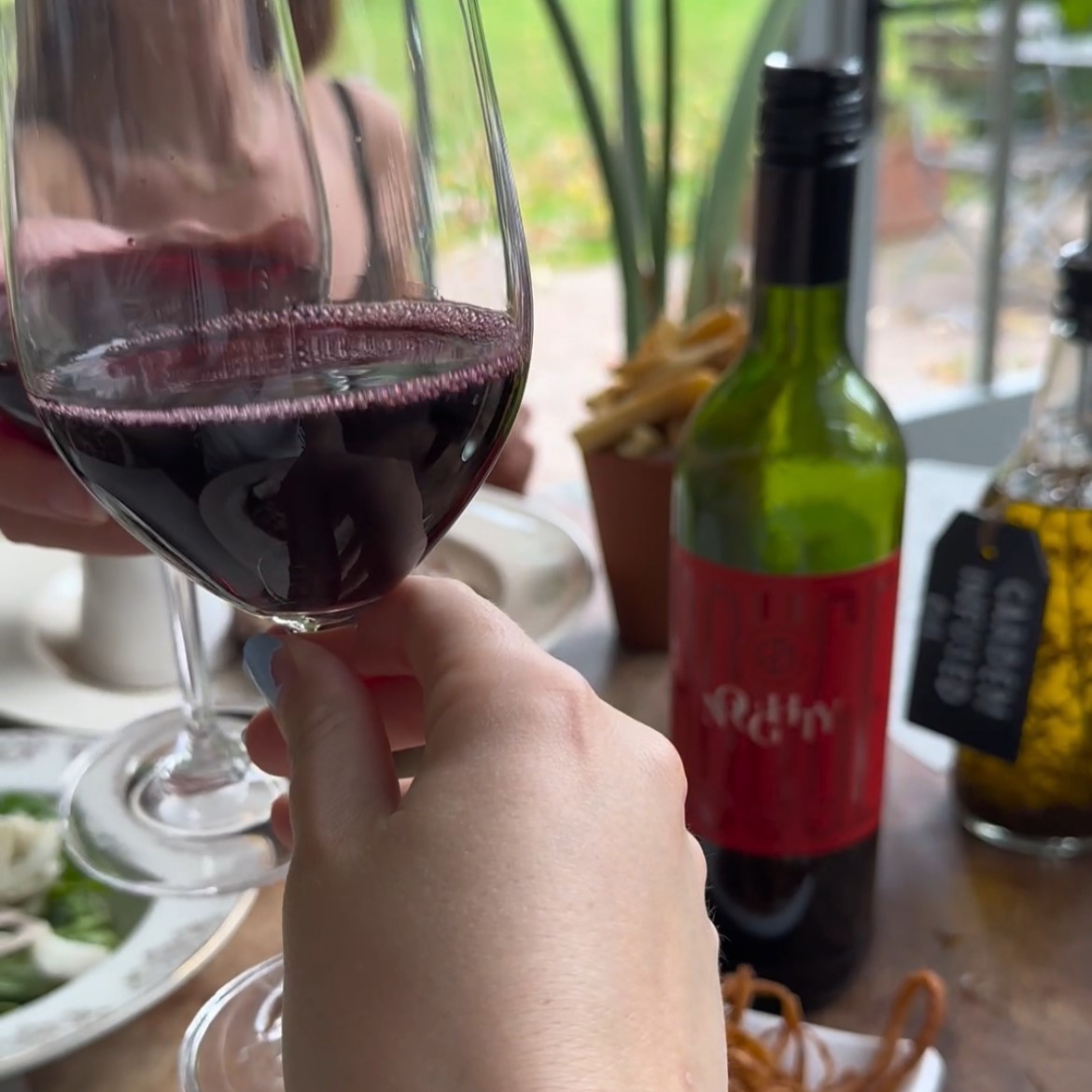 Whether you're celebrating a special occasion in the restaurant, enjoying some piggy bits at the bar, or simply want something to unwind with in front of the crackling fire, these wines are an ideal choice to enjoy at your next visit or stay at any of the eight PIGs – and they all pair well with plenty of delicious PIG dishes too! Ask any of our friendly restaurant team who will be happy to give you their recommendations. Book your next PIG trip here.