#PIGPeople: Introducing THE PIG-in the South Downs Team!
#PIGPeople: Introducing THE PIG-in the South Downs Team!
Our eighth member of the litter, THE PIG-in the South Downs, has swung open its doors! Behind the scenes, the team have been working extra hard to get everything ready to welcome their first guests. If you are a regular PIG visitor you may see a few familiar faces across our senior team; many have been part of the PIG family for years, and we've got some exciting new additions too. We wanted to take a moment to introduce you to the team...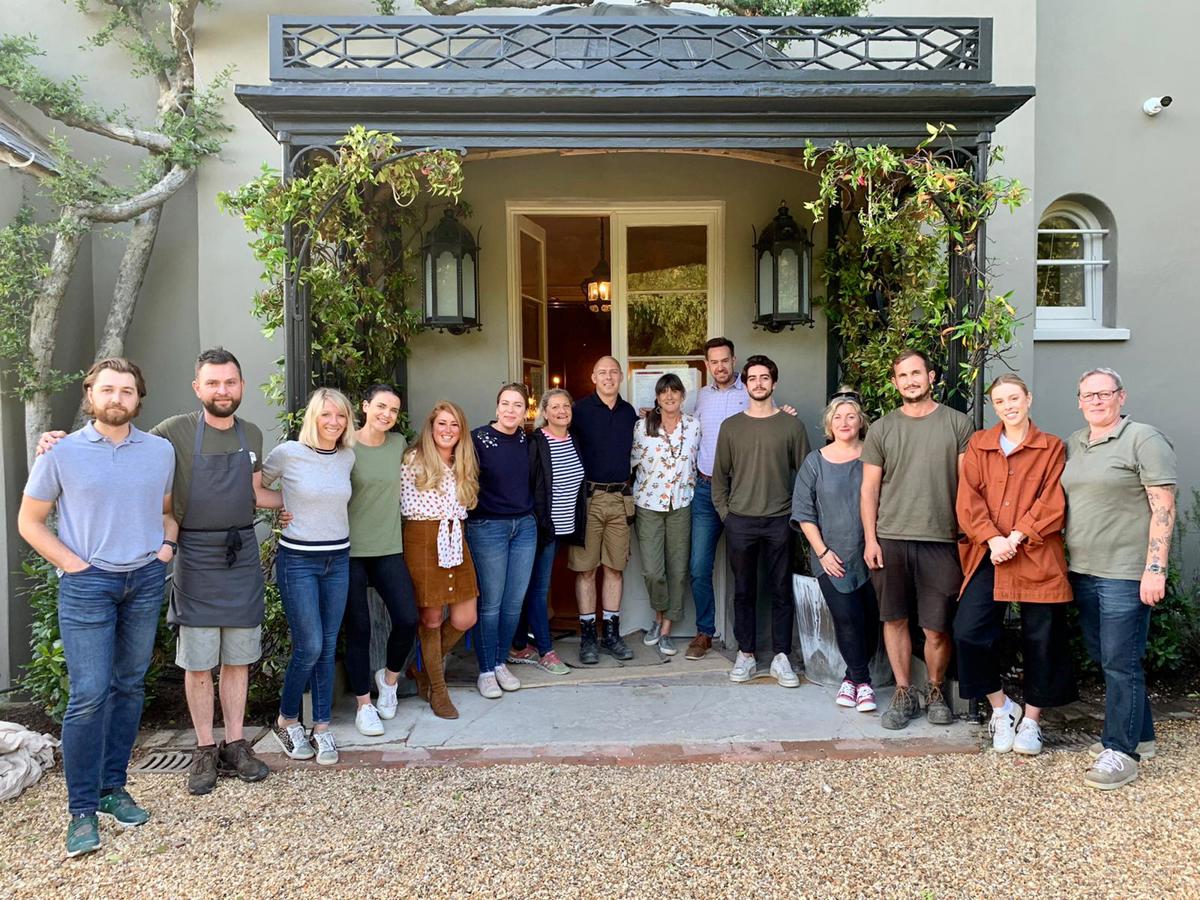 (Left to right: Luke Harbor – Head Sommelier, Kamil Oseka – Head Chef, Mairead Gleeson – Hotel Director, Lydia Rigby – Restaurant Manager, Skye Maddox – Head Grounds, Charlotte Storey – Deputy General Manager, Lora Strizic – Regional Operations Director, Scott Littlejohn – Maintenance Manager, Judy Hutson – Interior Designer for THE PIGs, Steve Rockey – Group People Director, Tean Bradford – Bar Manager, Shannon Harvey – Group Learning & Development Manager, Alex Coutts – Head Kitchen Gardener, Shannon Madgwick – Reception Manager & Hayley Wetherill – Head Housekeeper)
Heading up our new opening is Mairead Gleeson, Hotel Director for THE PIG-in the South Downs. Born and raised in Ireland, Mairead is a highly seasoned hospitality operator with a career spanning over two decades including: Tom Aitkens' Tom's Kitchen, Hotel Du Vin Edinburgh, and most recently, General Manager for the Soho House Group's Shoreditch House. "What I find really special about this hotel, is standing on the front lawn overlooking the vineyard, seeing the colours change from week-to-week – sometimes day-to-day! My other favourite place, the views from  the Hayloft  which overlooks the whole property."
Supporting Mairead as Deputy General Manager is Charlotte Storey - "It's a wonderful thing, to be able to say you love what you do. I think hospitality was always where I was going to end up." Hospitality has played a big part in Charlotte's life since the age of three, beginning with her parents running a café. She joined Combe House before it became THE PIG-at Combe, then began her journey at THE PIG rising from Assistant Restaurant Manager, Restaurant Manager to Deputy General Manager. Opening THE PIG-at Combe in 2016 was a huge career highlight for her, so when this opportunity arose, well, she couldn't resist! 
Head Chef Kamil Oseka has been with us since day one and this will be his fourth PIG opening to date; most recently THE PIG-at Bridge Place, which if you've visited, you would've likely spotted him in our open kitchen. Starting out foraging, fishing and gardening alongside his grandmother, Kamil built his first smoker when he was just 7 years old. If you're swinging by, don't forget to pop by Kamil's Pickle Room!
You may recognise Restaurant Manager Lydia Rigby as our recent Acorn winner – a prestigious accolade given to the Top 30 Under 30s in the hospitality industry. Lydia joined our internal development programme, the Budding Entrepreneurs in 2015, and has since held positions across Lime Wood, Portetta and THE PIGs; as well as being one of the masterminds behind the 'Seat at the Table' campaign.  After experiencing different roles within hospitality, she's discovered food & beverage is her passion. She's most looking forward to showing you the "gorgeous view from our new restaurant" – you'll be able to watch the sun set over our vineyard and take in the scenic landscape of the South Downs.
Head Sommelier Luke Harbor began his hospitality journey as a Kitchen Porter, soon after, progressing to Commis Chef. Like Charlotte, he joined Combe House, where he was first introduced to the world of wine. Shortly after, Combe House became THE PIG-at Combe, Luke took on the role of Commis Sommelier and the rest is history! Luke's thirst for knowledge (yes, pardon the pun!), has seen him gain many wine and spirits qualifications and become a qualified trainer so he can share his expertise with others. He was recently awarded the IWSC's 'Emerging Talent in Hospitality' prize and of course, with this particular PIG being home to our first ever vineyard, it's an amazing venture for him - and our vines are definitely in very safe and capable hands!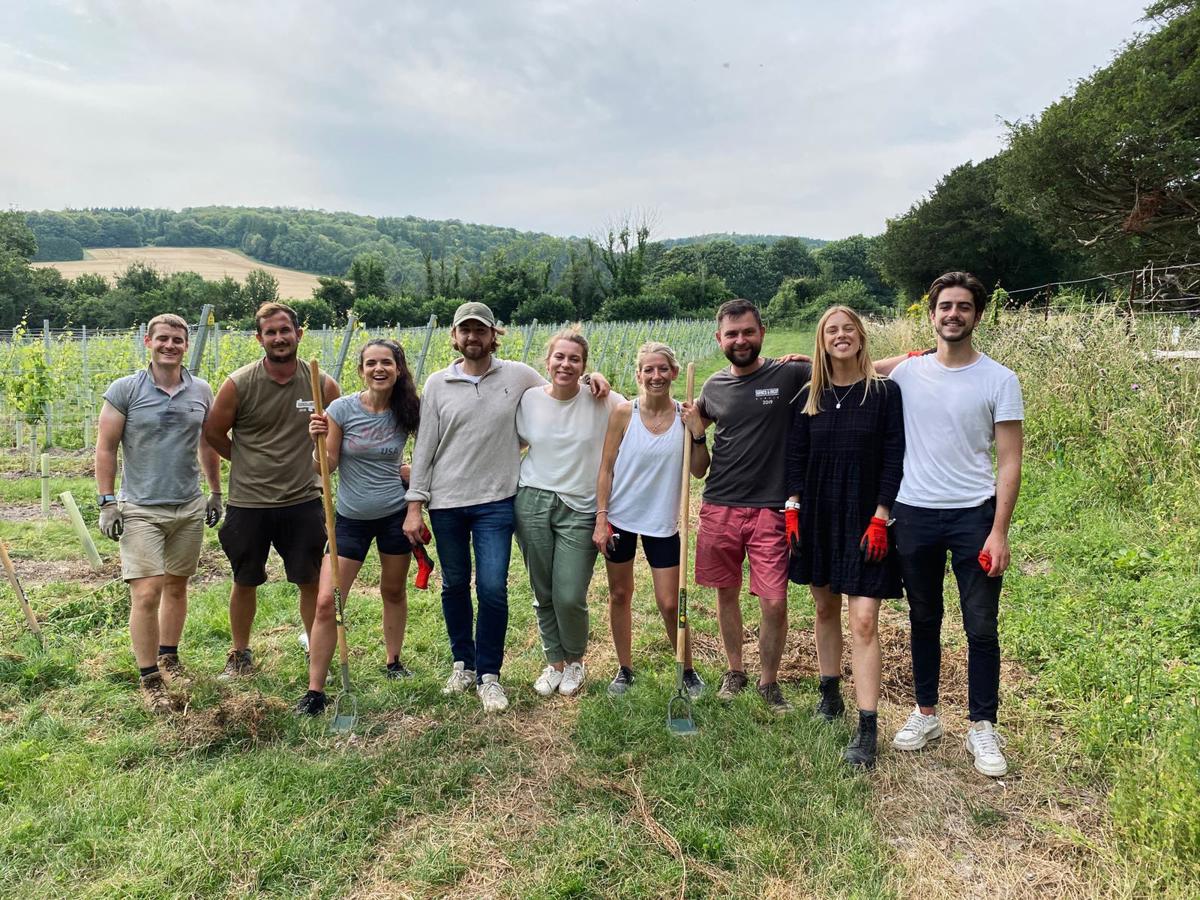 Another Budding Entrepreneur to join the senior team, Tean Bradford has been appointed Bar Manager. Like a lot of people, Tean 'fell' into hospitality and quickly discovered he'd found his calling, with his first role being part of the opening team at THE PIG-at Combe in 2016 – in five years this is his third opening to date! As part of the 'BE' programme, Tean has experienced placements including behind the scenes in the kitchen at Hartnett Holder & Co at Lime Wood and involvement in our Smoked & Uncut festivals. "I can't wait for our guests to see my favourite spot over the coming months – the Art Room. An eclectic array of artwork plastered everywhere with some amazing stories behind them which I can share!"
On the front desk, you'll be welcomed by Shannon Madgwick, Reception Manager and her team. Over the last seven years, Shannon has held positions in the restaurant and reception team at our original PIG in Brockenhurst, completed a ski season in Portetta (Lime Wood's sister hotel in Courchevel, France), spent two years working on super yachts and supported the opening of THE PIG- Harlyn Bay. Like Luke and others, she can't wait to watch our vineyard flourish – "Not only is it unique to this PIG, but it is also an incredible story to be a part of. The opportunity to see the vines growing and gaining strength each day, to the moment we can taste our first bottle. It's not every day that you get to be a part of something so special."
Along with Kamil, Hayley Wetherill, Head Housekeeper is approaching her 10-year PIG anniversary later this year! This will be the fourth PIG she's held this position in – as well as THE PIG, THE PIG-on the beach, THE PIG-at Bridge Place – and she first began working with Robin Hutson (CEO) when he started up Hotel Du Vin. Her favourite feature of this new opening has to be the garden wagon bedrooms located within our Kitchen Garden!
Alex Coutts, Head Kitchen Gardener has been with us since 2009, starting out caretaking Lime Wood's grounds, soon after THE PIG, then he planted the Kitchen Garden at THE PIG-at Combe before opening. He's been busy at THE PIG-in the South Downs since October 2019, overseeing this new Kitchen Garden for the last two years – and can't wait for you to taste the fruits of his labour during our opening months (sorry, couldn't resist!). "It's really rewarding providing quality seasonal produce to the kitchen for a busy restaurant, being able to interact with our guests and show them around the garden and where the ingredients for their lunch or dinner have come from. My favourite thing to grow would be the tomatoes in the polytunnel through summer; the smells working through picking the tomatoes and basils is amazing and the flavours are incredible."
Whilst the grounds around the hotel are being looked after by Skye Maddox, Head of Grounds. After studying horticulture at college, Skye then ran her own gardening business for 13 years; then, four years ago, she heard a rumour that THE PIG was coming to her local village and having visited other PIGs and had 'fallen in love' she got straight in touch! Just a few weeks later, she began working on the grounds and hasn't looked back! "This year, THE PIG group turns 10, and it has been wonderful to be a small part of that evolution".
Last, but certainly not least, introducing Scott Littlejohn as Maintenance Manager! Another new addition to THE PIG team, our new property is in good hands with Scott, with 30 years' experience looking after hotels – most recently as Facilities Manager for a 518-bedroom property! "My time at THE PIG-in the South Downs so far has seen me help Robin & Judy Hutson give their personal touch, by hanging artwork, adapting antique furniture to fit into our amazing and sometimes quirky rooms and generally helping to prepare them and all the buildings so they are ready to 'wow' our guests when they arrive. My favourite rooms are the Old Stable and Grooms Cottage 2 in the Stable Yard, they have amazing character and retain some of the fantastic original features."
Fancy joining our dream team? We have just a couple of spots available and we'd love to hear from you. Get in touch!