Once we started experimenting with infusing spirits, there was no stopping us. Behind the bar at The Pig in Brockenhurst we have around 40 different homemade infusions with herbs and flavours from the kitchen gardens, which form the basis for a number of cocktails. These include winter savory, borage and chive, but we also use lesser-known herbs with gorgeous flavours – our sweet woodruff vodka is bitter with a hint of apple, while our pelargonium vodka takes on a cola-bottle-sweet taste. Tim is our grand chief wizard spirit mixer (not his official title!) and knows a thing or two about making delicious drinks and loves foraging in the Kitchen Garden for new flavours for his infusions. 
Certain flavours match extremely well with particular cocktails: Tim's go-to vodka infusions for a different twist on a Bloody Mary are cucumber, chilli, horseradish or basil, but experiment and you'll find your own favourites.
Vodka tends to be the number one choice of spirit for infusing because its neutral flavour profile means it won't clash with the taste of the fruit or herbs you're adding. But gin is definitely growing in popularity as a base spirit, as long as you choose flavours that work in harmony with the botanicals used in the gin's distillation process.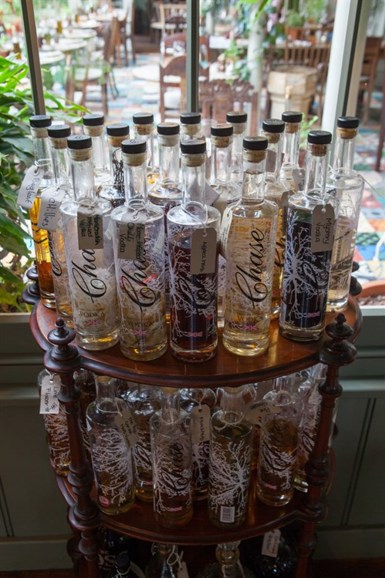 How to… infuse your own vodka or gin 
Whether you're using vodka or gin as a base spirit, we find that dry or semi-dry herbs work better than moist, fruity ingredients like strawberries. When you're dealing with anything that has a high liquid content, the liquid will eventually start to ferment.
If you plan to infuse using cuttings from your own garden, make sure the ingredients are picked when they're properly in season. We usually make 6–8 bottles at a time to make the most of each harvest. Herbs that work well include mint, rosemary, coriander, lemongrass and thyme, while ginger, cinnamon, star anise and clove are popular spices to infuse.
Wash your herbs, spices or fruit thoroughly before placing them in the spirit. The ratio will depend on what's being infused. A single chilli will be enough for a full bottle, but with herbs such as savory you'll need more to provide a full flavour.
Place a good handful directly into the bottle (alternatively you could use a Mason jar), shake, seal and leave to steep at room temperature for about 48 hours, shaking daily. The longer you leave it, the stronger the taste will be.
When you think it's ready, pour through a fine mesh strainer to ensure all the herbs have been removed – otherwise they will eventually react with the oxygen that enters the bottle when you pour and cause the spirit to go off. Straining it a second time through muslin (you'll need a funnel to pour the liquid back into the bottle) will further prolong its shelf life. Properly strained, the infused spirit will last for months.
Once you've got your finished spirit, you can go ahead and make all manner of delicious garden cocktails, like our Forager's Fizz.
Forager's Fizz
30ml infused vodka (we use Chase Vodka infused with rose, mint and lavender)
20ml elderflower cordial
Sparkling wine, to top up
Mint leaf, to garnish
Pour the ingredients into a champagne flute and stir. Garnish with relevant petal or leaf from infusion.
Gardener's G&T
50ml infused extra dry gin (we use Chase GB)
20ml elderflower cordial
15ml lemon juice
Tonic water (we use Fever Tree Refreshingly Light) , to top up
Appropriate leaf, to garnish
You can choose what to infuse the gin with, based on what's in season. Mix all of the ingredients together in an ice-filled highball glass. Finish with relevant herb from the infusion.
For more recipes, how-tos and tips why not pick up a copy of THE PIG Book: Tales and Recipes from the Kitchen Garden and Beyond.