People associate jelly with kids' parties, but we love it and think it's an underrated pud! 
This vibrant pink dessert is light and fresh and is great as a dairy-free/gluten-free option. We serve
it with poached rhubarb and buttermilk sorbet.  
Rhubarb is always amazing this time of year, but for people who grow it there always seems to be a tremendous abundance that usually leads to it being given away by the bucket loads!!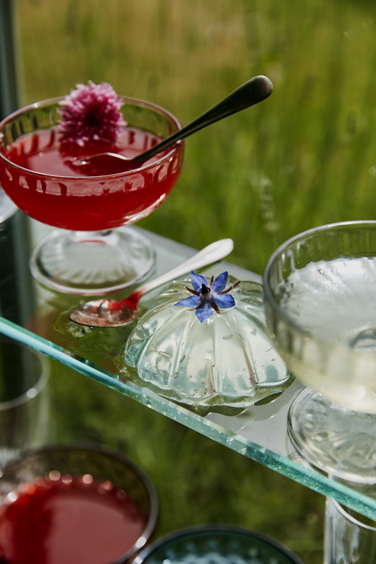 Makes 4
• 500g (1lb 2oz) nice pink rhubarb
• 150ml (5fl oz) water
• 75ml (2½fl oz) grenadine
• 50g (1¾oz) caster sugar
• juice of ½ lemon
• 3 leaves of bronze leaf gelatine
• cornflowers, to garnish
Preheat the oven to 120°C, 100°C fan (250°F), Gas Mark ½.
Remove the leaves from the rhubarb, then top and tail the stalks and wash.

Slice the rhubarb as finely as possible and transfer to a deep ovenproof dish or a casserole with a well-fitting lid. Spread it evenly and add the water, grenadine, sugar and lemon juice.

Wrap a layer of foil over the top of the dish or casserole, or put the lid on, and put it in the oven for  1 hour.

Remove and pass through a fine sieve lined with muslin. Squeeze all the liquid out.

Weigh the liquid and use one sheet of gelatine per 225ml (8fl oz) of liquid. Pour into 4 glasses or glass bowls, chill and serve when set.
Garnish with cornflowers.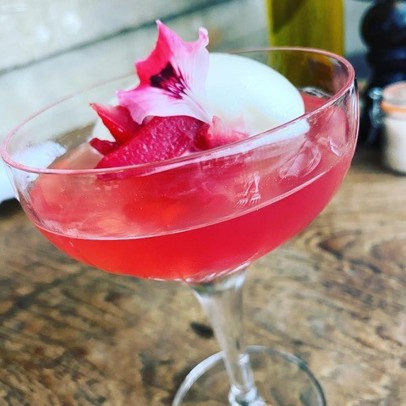 Another top Rhubarb tip from James, our Group Chef Director...
If you'd prefer to eat rhubarb while it is fresh, just wash and peel the rhubarb and cut into 1cm square batons and soak in a bowl of iced water for 15min.
Then dry on clean cloths and dip in to flavoured sugars, my personal favourite is vanilla sugar but you could use cinnamon or add lime zest etc….if you've never tried it I highly recommend it as it provides the perfect combination of sweet and sour and is always lovely served with a great glass of white wine! 
For more tips and recipes from THE PIG team, why not pick up a copy of THE PIG Book - Tales and Recipes from the Kitchen Garden and beyond