Beetroot Cylindra, as its name suggests is a cylindrical (half-long or stump-rooted) beetroot. Smooth-skinned with dark purple-red flesh, it grows a dark red, elongated root around 7 to 10cm long. It is a unique variety that has a very fine, smooth texture with little fibre, and an earthy flavour. 
Beetroot are easy to grow and ideal for anyone new to vegetable gardening. It is best to sow beetroot seeds directly into the ground when the temperature of the soil has warmed, from around mid-April to early May.
Sow three seeds at 10cm spacings, 2.5cm deep in rows 30cm apart, at fortnightly intervals from mid-April to July for a succession of tender, tasty roots. Keep the rows weed free and the seedlings well-watered. Once the roots have developed and they start to swell, beetroots need to be watered moderately.
Beetroot is ready to be picked when the roots around 5-10cm long – this is usually 12 to 16 weeks after sowing. The smaller the root the tastier the beetroot!
Cylindra Beetroot & Horseradish Toasts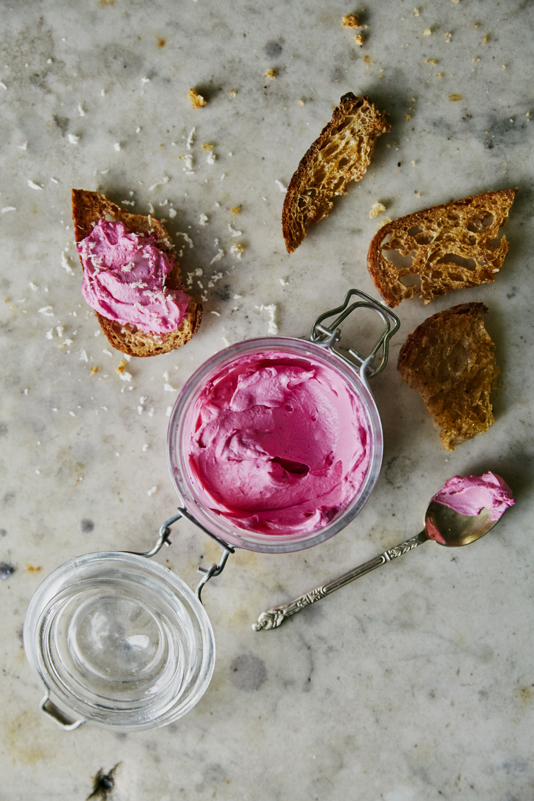 This is a very quick and simple dish to prepare, and it looks impressive despite its simplicity. It's got a nice fresh taste and is ideal during spring and summer as a starter or nibble before the main meal. Cylindra beetroot has a particularly earthy flavour, but you can use normal beetroot.
Makes 20–30 bite-sized portions
• 300g (10½oz) Cylindra beetroot
• 250g (9oz) cream cheese
• lemon juice, to taste
• 25g (1oz) horseradish sauce
• 1 sourdough loaf
• rapeseed oil
• salt and pepper
• freshly grated horseradish root, to garnish

Cook the beetroot in salted water for 30–40 minutes, depending on the size, until soft. Blitz the cooked beets and cream cheese together in a blender until the mixture is smooth. Then add the lemon juice and horseradish sauce and season to taste.
Preheat the oven to 200°C, 180°C fan (400°F), Gas Mark 6. Slice the sourdough very thinly, cut into bitesized portions, drizzle with rapeseed oil and bake until nice and crisp, about
6–8 minutes.
Spread a good dollop of the beetroot mixture on top of each slice of toast and arrange on a platter, then garnish with the fresh horseradish.


For more recipes, tips and how-tos from THE PIG team, pick up a copy of THE PIG Book: Tales and Recipes from the Kitchen Garden and Beyond