You'd be amazed at how many previously busy staff suddenly become available when there's a pudding or sweet treat tasting going on! 
Our Group Pastry Chef, Kelvin, is the King of Puds and here he shares his recipe for a super simple, yet seriously tasty afternoon (or anytime of the day!) treat. 
Kelvin's Rocky Road
This works well in a large cake tin or deep roasting tray, but as there's no cooking involved, anything to hand will work. However, it's best to line the mould with grease-proof paper, or even clingfilm, to help remove it. You don't have to use the same dried fruit as listed, in fact anything you have in the cupboard will do!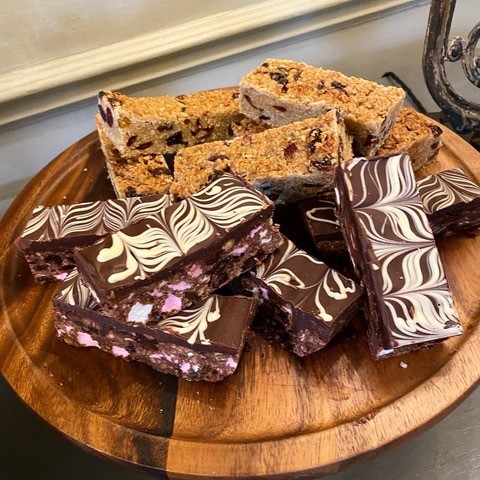 Ingredients:
250g Dark chocolate
6 Tsp Golden syrup
270g Butter – preferably unsalted
200g Mini marshmallows
350g Digestive biscuits
200g Raisins or sultanas
200g Dried cherries or cranberries
Heat the butter, chocolate and syrup, mix well and remove from the heat when the chocolate has melted.

Crush the Digestives with your hands, or place in a bag and hit with a rolling pin  until you have small chunks, then place in a large bowl along with the remaining ingredients.

Pour ¾ of the chocolate mix in to the bowl and thoroughly combine with a kitchen spoon or spatula and then spread the mix in to your tray and push down to get as level as possible.

Now pour the remaining chocolate mix on, and spread evenly across the top.

Chill for at least an hour before removing from the tray.
Best eaten, and stored at room temperature.
For more recipes and how tos from THE PIG team, pick up a copy of THE PIG BOOK - Tales & Recipes from the Kitchen Garden & Beyond