For a quick lunch or snack, we wanted to offer our guests a relaxed but relatively speedy alternative to eating in the restaurant. But what? Then one day we looked around the kitchen and we had stacks of home-grown tomatoes and some fantastic local cheese... and you could see the light bulbs go on above the chefs' heads. Flatbreads cooked in our outdoor wood-fired ovens were the answer. Robin had his own ideas too: 'The inspiration for the pizza dough style came from Mario Batali's fabulous Pizzeria Mozza in LA, where Nick Jones and I were having dinner while setting up Soho House there. I liked the little gritty bits of semolina in the dough, and now we use this recipe for all our flatbreads.' It's an easy recipe that keeps the emphasis on the toppings  and it cooks perfectly well in a regular oven - great for summer feasting.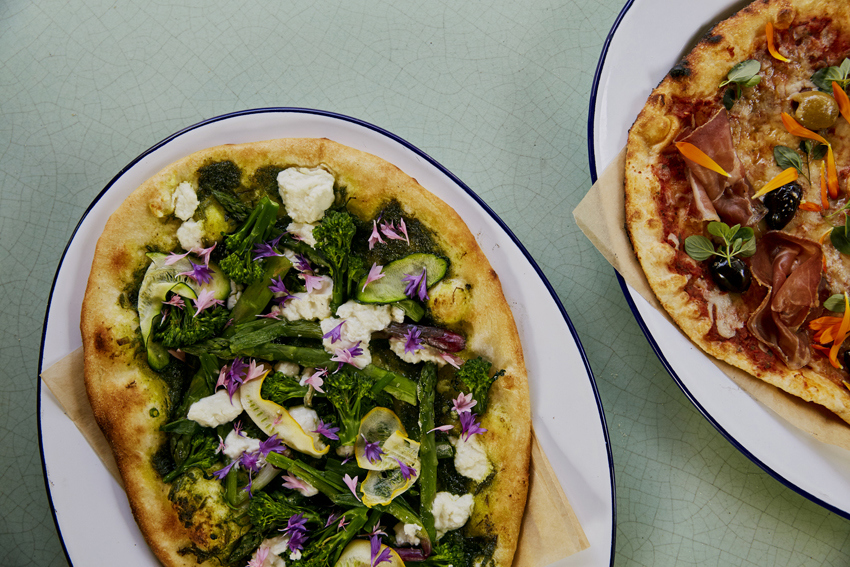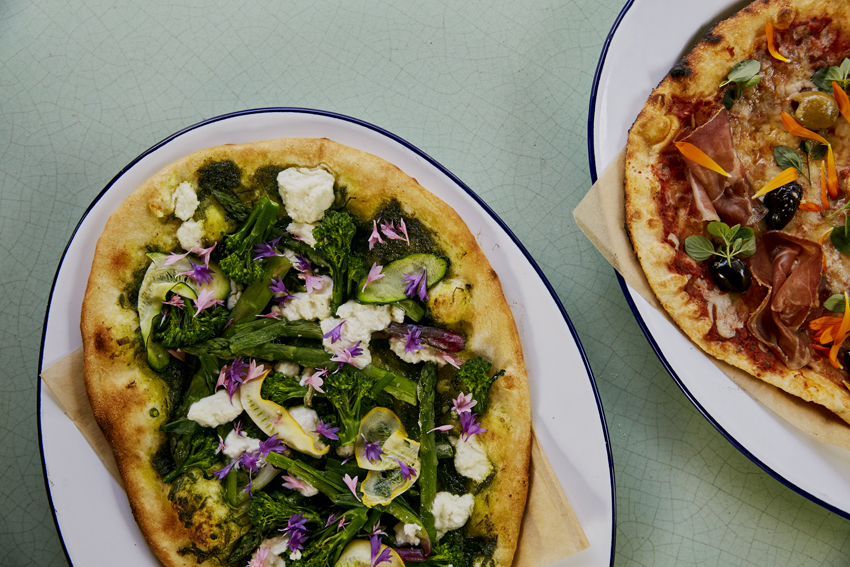 Flatbreads 
Makes 6–8 flatbreads
• 300ml (½ pint) warm water
• 5g ( oz) fresh yeast
• 8g (¼oz) sugar
• 10ml (2 teaspoons) olive or rapeseed oil
• 540g (1lb 3oz) '00' flour
• semolina, for dusting
Using a mixing bowl, or a food processor with dough hook attachment, mix half the water with the yeast, sugar and oil. Then add half the flour and mix to bring all the liquid together.
After 1 minute of mixing, add the rest of the water and flour. Mix for 5 minutes until it's all combined to form a smooth ball of dough, then cover and rest for 30 minutes.
Put a pizza stone or baking sheet into your oven, set to its highest temperature. Divide the dough into 6–8 equal pieces and form into balls. Dust your worksurface with semolina and roll the balls of dough into flat rounds to a thickness of your liking: the thinner the dough, the crisper the flatbread base. Top with the sauce of your choice, and cheese, if using. Quickly sprinkle the pizza stone or baking sheet with semolina,
put the flatbreads on it and bake for 8–10 minutes. Scatter with toppings of your choice.


Flatbread with Cheesy Wild Garlic Pesto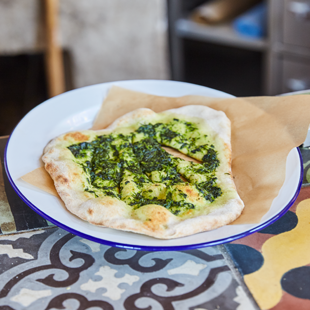 Once you have a good sauce on the flatbread as a base flavour, you can use whatever you have on hand to jazz it up. With the Wild Garlic Pesto we use whatever seasonal veg we have, lightly steamed, scattered with goat's cheese (we like Rosary) and edible flowers. 
Serves 8–10
• equal quantities of wild garlic and flat leaf parsley leaves (a bunch)
• zest of 1 lemon
• 200ml (7fl oz) rapeseed oil
• 100g (3½oz) Old Winchester cheese or Parmesan, grated on a microplane
• salt and pepper
As soon as you pick the wild garlic, wash it gently. Place in a pan of boiling water with the parsley for 5 seconds, then plunge immediately into a bowl of iced water to stop the cooking process. Drain in a sieve and squeeze out any excess water.
Put all the ingredients in a blender or food processor and pulse to a chunky paste. You're not looking for a watery purée.
This sauce will keep for days in the refrigerator but may start to lose its vibrancy.
For more recipes, tips and how tos pick up a copy of THE PIG Book - Tales and Recipes from the Kitchen Garden and Beyond.