If you are heading out on your first foraging adventure stinging nettles are a good place to start! Nettles grow in abundance everywhere in the UK and are easily recognisable. Our top tip is to take thick gloves with you!
Nettles can be used in many dishes and they are at their best when very tender, and are best harvested from spring, a few weeks after they sprout, into early summer. Did you know nettles have an unusually high protein content for a vegetable and are rich in vitamins A, C, D, iron, potassium and calcium? They have also long been revered for their medicinal qualities; nettle infusions are said to increase energy levels while magically relieving anxiety!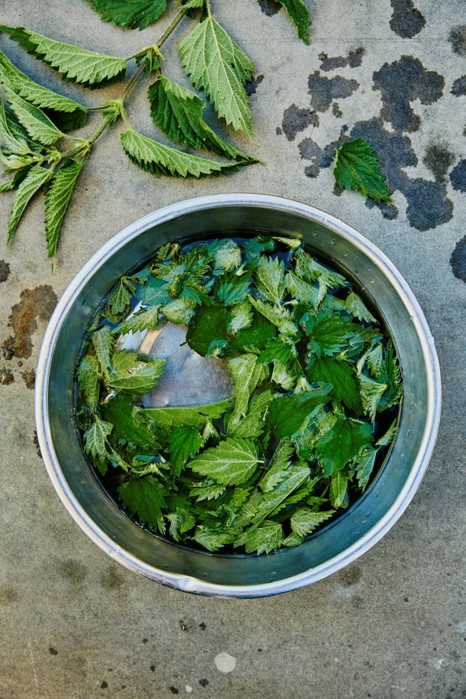 So, as well as being good for you, they go perfectly in one of our favourite dishes, buttered beefsteak mushrooms with wild nettle Salsa Verde – delicious! This recipe is one of our Group Chef Director James' favourites and is a recipe created by Garry Eveleigh an expert on wild food and where and how to find it, who used to forage with us THE PIG, Brockenhurst. You can find more of Garry's foraging stories and recipes in his book 'Wildcook: Ceps, Shrubs & Rock 'n' Roll'.
So, what are you waiting for, get outside and find some nettles!
You will need:
(Serves 4 as a starter or as a snack.)
4 large beefsteak mushrooms
Splash of rapeseed oil
A knob of butter
Salt & pepper
For the Wild Nettle Salsa Verde, you will need:
2 thick slices of bread diced
8 tbsp olive oil
2 large handfuls of nettle leaves (tips only) blanched
2 tbsp capers
4 garlic cloves
4 anchovies
6 cornichons
3 tbsp lemon juice
2 large handfuls parsley, chiffonade
Salt & black pepper
What to do:
For the Salsa Verde, soak the diced bread in olive oil for 15 minutes then place in a blender with the nettle tips, capers, garlic, anchovies, and cornichons blending until well combined. Add the lemon juice and chopped parsley, and season to taste.
For the beefsteak mushrooms, cut the mushrooms into thick slices. Coat a pan with rapeseed oil and heat to a medium to high heat. Sear the mushrooms on both sides and then add knob of butter, nappe to finish and season to taste.
To serve place the mushrooms in the centre of the plates, top with a generous amount of Salsa Verde and garnish with a handful of wild salad and enjoy!
(As a top tip, only season mushrooms after they've been cooked, you'll leech the moisture out of them and make them tough and flavourless.)
Sign up to our newsletter here and stay in the grow with Kitchen Garden updates, recipes, news from our PIG people and what to so and grow all year round.