Right from the beginning of THE PIG, we wanted the kitchen garden to be the heart and soul of the experience and to play a big part in influencing the menu. In fact, the bond between garden and kitchen is now so strong an almost obsessional culture for all things home-grown, homemade and local runs through our DNA.
The gardens have also played a major part in influencing many other aspects of the overall operation too and the idea of 'bringing the outside in' has formed how the interiors now look.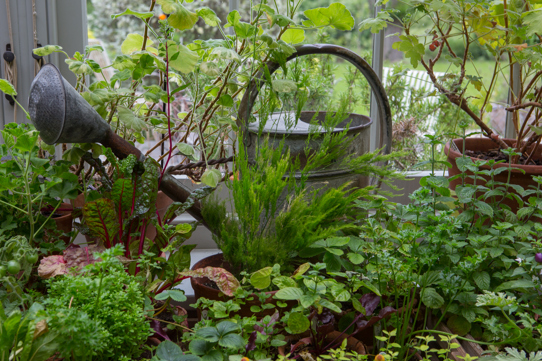 Robin, the man behind THE PIGs and his interior whizz wife Judy, aim to create a very relaxed style, an evolved homely feel that's rarely found outside an actual home. But the added twist of lots of plants and herbs, vintage pots and garden artefacts really bring the connection to the gardens to life.
Here's how to add a breath of fresh air to your interiors with Judy Hutson...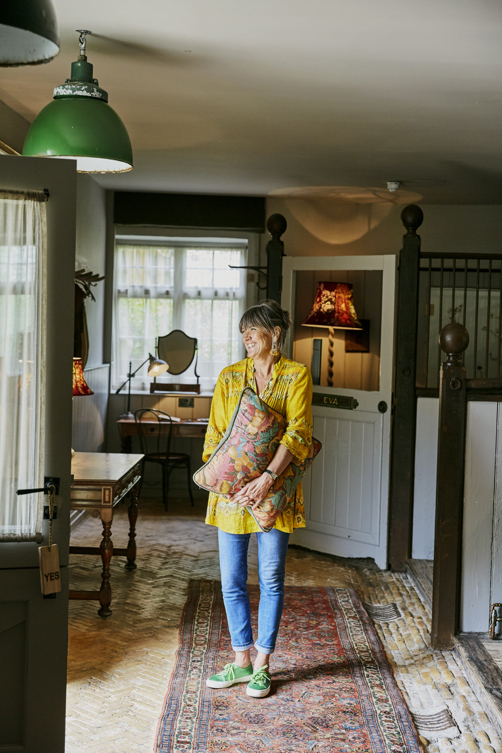 The colours we use are almost always earthy and natural: we love greens, slate greys, sludgy blues and browns.
Many of the fabrics we choose at THE PIGs have designs based on the natural world – flowers and leaves, birds and beasts – and one of our most popular and frequently enquired-about details is the use of framed pressed ferns in the bedrooms.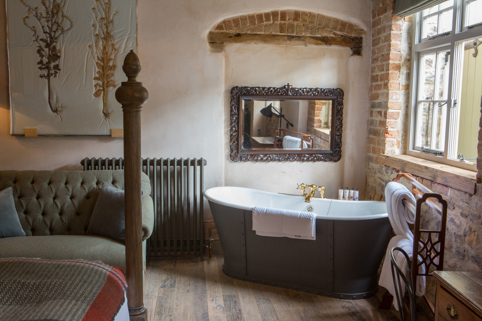 But it's in the dining rooms that the real 'outside in' ethos runs riot. Our aim was to create rooms that felt more like conservatories, with decorative tiled floors, nicely worn
unvarnished wood tables, lots of terracotta, galvanised tin and masses of potted herbs. It's an easy trick to pull off, especially if you use the sort of vintage plant pots and wooden veg boxes usually stored in the garden shed. Wooden crates filled with pots of herbs look great on a deep windowsill or side table.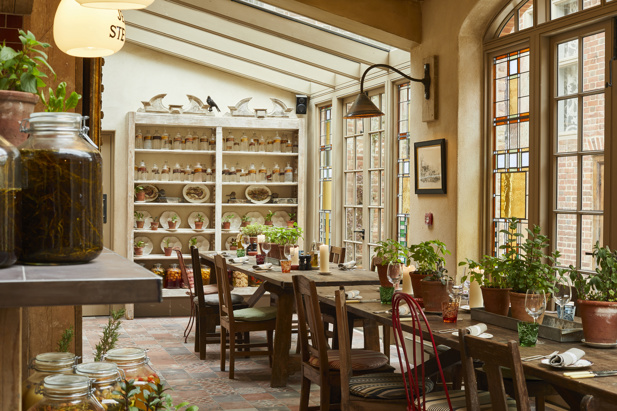 We use plant pots for a whole host of things, from herbs and ferns on tables, to keeping bathroom cotton buds tidy and even serving our chips. In the summer, the whole 'outside in' idea goes into reverse, when our terraces become outdoor living and dining rooms, with flatbread ovens, long rustic wooden tables and parasols made from vintage fabric.

How to… press your own ferns and flowers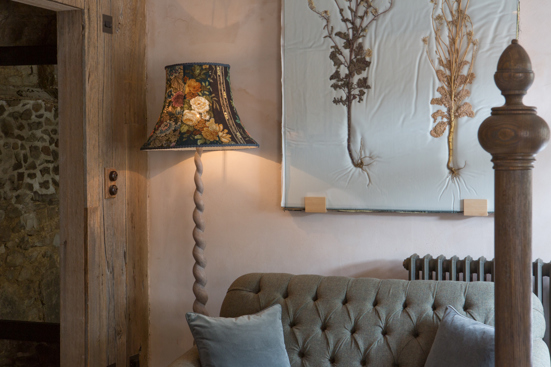 We probably get more questions about our pressed flower and fern pictures than anything else. It's very easy to make your own at home and it's a perfect activity to keep your piglets busy. You can use any small flowers or ferns that you pick up on your walks.
• Pick some nicely shaped fern leaves. Those with a curled form look especially good.
• Place between two pieces of absorbent cartridge paper, inside a heavy book. If you're worried the book isn't heavy enough, place some bricks on top.
• Leave for 2–3 weeks, until the paper has absorbed the moisture from the leaves.
• Mount the ferns on textured, natural looking paper with small dabs of glue. Indian and Japanese paper with wood grain can look very characterful.
• Put the mounted ferns into a beautiful vintage frame, you can pick these up online easily. Look out for the ones with gilt inner slip-mounts inside the frame – they will show off your ferns and flowers particularly well.
For more tips, tricks and how-tos, pick up a copy of THE PIG BOOK - Tales & Recipes from the Kitchen Garden & Beyond