Nothing tastes more like summer than this.
It's a lovely, colourful salad that's light, zesty, and perfect for enjoying in the sun with a glass of wine.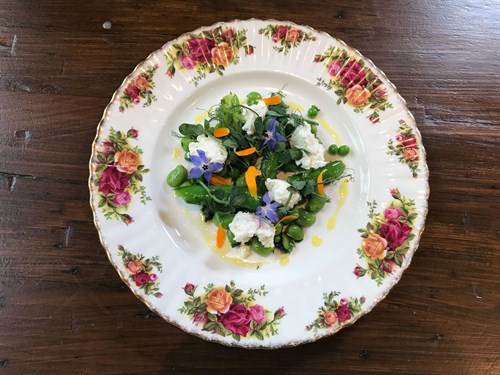 We grow our own peas and broad beans at THE PIGs, but if you don't have any fresh in your garden you can usually pick some up at a farmers' market.
And if you can't get hold of goat's curd, feel free to use soft goat's cheese as an alternative. 
To make a salad for 4 people, you'll need:
600g mix of garden peas and broad beans
100g fresh goat's curd
2 sprigs of fresh mint (we use grapefruit mint from our kitchen garden)
Juice of 1 lemon
50ml Chardonnay vinegar
100ml rapeseed oil
Salt and pepper, to season
Pea shoots and broad bean leaves, to garnish
To make the salads:
1. Remove the peas and broad beans from their pods. Blanch them in salted, boiling water, then refresh them in ice water.
2. Pop the broad beans out of their shells and drain the peas. Put both to one side for now.
3. Mix together the lemon juice, vinegar, oil and chopped mint, then season.
4. To serve, mix the peas and broad beans with some of the dressing, then scatter on the plate.
5. Arrange small spoonfuls of goat's curd over the top. Garnish with pea shoots and broad bean leaves, and finish with a little more of the dressing.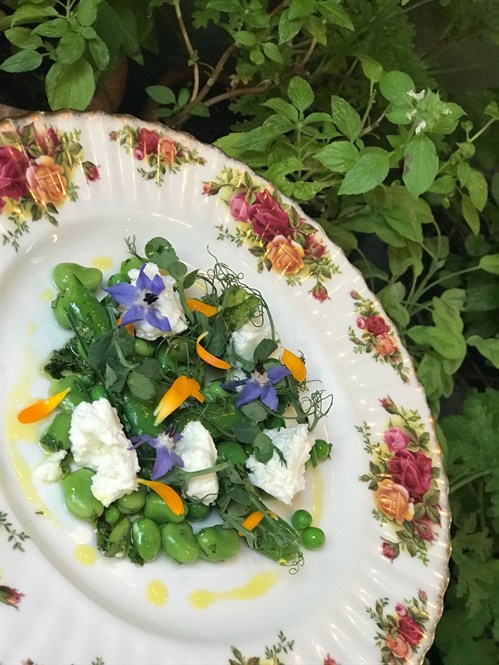 If you make our summer salad recipe, be sure to share snaps of your creation with us.
Show us your photos on Facebook, Twitter and Instagram, and don't forget to tag them with #ThePigHotel and #piggythings