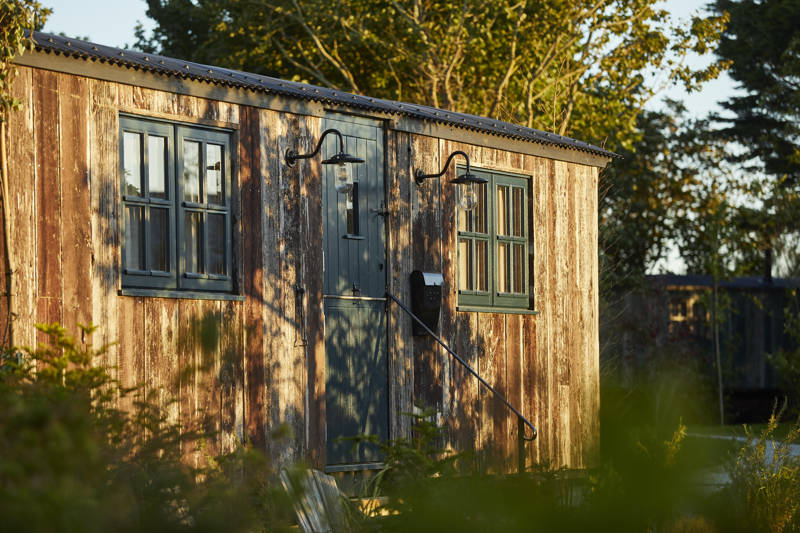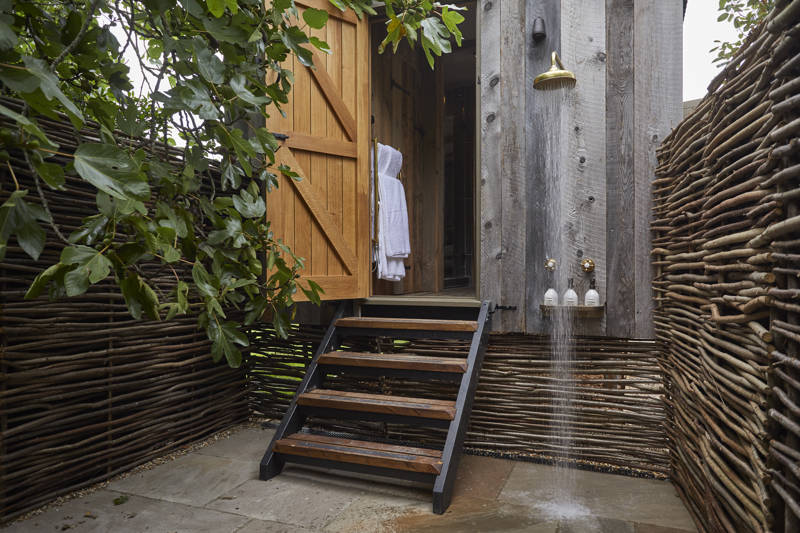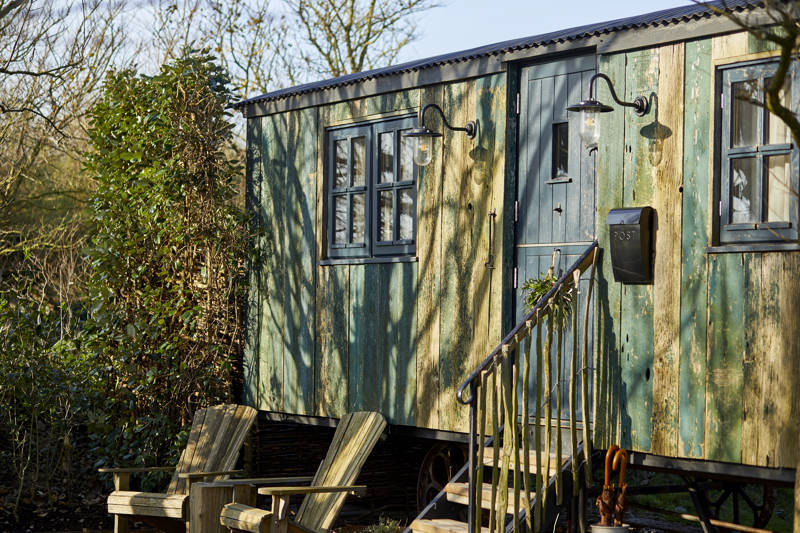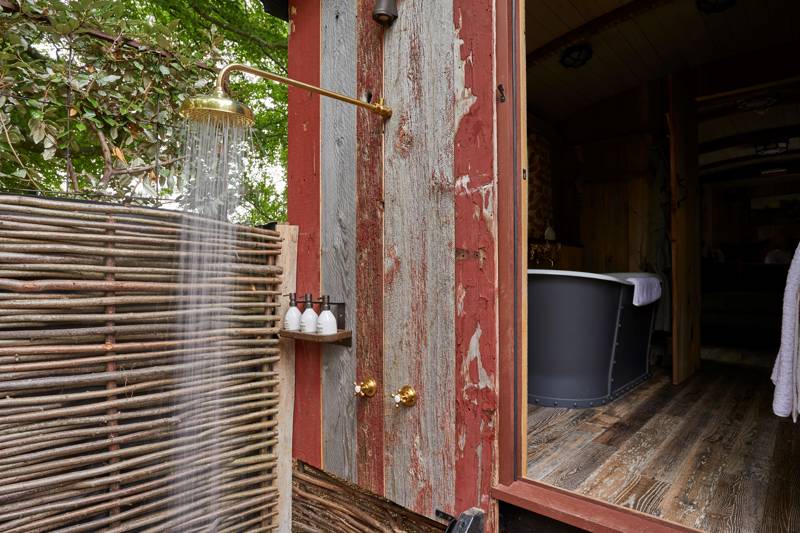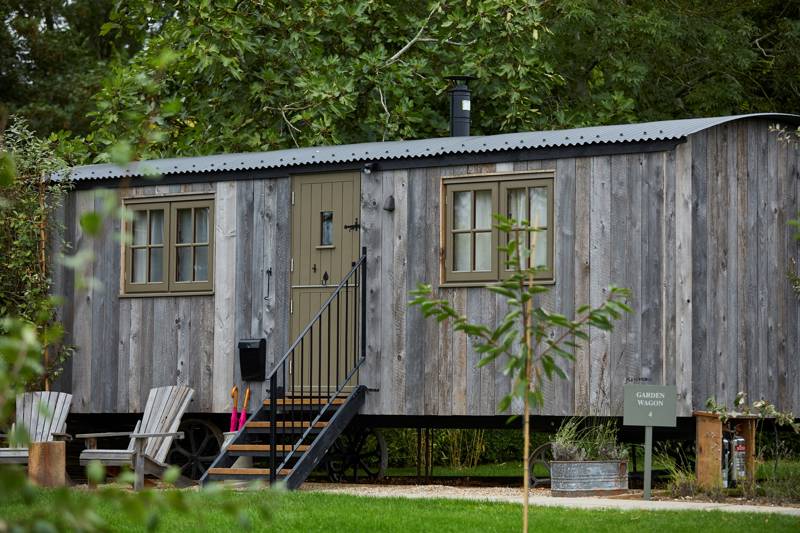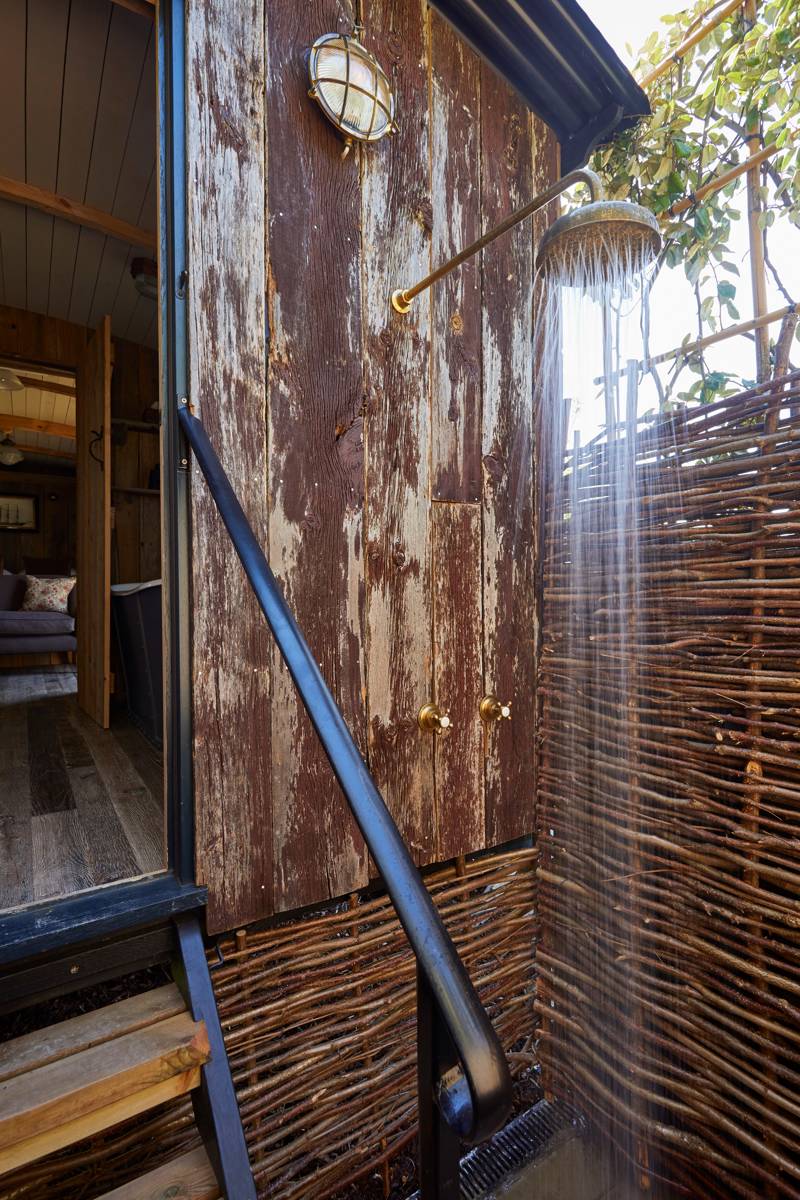 Hidden away in their own little corner of the grounds, just off a turning on our sweeping driveway at THE PIG-at Combe, our five brand new Wagons are proper 'switch-off' territory. With a running stream just there, they look out over a wild meadow that is just coming to life for summer, and are cocooned between rustling trees and the rolling Devonshire hills. 
Tucked away in the valley just under a mile away from the main house, The Stream Wagons have their own outdoor terrace overlooking the stream. Guests can walk 15 minutes up the driveway past the Arabian horses to reach our honey-coloured Elizabethan Gem or make a quick call to reception for PIG Land Rover pick up and drop off.
What is a Stream Wagon?
'We decided to design our own bedrooms on wheels,' explains THE PIG's founder, Robin Hutson, when discussing the rustic-yet-chic new wagons, which are clad in reclaimed timber and blend elegantly into the grounds. They are a fun accommodation option, adding a dose of romance to our already stunning setting, as well as a chance to get closer to nature. The core brief, says Robin, was for something, 'as good as any hotel bedroom, fitted out to the same standard as the main house, including a full bathroom with a double-ended roll-top bathtub.' Speaking of bathing: 'There's a trend in the tropics for outdoor bathrooms, and we decided to take full advantage of our extending British summers by fitting out each wagon with its own private outdoor shower,' says Robin. These are – in case you're wondering– suitably secluded. There's even one 'super wagon', which offers the first-ever outdoor bathtub at any PIG, so its occupants can enjoy the great British outdoors while having a lengthy soak with– might we suggest – a cup of breakfast tea or an evening glass of wine in hand.
Who makes the wagons?
Robin also points out, "Even our most luxurious indoor suite doesn't boast two showers and two baths.' As for how exactly these fantastical wagons came into being: they were commissioned as unique-to-THE-PIG creations from our long-time collaborator, Plankbridge, a family-run business based in Dorset. 'There was an instant meeting of minds,' says Robin about working on the designs with Plankbridge founder, Richard Lee. 'The more ideas we threw at Richard, the more he relished the challenge. So, when it came to creating our super wagons, with all the bells and whistles we wanted, the challenge was catnip to him and his creative team.'
How do Plankbridge do it?
Richard Lee founder of Plankbridge reminisces about the business's humble beginnings:
'My partner, Jane, and I founded Plankbridge in 2000. Building a business has been no mean feat, but it's a thrill. We were inspired by an old Victorian shepherd's hut that we would pass on our dog walks. I was always keen to create a product that I could make and deliver complete, but still configure to customer's requirements. Plankbridge grew gradually, hut by hut. I had been making bespoke furniture and kitchens for many years, but slowly the shepherd's huts became the business mainstay. Jane and I would welcome customers to the workshop at home, where we would sit at the kitchen table and sketch ideas. Today, Plankbridge is made up of a team of about 40 people, with skilled and enthusiastic hut-makers, CAD designers, joiners, furniture makers and paint finishers, as well as our office team. We're inspired by the Arts and Crafts approach of John Ruskin and William Morris and take pride in nurturing apprentices up to hut-maker level. The teamwork with their hands to make beautiful and useful huts of heirloom quality. It is still very much a family business, with our daughter Hannah involved in the marketing side, and a close-knit team. We enjoy keeping heritage craft skills alive.'
What makes the perfect weekend in a wagon?
'There is no doubt that the birds singing outside your door and glorious vistas are an instant recipe for a relaxing stay – and the sense of being at one with nature, sitting outside your own little wagon with a sundowner in hand, is the perfect start to an evening here.' What else does he think guests will relish about the experience? 'Well, the wagons are undoubtedly some of our most romantic rooms,' he begins, then pauses. 'But I won't go into that!'
Book your stay now in The Stream Wagons at THE PIG-at Combe, we will be welcoming our first guests from mid-July 2023!