Our kitchen gardens are the beating heart of our operation.
To make sure our chefs have the best seasonal ingredients the whole way through the year, our gardeners make the most of greenhouses to keep fruit and vegetables growing in the best conditions.
As more and more people return to growing their own vegetables at home, we spoke to Rebecca Huntley, head kitchen gardener at THE PIG-near Bath, to find out what's happening in her greenhouses this summer.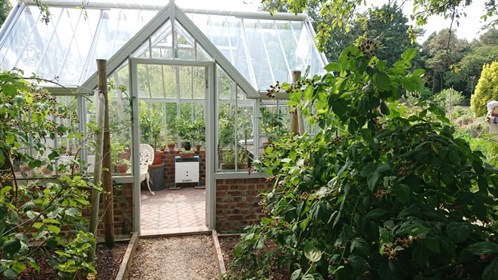 Summer in the greenhouses
"We all know it's been an incredibly hot summer, and you can really feel the heat in the greenhouses. The temperature has regularly exceeded 40 degrees in there! 
"The good thing about our greenhouses is that they can be well-ventilated. We can open up the vents when it reaches a certain temperature, to stop it getting too hot for our plants.
"One of our greenhouses is built by Alitex, and features automatic ventilation – a huge benefit that we don't get with polytunnels.
"As well as letting the air circulate, we also increase the humidity by leaving water in the greenhouses. Lots of plants don't like to be too dry, so we're able to maintain a level of moisture in the air.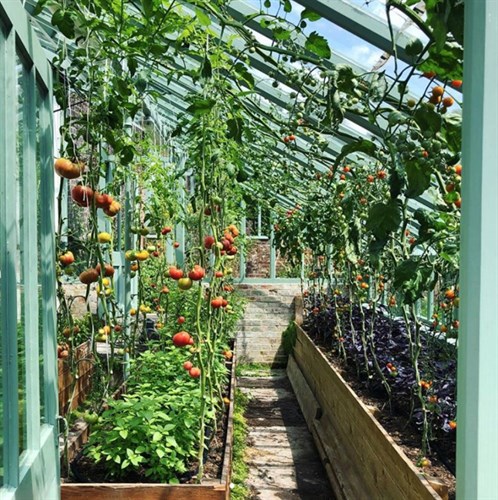 Image: James Golding
"We have a real mixed crop thriving in our greenhouses right now at THE PIG-near Bath. We've been growing onions outdoors, which are now drying inside so they can be plaited and hung.
"We're also growing a number of chilli peppers, which are absolutely loving the heat, as well as sweet peppers and cucumber plants. Some of these have been growing up to six inches a day!
"The heat and conditions in the greenhouse also makes it a great environment to grow something a bit different, so we've also got watermelons and a trial crop of edamame beans in there.
"In terms of herbs we're growing African blue basil, which is a great year-round plant, and whitebrush, which is an aromatic herb from South American and part of the verbena family. It has an interesting smell that combines vanilla, menthol and citrus, and the chefs have been using it to make a delicious mousse this summer.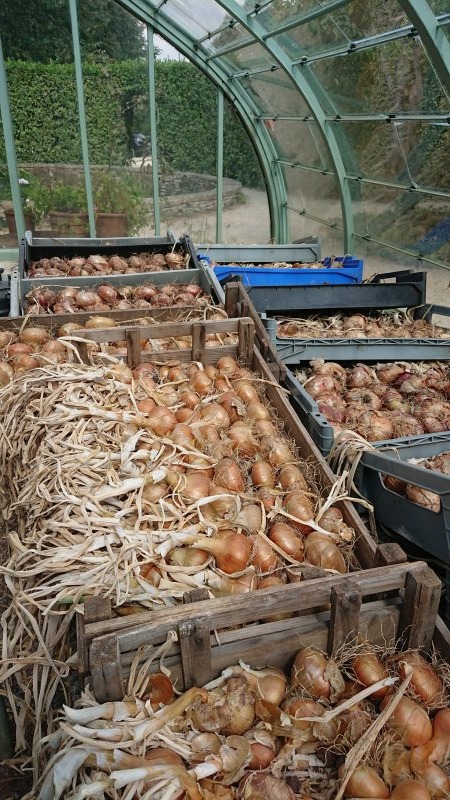 "Throughout the year, our greenhouses have different uses. We benefit from them having a stable climate over the winter for plants such as chilli peppers, which we let hibernate over the coldest months before they start growing again in the spring.
"They can also be used for sprouting heat-loving fruit trees, such as mangoes, avocados and citrus.
"For any keen gardeners who want to get serious about growing their own fruit and vegetables at home throughout the year, I'd recommend investing in a greenhouse."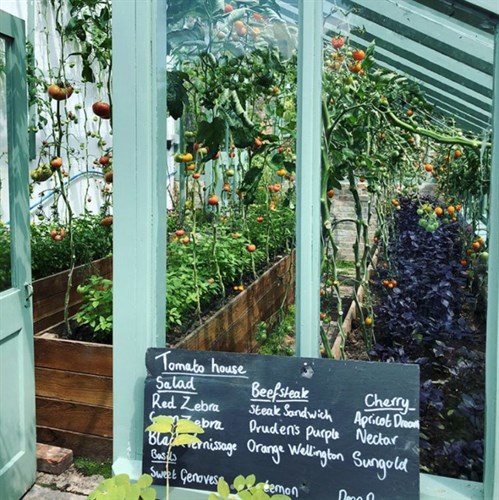 Image: James Golding
The expert advice 
THE PIG first teamed up with Alitex for our greenhouses in 2011. We spoke to Christopher Sawyer, strategic director at the company, for his top tips on what to consider when you're thinking about buying a greenhouse. 
"Firstly, you'll need to assess your available space and siting for the structure. Ideally, your greenhouse should be positioned with the ridge line running from the west to the east, so you can predominantly shade the southerly slope of the roof.
"Secondly, consider what you want to grow and what practical growing space you will need. Salad crops, propagation, soft fruit, vines and cut flowers are often among the top considerations from our customers.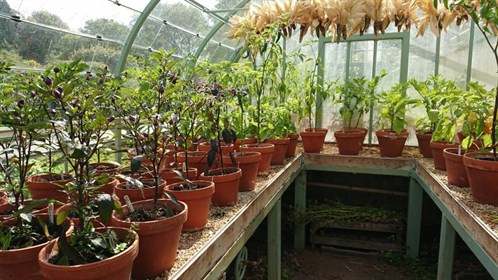 "Next, think about the accessories and how they can enhance your growing-under-glass experience. Alitex offers a range of accessories, including traditional benches, cold frames, reservoirs and advanced heating systems. The early planning of the internal layout of your greenhouse will help your plants flourish.
"Lastly, it's important to consider the style and look of your new greenhouse. Find inspiration in gardening magazines, scroll through Pinterest or visit Alitex's case studypages to see alternative ways people are using their greenhouses." 
Get inspired at THE PIG
Don't forget that our greenhouses are always open to visitors. Pop along for a meal, a drink, or a weekend away, and wander through the kitchen gardens to our glass buildings. 
Our kitchen gardeners are always happy to show you what they've got growing at the moment, and you might even end up with your own cutting to take home with you.
Now, it's time to get growing!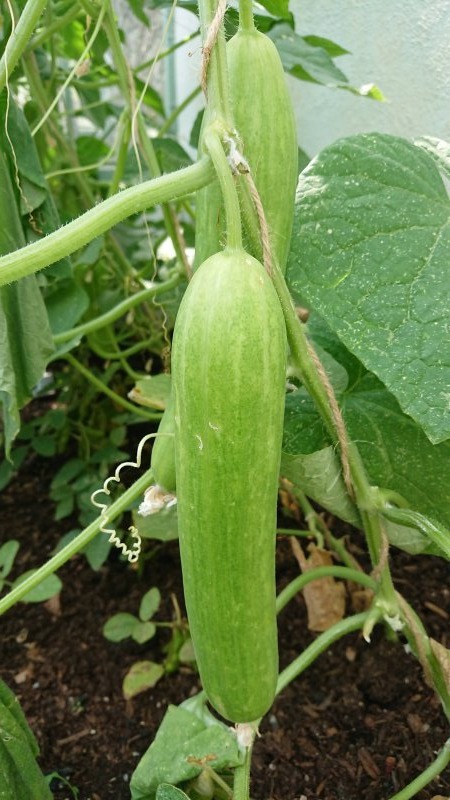 If you're stopping by any PIGs in our litter for a long weekend, or even just a long lunch, don't forget to share your snaps on Facebook, Twitter and Instagram – and tag your shots with #ThePigHotel and #piggythings.