Many of us are trying Dry January this year or cutting down a bit this month after the Christmas festivities! With this in mind, we tasked our Bar Teams with creating a zero-alcohol and zero-waste cocktail using the delicious non-alcoholic distilled spirit from our friends at Seedlip. The winning cocktail would be selected for guests to enjoy across THE PIGs throughout January!
It was no surprise that our teams pulled it out of the bag and created some show-stopping zero-alcohol cocktails with sustainability in mind. The winning cocktail was created by Calum and the Bar Team at THE -PIG-in the South Downs: 'The Crème Bru Nay created by Calum', which we shared here at beginning of the month to get you kick-started this Dry January!
To keep you going on the home stretch, and because they were just too good not to share, we have shared all of the fantastic cocktail recipe entries below so you can sip until your heart is content!  
Seedlip Spice and Everything Nice – created by Jo and the team at THE PIG-at Harlyn Bay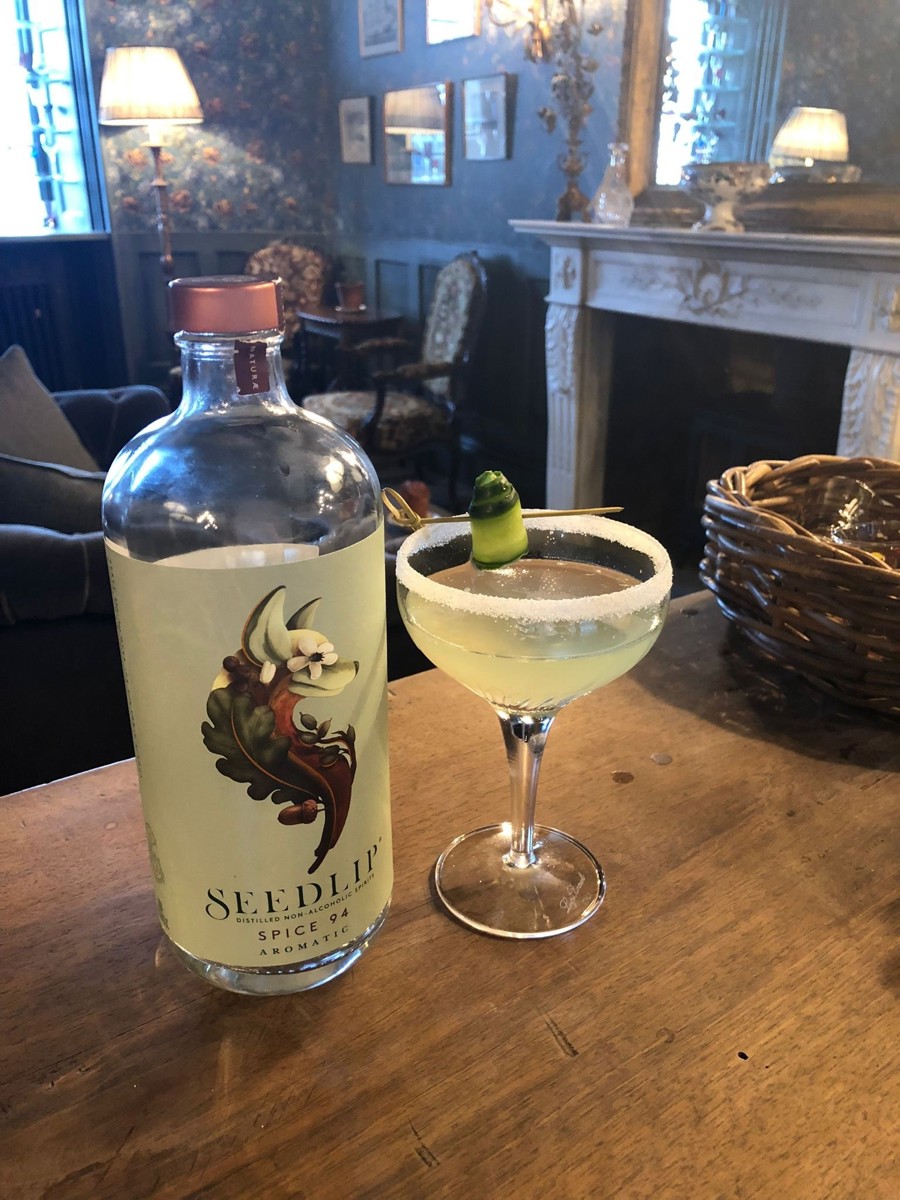 This cocktail was inspired by zero-waste by making the most of the leftover kitchen garden ingredients including using the cucumber, ginger and freshly picked mint from the garden.
Ingredients
50 ml Seedlip Spice 94
30 ml spice syrup
3 or 4 cucumber slices
Sweet and sour rim
Cucumber shaving garnish
Spice Syrup
400 ml simple syrup
10 or 12 mint leaves
A hand full of white peppercorns (cracked)
5 or 6 ginger slices
3-star anise
(To be left to infuse for 48 hours before straining into a bottle.)
Sweet and sour rim
On a plate mix 1-part citric acid to 5 parts sugar
Method
Prepare the coupe by running a slice of lemon on the edge and dip the coupe upside down on the plate with the sweet and sour mix
In a stirring glass muddle 3-4 cucumber slices
Add 50 ml Seedlip Spice 94
Add 30 ml spice syrup
Stir all ingredients
Single strain into the coupe and garnish with a cucumber shaving
Zhero – created by Gabor at THE PIG-on the beach

The Zhero Cocktail was inspired by using lots of leftovers and even left-over fizz that would otherwise go to waste!
Ingredients:
Seedlip Spice 94
Beetroot shrub
'Champagne' soda
Garnish
Beetroot tuile, rosemary & douglas fir
Method
To create the 'champagne soda' use any leftover/flat fizz and cook it until it is reduced mixed with sugar, citric and lactic acid.
Then mix the reduction with filtered water and carbonated with Co2
Mix the leftover beetroot with sugar turning it into a reduction/syrup mixed and then mix with a 1:1 ratio of cider vinegar to create a shrub.
The leftover pulp/flesh can then be dehydrated and turned into beetroot powder which is used for the beetroot tuile garnish.
Measure out your Seedlip Spice 94 to your desired amount, then add the beetroot shrub syrup and top with champagne. Then garnish with whatever you have in the kitchen!
Glassware
We recommend an up-cycled fruit juice bottle
Toast to the Garden – created by Rebecca at THE PIG-on the beach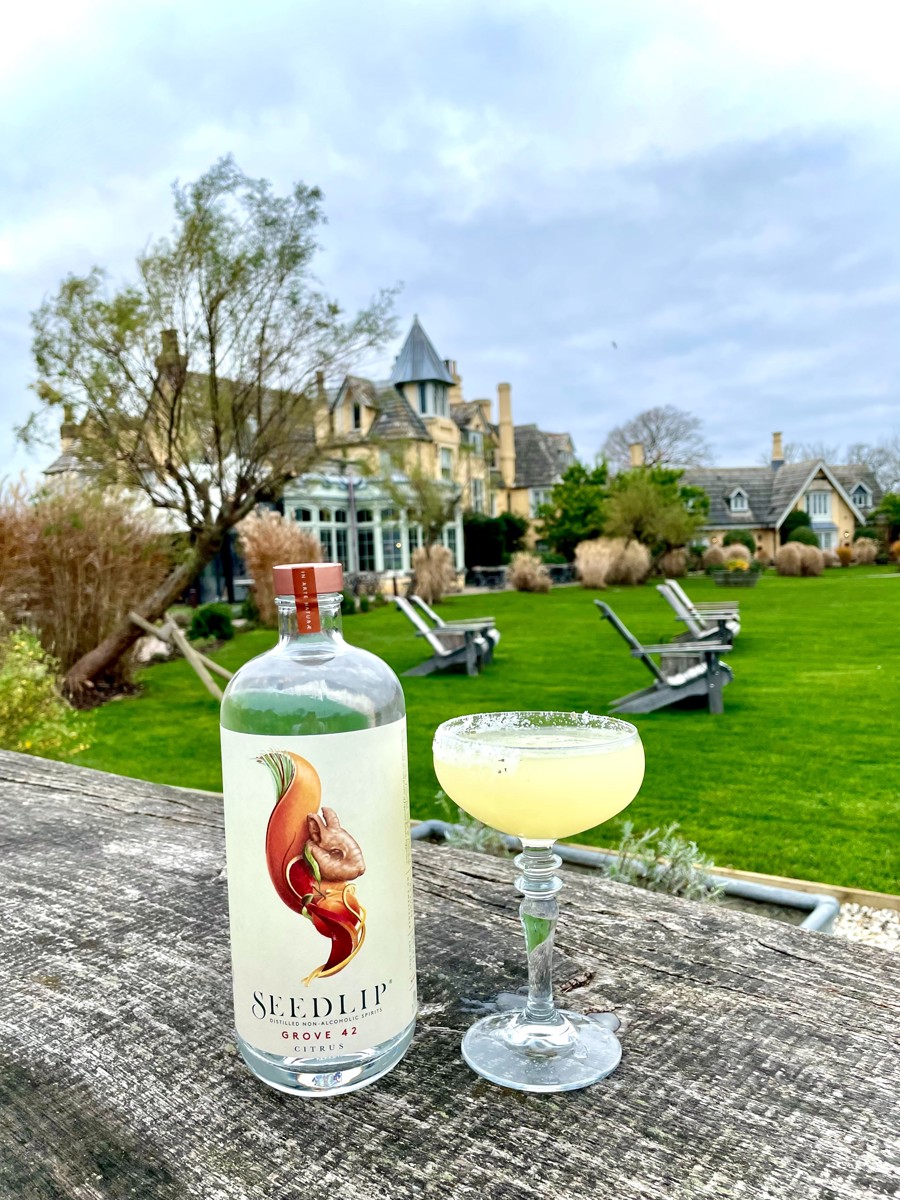 "There's toast beer, why not a toast cocktail?! 
There's not much happening in the kitchen garden at the moment. I could use the waste from brought in produce, but I wanted to use whatever we had homegrown. This meant using our rosemary and thyme. These are both used in the focaccia that is baked daily, of which there's nearly always some leftover at the end of the day. When designing my Seedlip X THE PIG zero alcohol, zero waste Garden tipple I started with the citrus shells and left-over garnishes at the bar and then asked around the kitchen and restaurant to see what is left at the end of the day. That's where the idea to use the focaccia came from."
Ingredients 
50 ml Seedlip Grove 42
35 ml citrus herb focaccia syrup
25ml lime juice
Garnish - rosemary & thyme salt rim
Method
At THE PIG, we ask the restaurant to save surplus focaccia and save the shells from juicing and leftover sliced citrus garnishes on the bar. Both can be kept in the freezer until ready to make a big batch. We would recommend buying some focaccia bread and any citrus fruits you fancy to juice!
To make syrup
Defrost bread first if frozen
Toast leftover garden rosemary and thyme focaccia
Break up into chunks and weigh
Add 5 times weight in hot water, let infuse for at least 1/2-hour, fine strain
Add strained focaccia water to a pan with the same weight of unrefined soft brown sugar,  a few extra sprigs of rosemary and thyme from the garden and left-over citrus (can be used straight from frozen)
Bring to the boil and simmer for 5/10 minutes
Once cool, fine strain and chill - will keep up to 1 month.
To make herb salt 
Add rosemary and thyme leaves to sea salt and blend 
Method
Rim 1/2 the coupe with herb salt
Add 50ml Seedlip Grove 42, 35ml citrus herb focaccia syrup & 25ml lime juice to shaker, shake with ice & double strain into a salt-rimmed coupe 
Serve with a smile!