Over the past few weeks, we have been giving our 25-mile menu producers and suppliers a shout out! These amazing businesses have been keeping their communities and the nation going with their resourcefulness and commitment to providing us all with the essentials we need at home.
Now, more than ever, supporting and buying local not only helps small businesses but means you can get almost anything delivered to your door so you can stay at home!
Wine is a big part of the PIG experience, and we have some truly special vineyards in England that are widely celebrated and are making their mark on the international stage. So, we want to give a Shout Out to winemakers whose hard-work, sacrifice, love and sheer passion they put into each and every bottle.
You can get most delivered to your door direct from the vineyards, so why not try something new!
Robin, our CEO, often says the best way to enjoy an exceptional bottle is with the simplest and humblest of foods so that is what we have done…paired each bottle with something you can throw together at home.
Luke Harbour, Head Sommelier, THE PIG-at Bridge Place 

Simpsons, Barham, Kent
"The devil is in the detail". This rings true to the charming duo, Charles and Ruth Simpson who are at the helm of Simpsons Winery. Since establishing roots in 2012, they have achieved a monumental amount in a relatively short space of time. This includes planting 30 hectares of vineyards, growing a state of the art winery, crafting a range of still and sparkling wines, winning countless awards and developing a world-class vineyard and winery team. All in the sum of eight years.
Chardonnay, Gravel Castle, 2019
The much anticipated released of the 2019 Gravel Castle stands firm amongst their other standout wines. Reminiscent of mother sourdough, underripe Cox apple, lemon sherbet. A wonderful racy freshness that leaves you reaching for another sip!
We love it with: Smoked Salmon and Cream Cheese bagel.
Pinot Noir, Rabbit Hole, 2018
Making a red wine in England is no mean feat. Combine that with using the so-called "Heartbreak Grape" and you are set up for a real challenge. But then, we go back to the details… Apt site selection, well-chosen clones, countless hours of work in the vineyard followed by meticulous handling in the winery and of course mother nature's rays of warming sunshine. Crushed raspberries, fresh blueberries and baking spice. Pop it in the fridge 15 minutes before opening.
We love it with: Homemade Cured Meats Pizza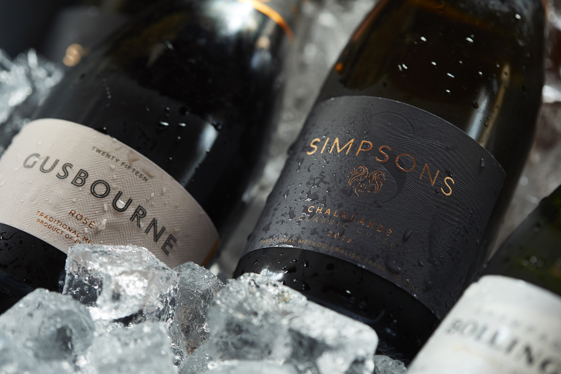 Gusbourne, Appledore, Kent
Gusbourne is among the very best wineries in the UK. They're crafting unique, individual expressions from their vineyards based in Kent and Sussex. They focus on the three key champagne varieties - Chardonnay, Pinot Noir and Pinot Meunier, using a wide selection of clones to promote diversity from the fruit. Patience at Gusbourne is non-negotiable. Every wine made takes as long as it needs to finds it's balanced equilibrium.
Chardonnay, Guinevere, 2017
The grapes for this wine come from the vineyard adjacent to the winery, on the homonymous Boot Hill. Berries are handpicked, allowing only the best fruit to be selected. Charlie Holland, CEO & Head Winemaker uses a delicate approach to maintain absolute precision and a true expression of the vintage summation. It is aged in oak for around 9 months to enhance texture and weight.
We love it with: A vintage cheddar toastie.
Brut Reserve, 2016
Wonderful as an introduction to Gusbourne - Chardonnay, Pinot Noir and Meunier were fermented in a mixture of stainless steel and oak lending helpful components to the final blend. Charlie and the team bottled this in April 2017, leaving it to spend at least 36 months in their cellar, mellowing away before realising. Pop the cork and you will have reminiscences of apple compote, caramelised pear, toasted pecans and a rounded finish.
We love it with: New season asparagus, poached egg and hollandaise

Chapel Down, Tenterden, Kent
Chapel Down is one of England's largest wineries and one of seven in the 'Wine Garden of England'. A considerable range from Sparkling, still, fresh and delicate to rich and complex is created in the winery. We adore their Single Vineyard Chardonnay, named Kit's Coty, situated on one of the oldest agrarian landscapes in Britain.
Chardonnay, Kit's Coty, 2017
Here we have the latest release, the 2017 rendition. Despite the tricky conditions faced from grape growers all across Europe, Chapel Down managed to conquer the difficult weather and come out the other side with a sensational wine!
The wine sings of an elegantly made, premium chardonnay from a cool climate. Apple and pears along with honeydew melon and a whiff of oak character.
We love it with: Sunday roast chicken and some fresh veggies
Blackbook
Blackbook is an urban London winery set up by Sergio Verrillo and his wife Lynsey. Some of the finest English grapes are sourced within hours from the capital before heading back to the winery, ready to be painted into a beautiful picture. The approach in the winery is to avoid over manipulation, with Sergio's hands-off, minimal intervention ethos.
Rose, Pinot Noir, 2018
Here we have a Rose made from the superlative 2018 vintage. The grapes were sourced from the Crouch Valley Vinyard in Essex. Cold Soaked for a few hours to extract the desired colour and then pressed off into oak barrels for their fermentation. The final result is a cleverly crafted off-piste Rose with a creamy, rich, complex style, with a fine texture. Ripe, red berry fruit dominates.
We love it with: Aubergine Parmigiana
https://www.blackbookwinery.com/

Rathfinny
Rathfinny Wine Estate, founded in 2010, is a vision dreamt by the charismatic couple, Mark and Sarah Driver.
Their ambition is far greater than just producing world-class sparkling wines from their 250-hectare estate in the south downs of Sussex. "The aim for Rathfinny is to contribute something special to the unique spirit of place in this beautiful part of the South Downs, which has been farmed since medieval times". The Drivers wish that their wines can eventually be adored from around the globe.
Our question is, how will this all be possible?
The vineyard is located on an ideal, south-facing slope in the South Downs National Park. It is within arms distance from the coast which encourages a gentle breeze to keep the grapes free of disease. It also helps reduce the risk of frost, an annual headache for growers across the UK. The vineyards are in the competent hands of Cameron Roucher, a renowned viticulturist from New Zealand. The ultra-modern winery is led by Jonathan Medard from Champagne, Epernay. With this calibre of team, it is easy to see how Rathfinny looks set to achieve their goals.
Blanc de Blanc, 2014
The first sparkling wine produced from Rathfinny. It certainly lives up to its promise and is well made. A tightly-knit core showing greengage, apple blossom and biscuit.
We love it with: Poached Cod, Clams and Peas
https://rathfinnyestate.com/ - Wines available from the website early May
Hambledon
Hambledon is the UK's oldest commercial vineyards. In 1951 Major General Sir Guy Salisbury-Jones questioned what he could do with a fallow field opposite Mill Down House. John, his stepson, suggested planting a vineyard, given that Sailsbury-Jones spent a period of his life in France and became an ardent wine enthusiast.
After the seed was sown, the Major General carried out research into the feasibility and site potential. He sought advice from friends at the renowned Champagne house, Pol Roger. Following their approval, a range of different grape varieties was planted in 1952. This was the beginning of the Hambledon journey.
Ian Kellet, the current proprietor, acquired the vineyard in 1999. Ian was convinced that the sparkling wines were the future for England. Skipping forward to 2020, Hambledon now has over 80ha under vine, a gravity-fed state of the art winery and a range of award-winning sparkling wines.
Hambledon 1er Cuvee, NV
Chardonnay and Pinot Noir are blended together with a lengthy ageing process in mind, around 45 months laying in the cellar.
A fine and refined nose presenting aromas of roasted stone fruits, white chocolate and pastry.
The palate is refined and linear revealing layers of character. This feels like a vintage Champagne!
We love it: This is perfect for a celebration – lovely on its own!
https://www.hambledonvineyard.co.uk/

Bluebell Vineyards & Estate
Set amidst bluebell-strew woods and, ironically, a former Pig farm we find Bluebell Vineyard and Estates.
It is now home to a family-run venture with one clear goal - 'To produce world-class still and sparkling wines' from grapes grown exclusively on the estate by the accomplished, talented vineyard manager, Kevin Sutherland. Kevin is the former vineyard manager and lecturer at Plumpton College, the UK's centre of excellence for wine education.
The vineyards are planted to an admirable size of 40 hectares including Chardonnay, Pinot Noir, Meunier, Seyval Blanc, Bacchus, Ortega & Merlot. Every wine produced is vintage specific, allowing the individuality of the year to speak for itself.
Seyval Blanc, Hindleap, 2014
Made from the French hybrid variety, Seyval Blanc. A grape that performs well in the UK's marginal climate…
Zesty blood orange, elderflower and gooseberry are entangled with macadamia nuts and caramel, driven from the lengthy ageing process. A stunning example of a grape that has largely been put to bed by the more popular, international varieties.
We love it with: Steamed Mussels with Cream, Garlic and Parsley
https://www.bluebellvineyard.org/

Castlewood, Musbury, Devon
Nestled beneath the ancient hill fort of Musbury Castle lies Castlewood vineyard. The family trio, Rob, Kate and baby George Corbett nurture the vineyard and small winery with great love and care. This is utterly transparent in their delicious, Devonian wines. Over the years we have built a lasting relationship with the family team at Castlewood to the extent that back in 2018 our CEO, Robin Hutson, collaborated on a wine alongside friend and fellow restauranteur, Mark Hix. A love of food, wine and fishing was the nexus for this joint venture - every part being co-written along the way.
Bacchus, Devon Minnow, 2018
100% Bacchus from a single plot, hand planted in 2016. The debut grapes from this vineyard to go into production… the exceptional weather experienced in 2018 led to deliciously ripe, healthy fruit. The only thing left was to give these berries a gentle help in hand in the winery. The finest juice made its way into French oak barrels for 6 months developing layers of complexity. The Devon Minnow was finally bottled on the 28th April 2019. It shows an aromatic, tropical nose with whispers of spice and vanilla. Mouthwatering freshness combined with a firm core - perfect for every occasion. Reminisce and enjoy with friends on a riverbank.
We love it with: Pan-seared Lyme Bay Scallops and west country bacon
We look forward to seeing what the future has in store for Castlewood Vineyard…
https://castlewoodvineyard.co.uk/
Woodchester Valley
A family-owned, boutique winery sat in the South Cotswolds. The vineyards are planted with a range of grape varieties that give the winery team plenty of options.
Bacchus, Orpheus, 2018
Lauded as one of the very best examples of Bacchus in the UK, this is worth seeking out! The name comes from the fact that Woodchester is home to the world-famous Orpheus Roman pavement. This is one of the most complex and intricate mosaic designs found in Northern Europe. It was believed to have been completed around AD 325 by craftsman from Corinium (Cirencester) with the main design based around Orpheus and his relationship with nature.
Mouthwateringly fresh and vibrant. English hedgerow, lychee and blackcurrant leaf.
We love it with: Grilled Vegetable, Couscous & Halloumi
https://www.woodchestervalleyvineyard.co.uk/shop/our-wines/orpheus-bacchus-2018