Head to the bar in any of our PIGs, and you'll notice our eclectic collections of herb-infused vodkas.
At THE PIG in Brockenhurst alone, there are 35-40 different homemade infusion variations. Head bartender Tim Batchelor and his team are the curators of these diverse concoctions, made with herbs and flavours sourced from our kitchen gardens when they're at their absolute best. 
Flavours of the garden
As always at THE PIG, our gardeners run the show when it comes to what's in season, and the best produce available. Our herby flavours include borage, chive and winter savoury, as well as lesser-known varieties: our sweet woodruff vodka is bitter with an apple taste, and our pelargonium vodka takes on a cola bottle sweet flavour. 
A popular vodka variety each spring is baby garlic, where a young whole wild garlic plant is suspended in a bottle of the spirit.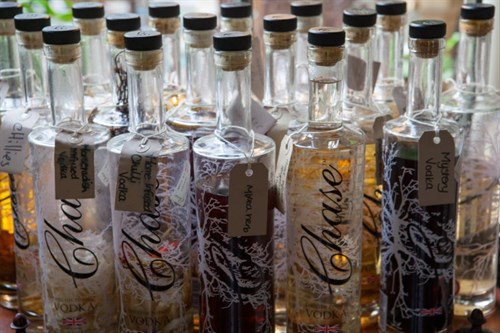 Of the many varieties available in Brockenhurst alone, Tim has his favourites – including a bottle labelled 'mystery vodka', which includes flavours that nobody knows.
Another special bottle is the 'forest floor' vodka. The infusion ingredients for this were picked up on a walk through the New Forest one day years ago.
Certain flavours match well with favourite cocktails. For example, Tim's go-to vodka infusions for a different twist on a Bloody Mary are cucumber, chili, horseradish or basil.
While you may not find every type of vodka on our cocktail menu, Tim and his team make changes every month to add new options. And if you take a look through our extensive infusions and want to try one in a drink, they'll be more than happy to build you a concoction around it.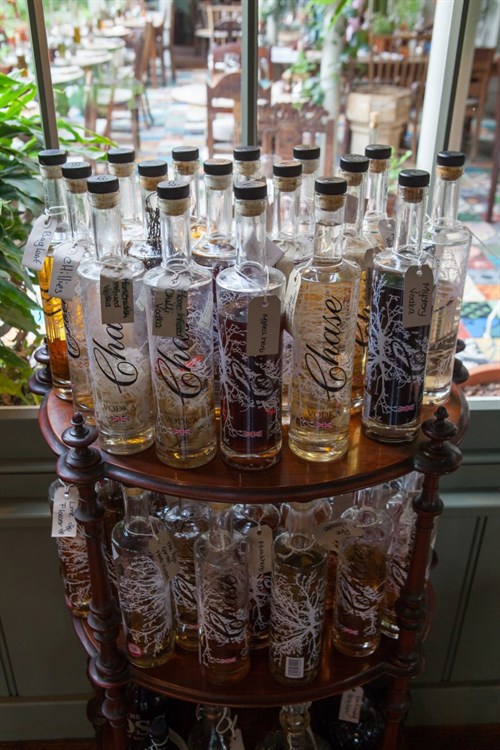 Creating your own infused vodka
Tim advises that dry or semi-dried herbs work a lot better for infusing vodka than wet, fruity ingredients like strawberries.
If you plan on using cuttings from your own garden, make sure your ingredients are picked when they're in season. Our team usually make 6-8 bottles at a time to make the most of each harvest, and as the flavours are well-preserved in the alcohol you can be sure the vodka will last a long time.
To help you get started with infusing your own spirits and making cracking cocktails, we're sharing some of Tim's recipes that you'll find on the menu at THE PIG.
To make sage vodka, you'll need:
A bottle of Chase vodka
20 sage leaves (it's up to you if you rip the leaves up or keep them whole) 
Pick and wash the sage leaves and add to the bottle of vodka. Leave to infuse for 24-72 hours, and enjoy in a Forager's Fizz cocktail.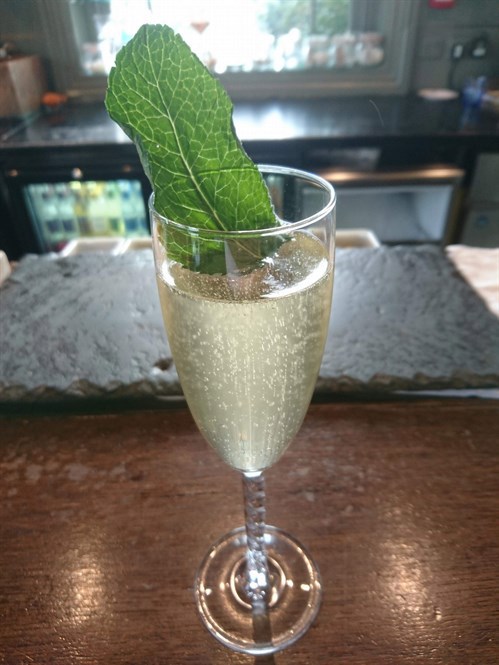 To make a Forager's Fizz, you'll need:
30ml sage vodka
20ml elderflower cordial
Sparkling wine to top
Sage leaves to garnish
Assemble the vodka and cordial in a Champagne flute. Top up with the sparkling wine and garnish with the sage leaves
Create your own gin infusions
Gin is still having its moment as one of the most popular spirits in the UK. Tim and the bartending teams at THE PIGs enjoy experimenting with gin infusions too, using mixtures of herbs and fruit to create new flavour combinations.
Try your hand at one of these combinations, which can be made using the same method as the infused vodka:
Apple and red watercress
Pear and tarragon
Cucumber and basil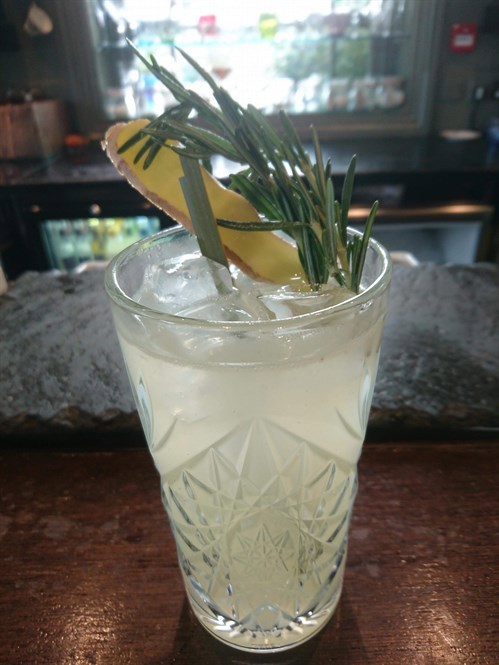 Make a Gardener's G&T
A Gardener's G&T is the perfect cocktail to try out your new gin infusions. Enjoy it on a sunny day, sitting outside and admiring your gardening handiwork.
You'll need:
50ml infused gin of your choice
20ml elderflower cordial
20ml lemon juice
Tonic water, to top
Herbs, to garnish
Assemble the gin, cordial and juice in a tall glass. Top it up with tonic, and garnish with your choice of herb to complement the gin.
Show us your creations
If you make any of Tim's vodka or gin infused cocktails – or come up with any new combinations of your own – make sure to share your snaps with us.
Show us your photos on Facebook, Twitter or Instagram, and make sure you tag them with #thepighotel and #piggythings. Enjoy infusing!