Friend of THE PIG's Gizzi Erskine, is a Chef, restauranteur and award-winning food writer famed for being one of the big instigators within the pop up food scene. Earlier this year she had her restaurant The Nitery in residence at the St Martins Lane London hotel, a French/American restaurant inspired by Las Vegas niteries that had been inspired by early 20th-century Parisian bohemia. Her latest project, Giz and Greens – with friend rapper Professor Green saw them open a Pizzeria in another Pop Up in East London. She also owns sustainable plant-based burger brand - F!LTH! with her good friend, supermodel and nutritionalist Rose Ferguson.
Up next is her much anticipated new cookbook 'Restore, a modern guide to sustainable eating' - over 100 recipes, about restorative agriculture and restorative food and cookery. Exploring the stories behind the food on our plates, it will show the best way to make the most of our food, whether that's eating root-to-shoot or nose-to-tail, and using Gizzi's trademark techniques to maximise flavour – we can't wait to get our hands on it.
Gizzi recently visited our newest addition THE PIG-at Harlyn Bay and has told us a bit about her stay in Cornwall…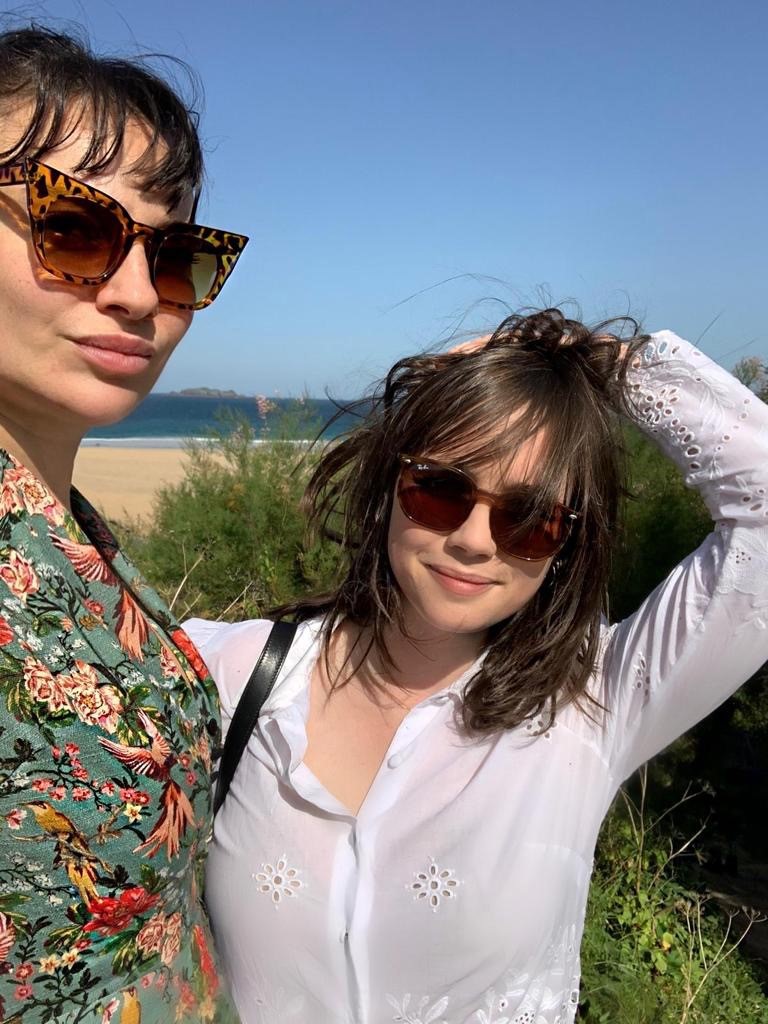 What brought you to THE PIG-at Harlyn Bay?
I've been a friend of THE PIG for several years and I always jump at the opportunity to be able to stay at the hotels, it's such a treat! I got to have a sneak peek behind the scenes of the build last Christmas during my annual trip down to Padstow for the Padstow Christmas festival with Rick Stein, Angela Hartnett, Paul Ainsworth and lots of other fantastic chefs, so I could already get a sense of what was to come from THE PIG-at Harlyn Bay. One of my favourite producers has a farm virtually on the hotel's land, which was extremely serendipitous as I am making a short film about sustainable farming to tie in with my new book, 'Restore' the modernist guide to sustainability", which comes out at the end of October. So, what better excuse to come down and stay and see THE PIG-at Harlyn Bay now it is open officially!
Did you eat out anywhere that was a real find?
I know the local area very well, and Cornwall is known for having some of the best places to eat and there are certainly many places to choose from. However whenever I'm in Padstow I have to go to The Seafood restaurant by Rick Stein, it has a reputation for serving up some of the freshest fish and shellfish in the area and the chefs rustle up huge platters with oysters, langoustines and sashimi – delicious! Another must visit whilst in Padstow is Number 6 by Paul Ainsworth, a stunning Michelin Star restaurant located in a Georgian townhouse serving up British food from locally sourced Cornish produce.
Where did you explore locally and what did you find?
Despite knowing the area really well I had never been to the beach at Harlyn Bay before, with it only being a stone's throw from the hotel I simply had to visit the beach and see what all the fuss is about! I can say that it's everything you could possibly want from a Cornish beach; white sands, amazing rock formations covered in mussels and limpets, and azure blue sea. THE PIG-at Harlyn Bay are lucky to have this beautiful gem on their doorstep.
Did you plan to do something but just did not quite have time to do?
There's never enough time when I visit Cornwall, there is always so much I want to do and see and sadly this time due to our filming schedule we didn't have enough time to go further afield, but the hotel was so great that we were more than happy to spend our downtime there!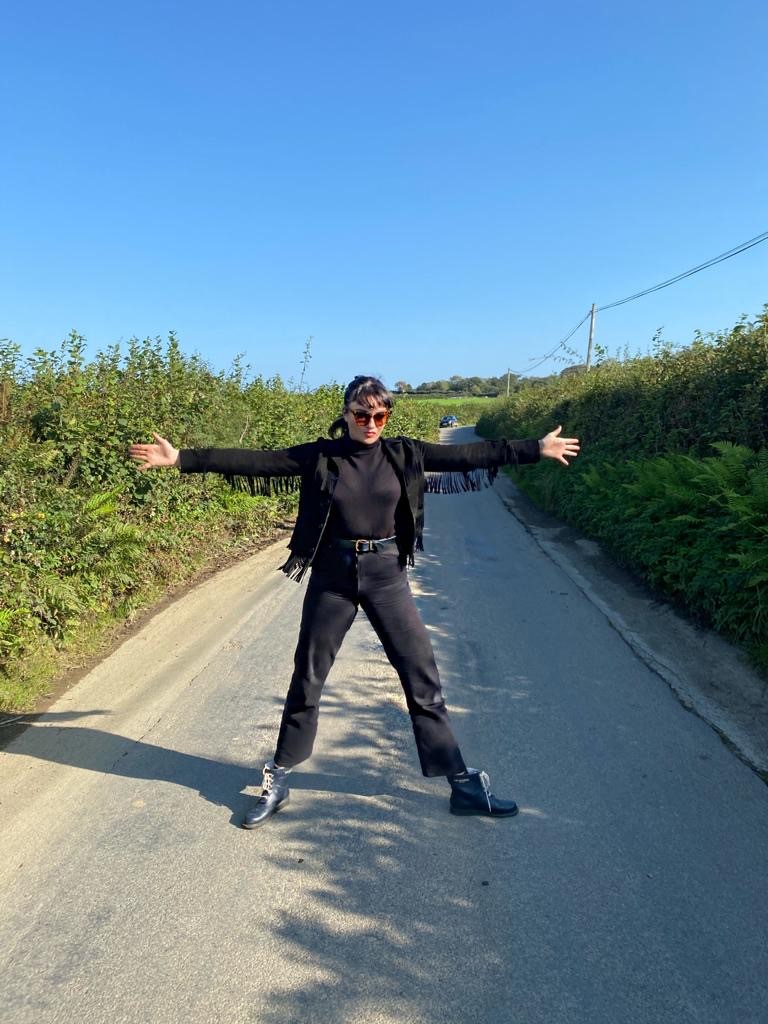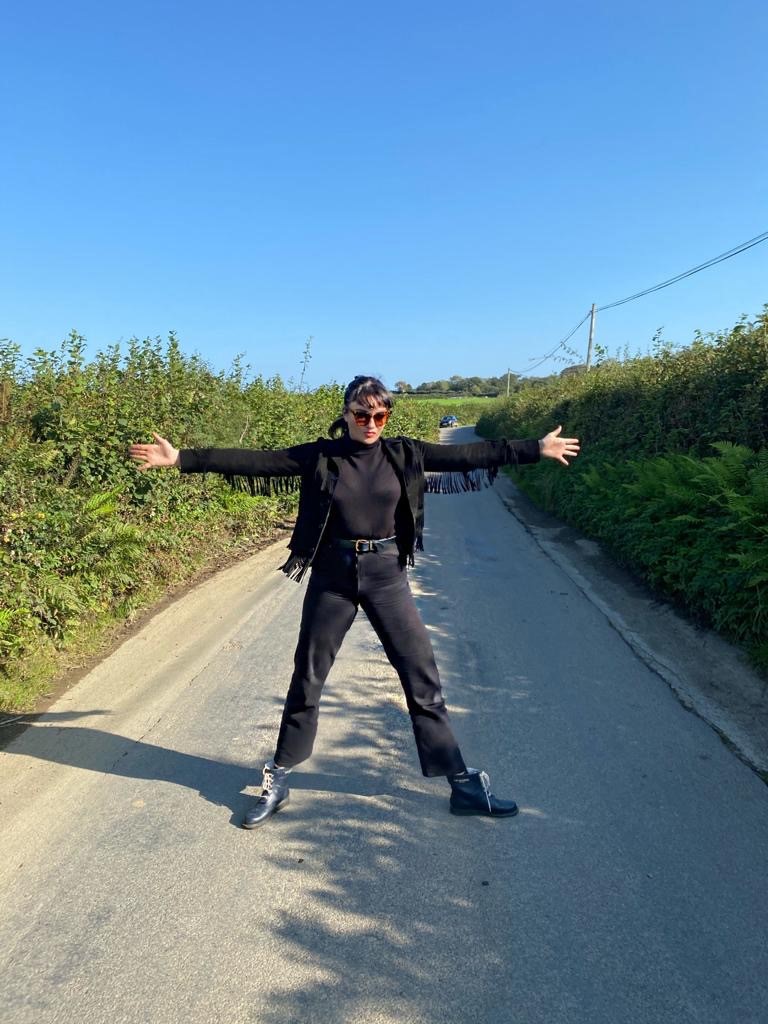 Where would you go back to?
If you don't visit Padstow then you're really missing out. A port with a ton of pubs, great restaurants, pasty shops, local boutique shops and beautiful cobbled lanes. You can easily spend a whole day exploring this great seaside town and it is the perfect place to pick up some souvenirs to remember your trip to Padstow.
What did you drink at THE PIG?
Probably a bit too much! One of the many reasons I love staying at THE PIG's is the knowledgeable sommeliers, they will always recommend new things to try. We had a really amazing bottle of Barolo in the restaurant which went down well with our delicious meal. I have to say that the Gin and Tonics with Orange & Thyme syrup at the Lobster Shed went down especially well – who doesn't love to enjoy a Gin and Tonic alfresco with the sound of the sea behind them?!
Your favourite dish that you ate whilst with us?
I knew that the food would be amazing as it always is at THE PIGS, but the standout dish for me on this trip to Harlyn was the BBQ Cornish Hake on the bone with ollo beans and almond chilli brown butter. The almond chilli brown butter was a genius touch. A classic dish ramped up and very, very me. It was great seeing so many local Cornish produce on the menu.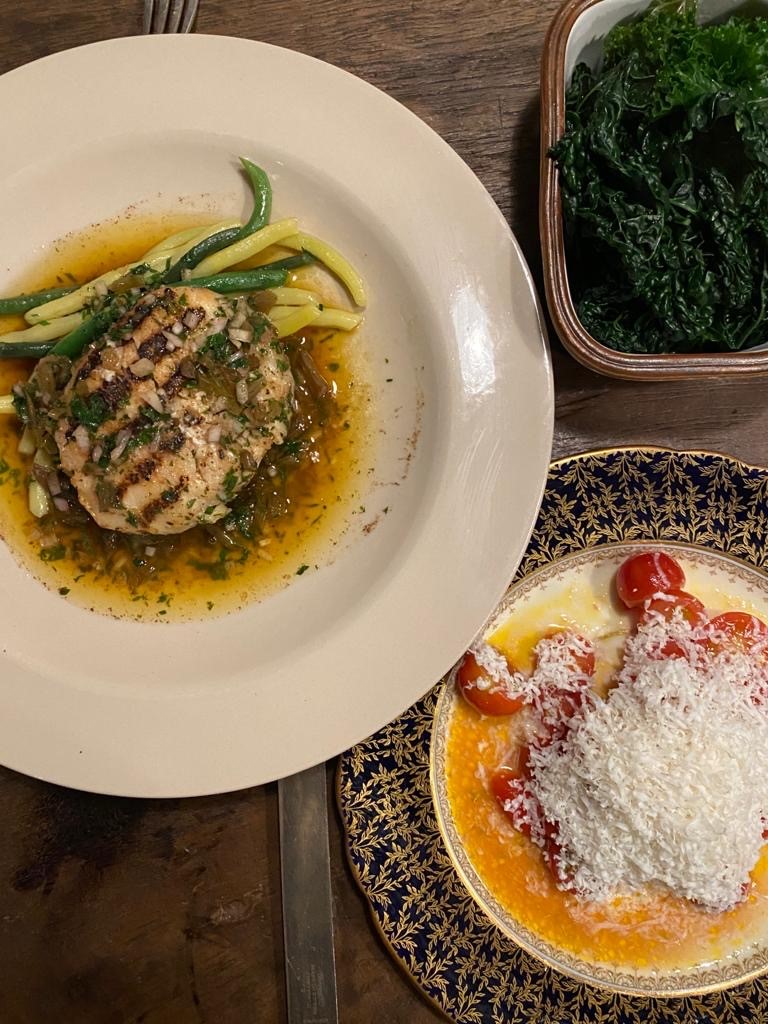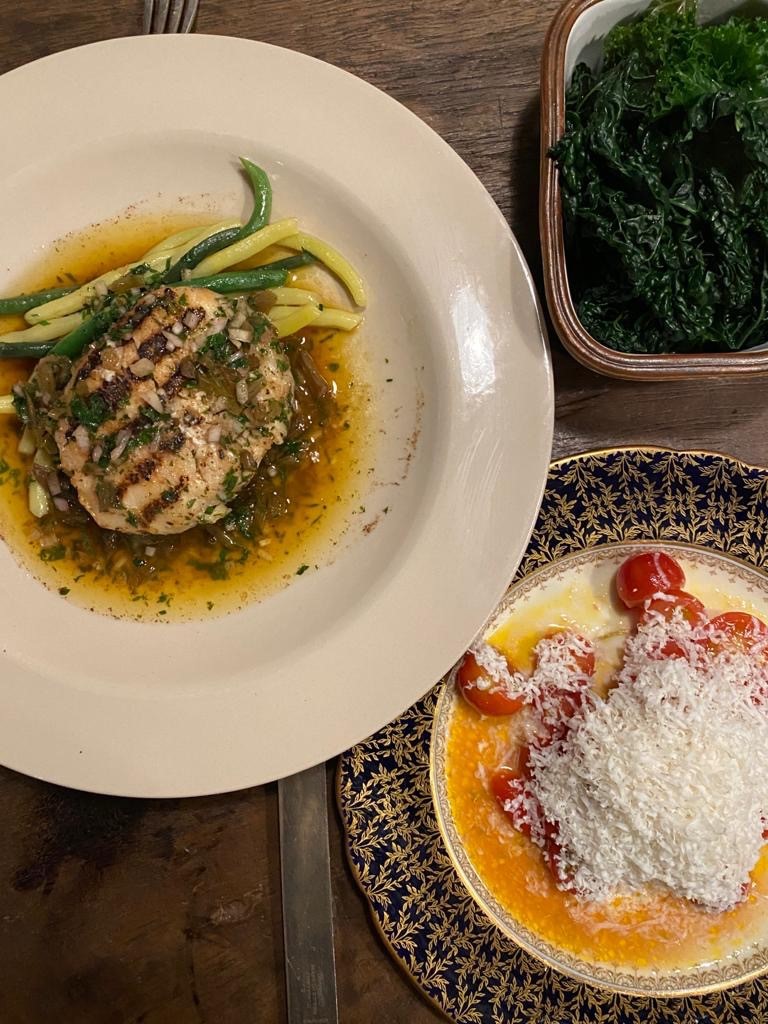 Did you take any souvenirs home with you from Cornwall?
We took some Cull Yaw chops back from Matt Chatfield of The Cornwall Project, which was one of the main reasons we came down to film. What he's doing in the world of regenerative farming is incredibly inspiring and one of the key influences for me when writing my new book 'Restore'.
Don't forget to follow us on Instagram for our next #postcardfromTHEPIG: @thepighotels