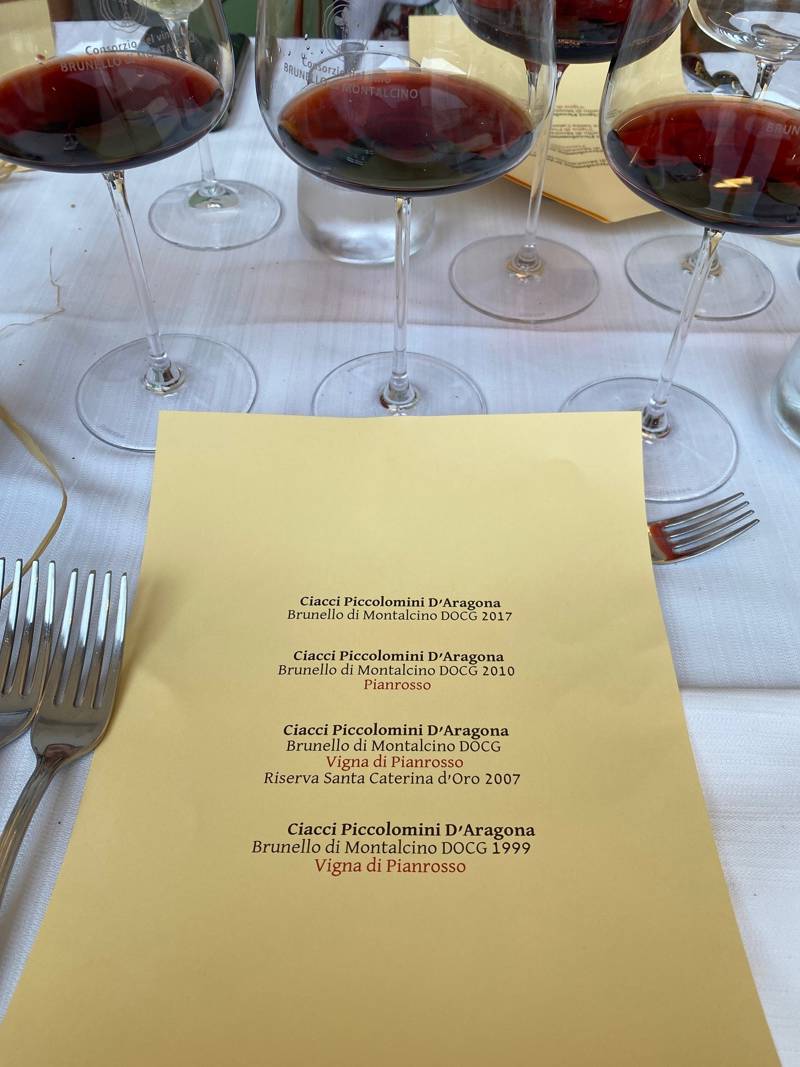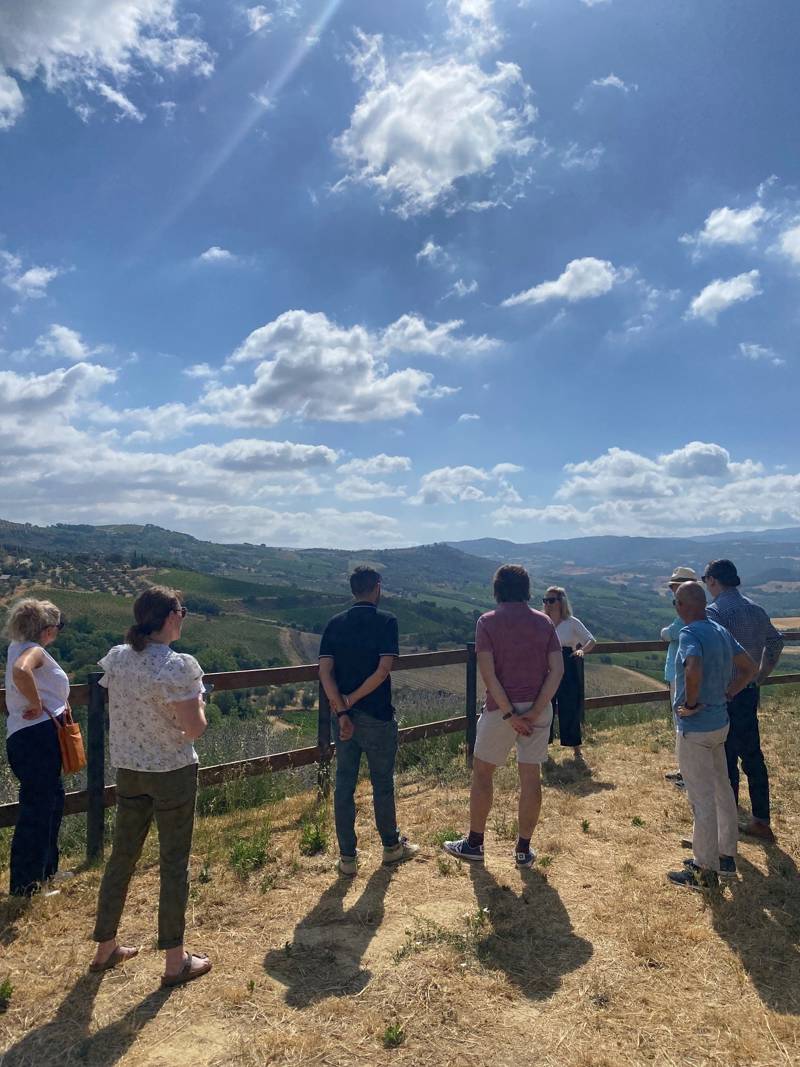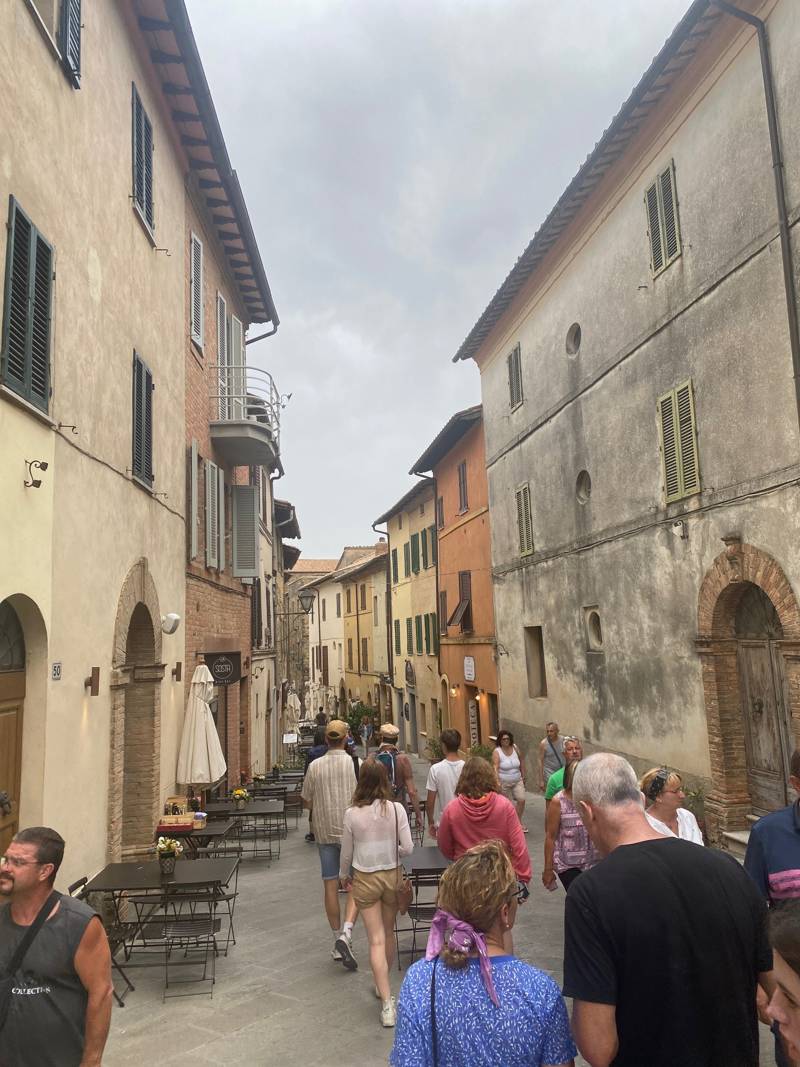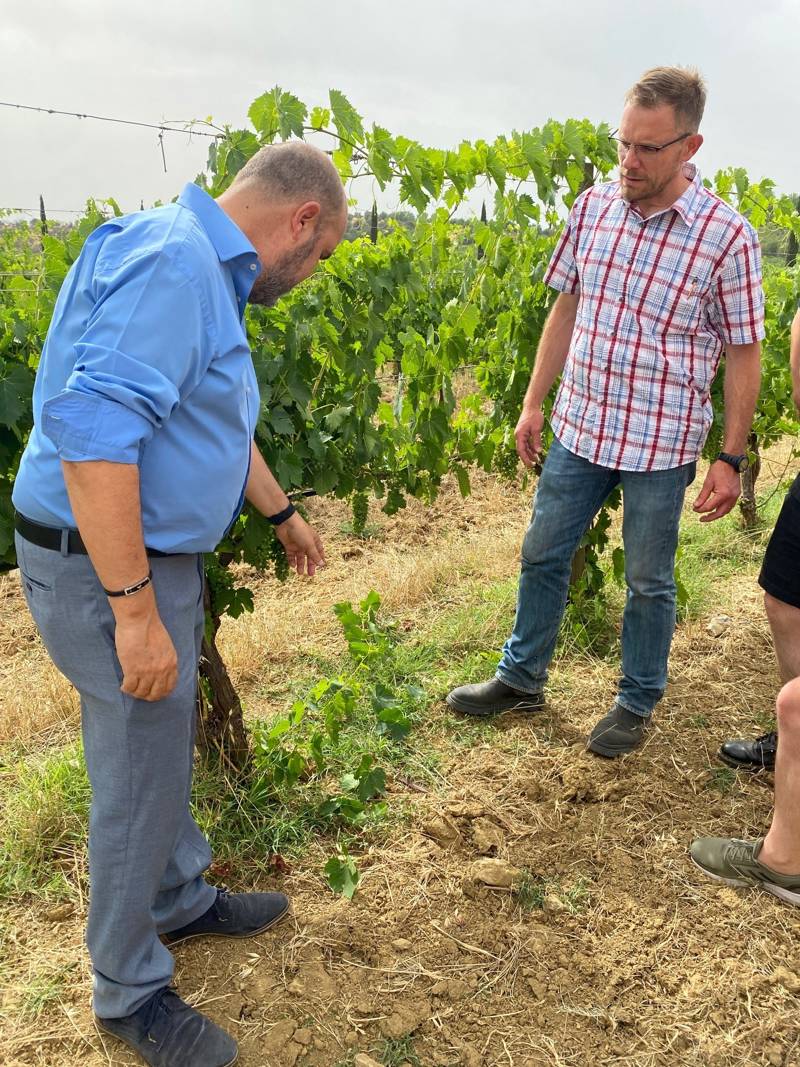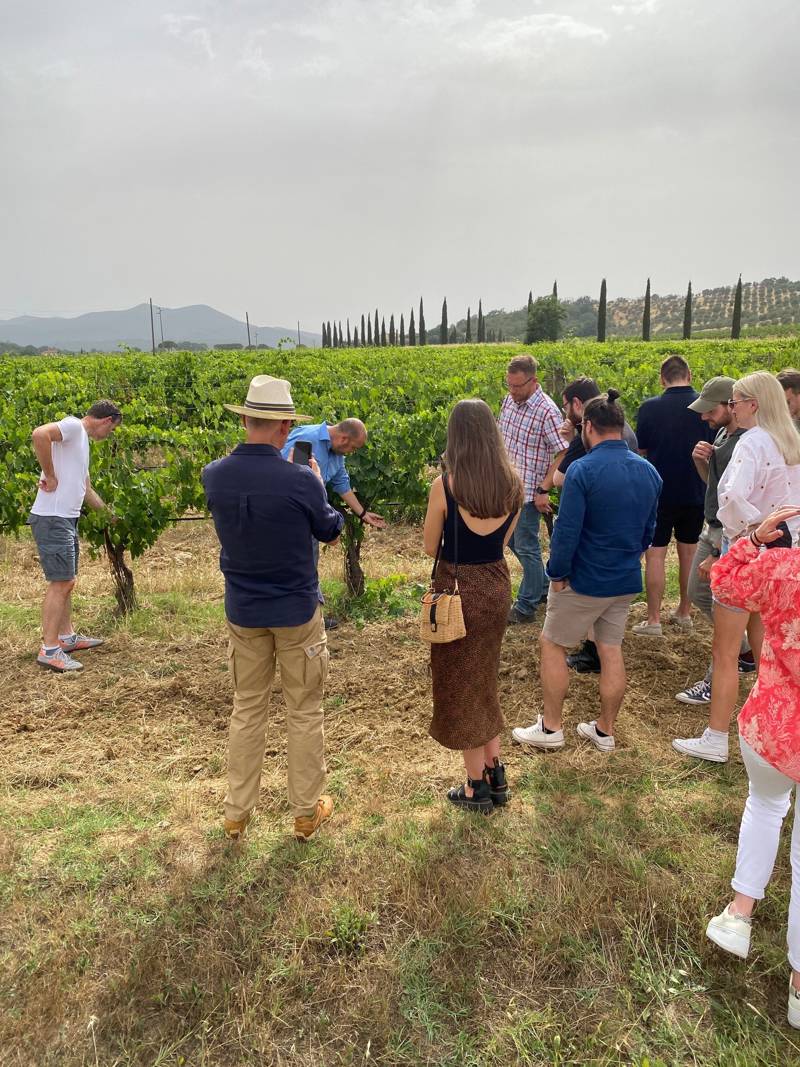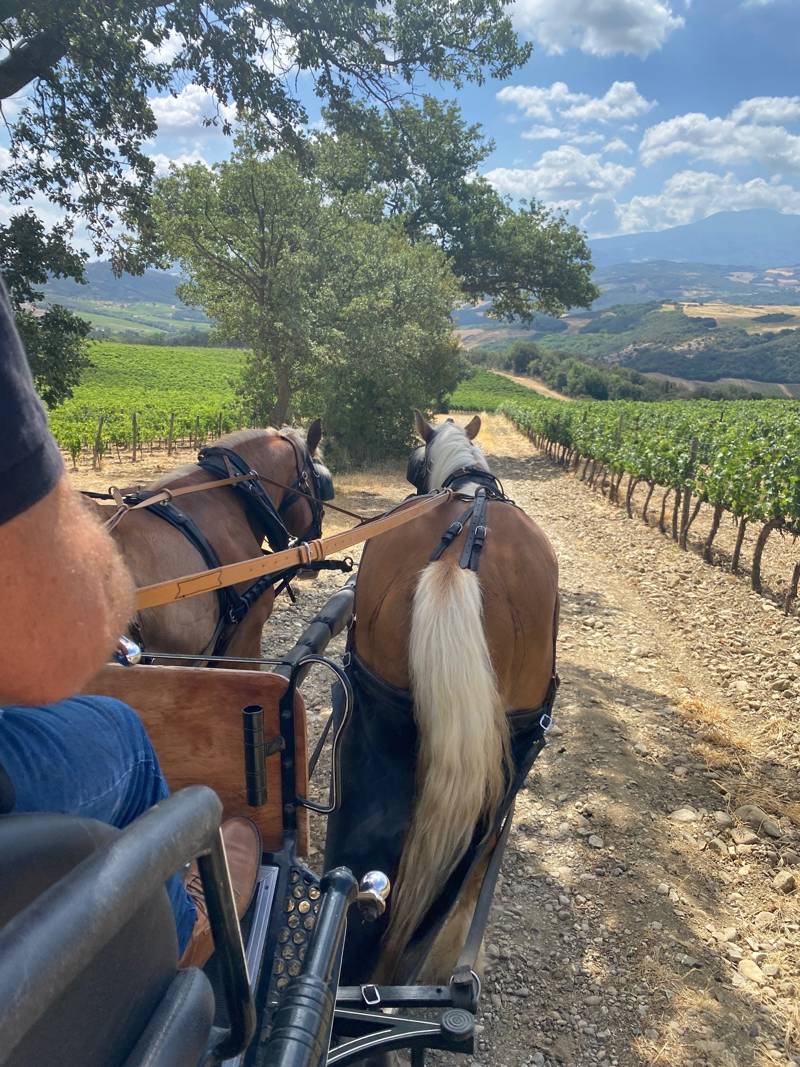 Last year THE PIGs embarked on a journey with Tenuta Fertuna to create a range of red, white, and rosé wines creating The PIG Cut! Based in the beautiful and historic region of Maremma, Tuscany, our Sommelier teams have worked closely with Head Winemaker of Tenuta Fertuna Paolo Rivella to create our own range of wines. 
Our sommeliers at THE PIGs regularly meet for tastings and vineyard visits which is a great way to improve their knowledge. Our teams love nothing more than becoming more hands-on in local vineyards and being able to travel further afield to major wine regions really enthuses the teams to develop further.
Our sommelier teams were lucky enough to visit Paolo at Tenuta Fertuna in Tuscany last month for the opportunity to visit the vineyard, see the process in person and meet the team working on the PIG Cut wines.
We spoke to Head Sommelier at THE PIG-near Bath, Ed Osborne, about the trip…
You recently visited Tenuta Fertuna vineyard in Tuscany with a group of Sommeliers from THE PIG, what were you hoping to get out of this visit?
We have our own label 'PIG Cut' wines produced in The Maremma, by Tenuta Fertuna - so we came to see the operation, environment and people behind these wines. First-hand insight into the origin of our wine is so important when telling the story to guests in our restaurants. Additionally, we wanted to discuss the style of future vintages and engage in the direction of these wines for the years to come. Tuscany is somewhat a bucket list region for Sommeliers and is deemed to be one of the major classic epicentres, steeped in history and gastronomy – So we were all extremely excited to visit! We were in the very best of hands with the esteemed Alan Montague-Dennis of Mentzendorff Wines.
Tell us a little more about the partnership with Tenuta Fertuna and why THE PIG chose these winemakers to produce THE PIG Cut wines?
We have a brilliant and longstanding relationship with our friends at Mentzendorff Wines, who distribute the Tenuta Fertuna wines for Home Grown Hotels. I feel we are very aligned with Fertuna for a number of reasons.
Sustainability is a key factor – Fertuna are working towards Organic certification, which is no mean feat in Tuscany. We spoke in the vineyard with Paolo Rivella (Head Winemaker). Paolo's enthusiasm and care for his vineyards were uncannily similar to that of our very own Kitchen Gardeners here at The Pig Hotels. There was ultimate respect for the environment and Paolo was a true custodian of his plot!
Quality/Approachability – The wines are superbly made and offer a fine and focussed fruit profile, whilst simultaneously being crowd pleasing and approachable. We liken the red to a baby Super Tuscan! We didn't want something overly grand – we wanted something that guests can just sit back and enjoy together. At The Pigs, we are all about putting people at ease, whilst maintaining high quality and I feel these wines certainly strike that note.
People – There's a real family feel at Fertuna! The people in the business, in addition to the product, are a huge part of what they have to offer. Passion and belief in what they do is another parallel with The Pigs, in my opinion!
Something different – We love the wines of Fertuna, as they offer something different. Sangiovese vinified as a white or indeed rose is great fun and certainly an exciting discussion point for the Sommeliers/Guests. The comparatively relaxed rules in The Maremma sub-region of Tuscany allow us and Fertuna to go against the grain!
What, in your opinion, is so special about wine from this region of Italy?
Tuscany is home to one of the world's greatest grape varieties – Sangiovese! A grape capable of so many styles and forms! The wines of Chianti Classico and Montalcino are historic and are renowned for their concentration, complexity and (particularly Brunello) for ageability! This history and family trees of the producers of these wines go a long way to compound their splendour! It's also a region that is perhaps often overlooked when it comes to diversity! As evidenced by our friends at Tenuta Fertuna, there's a wide range of styles and a visceral culture of experimentation and innovation, no doubt initiated by the Super-Tuscan producers such as Tenuta San Guido (who incidentally collaborate with Fertuna and are responsible for the legendary wine, Sassicaia!)
Did you visit any other wineries whilst you were in the region?
On day 2, we were lucky enough to travel north-east from The Maremma and stay in Tuscany's historic wine epicentre, Montalcino. Here, we were hosted by the family of Ciacci Piccolomini d'Aragona. We had a wonderful dinner in the Atrium of the Brunello Museum. The following morning – a fantastic tour of the vineyards at Ciacci…on a horse and cart!! It was an immersive way to see the different parcels of vines and study the soils and contours that were overlooked by the climate dictating, extinct volcano, Monte Amiata. This was by no means a gimmick and the horses still play a key role in the management of the vineyards today. The inland Montalcino part of Tuscany is bountiful with Olive Groves, and we were consumed by the aroma of wild lavender and heady flora and fauna in the vineyards. We tasted wine from the barrel in the impressive cellars at Ciacci and had an extensive tasting at lunch in a room that was an equally impressive tribute to the family's other passion – cycling!
What will be your lasting memories of this trip?
Beyond the wonderful wine tastings at Fertuna and Ciacci! It would have to be the people and the setting! Speaking to these families about their lives, we were truly welcomed into their homes!
The food was also fantastic. We walked to the top of the castle in Montalcino and looked down upon a huge forest, as well as the countless Brunello vineyards. I was told that they were teeming with wild boar, pheasant and (when in season) truffles and mushrooms. It was wonderful to sample cured wild boar sausage with Ciacci's Pianrosso Riserva Brunello di Montalcino!!
Have you tried our PIG Cut wine? Why not give it a try and order a case of 6 here!