With the help of our friends at Isles of Scilly Travel, our team over at THE PIG-at Harlyn Bay recently visited St Mary's Island, part of the Isles of Scilly, for a day. This idyllic island is located just 28 miles off the coast of Cornwall, is the largest of the Isles of Scilly, and is a unique way to spend a day (or two) when staying with us at THE PIG-at Harlyn Bay!
Hear from Jane, House Manager at THE PIG-at Harlyn Bay, who, along with Liv from the Reception Team, flew from Lands End Airport (55.4 miles from THE PIG-at Harlyn Bay) to immerse themselves in the sights that St Mary's, the Isles of Scilly, has to offer.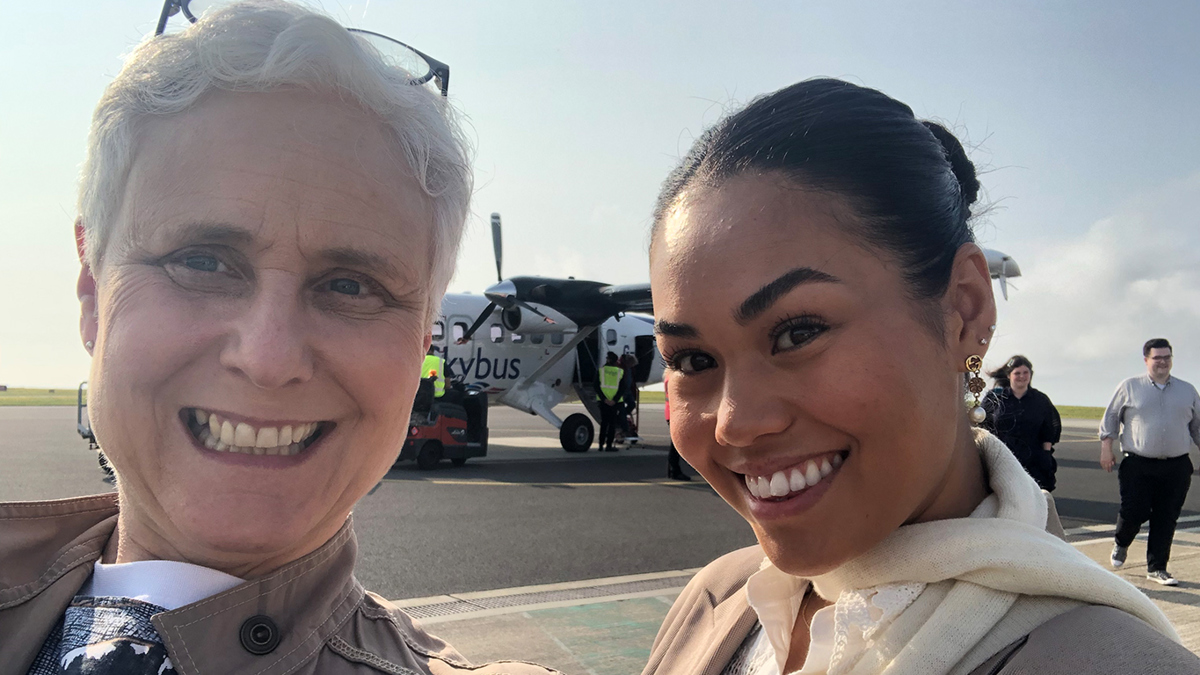 Starting bright and early
Liv and I began our journey at Lands End Airport, catching the first Skybus flight of the day at 8:15am. The check-in process at the airport was a breeze, with a max of one hour check-in time and a well organised departure area, we boarded our flight. Being only a 20 minute long flight, it really did feel like we took off, got to 1,500 feet to see some breathtaking views of the Cornish coastline, and began to land. Skybus operates a year round service, and on some planes, they allow dog passengers too - I wish I had brought Bertie (my dog) with me!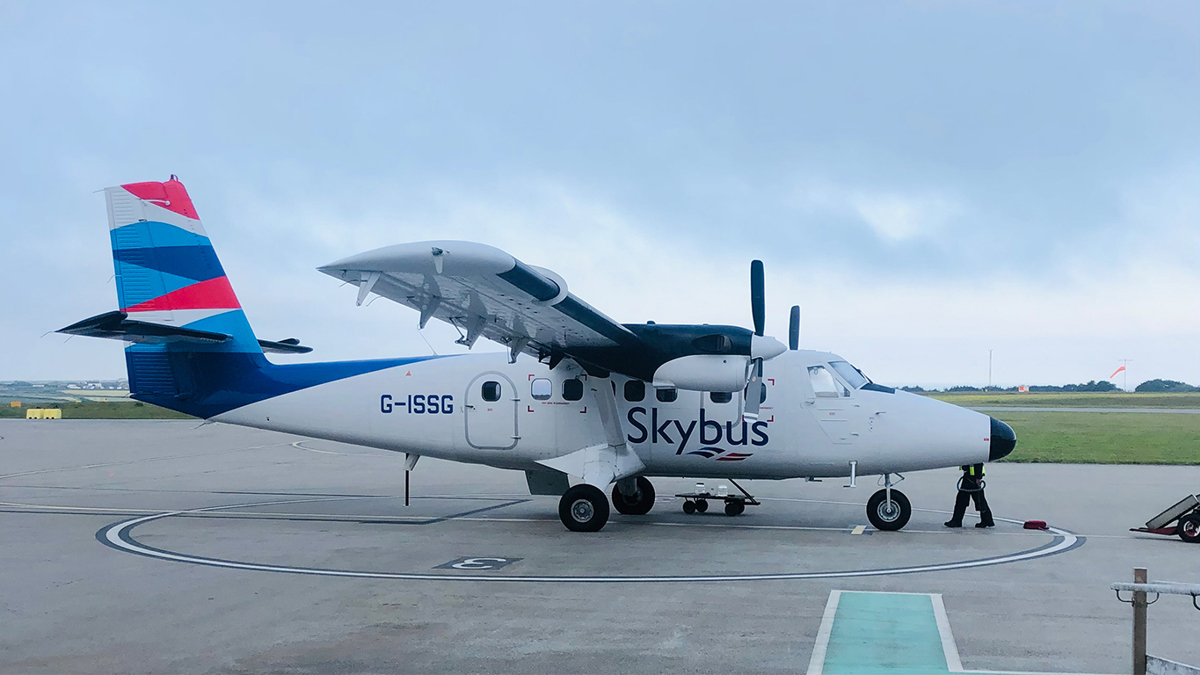 Arriving at St Mary's 
When we touched down in St Mary's, we were pleasantly surprised by the ease of the process. We quickly retrieved our bags and decided to explore the island on foot, they did have airport shuttle buses that were easy to find but we wanted to get our steps in, so off we trotted! Just a short 10 minute walk led us to Old Town Bay, passing picturesque lanes adorned with wildflowers. We strolled around the sandy cove, visited the Old Town Church where Harold Wilson (Labour Prime Minister) is buried, and enjoyed the stunning views.
Whilst it wasn't quite the morning for a swim, we could imagine this would be a great spot for taking a dip or exploring the rock pools. Feeling the need for a coffee break, we followed a local recommendation to visit the Old Town Cafe. Sitting  in the sun, the friendly staff, delicious cappuccino, and freshly baked scones made it a delightful stop.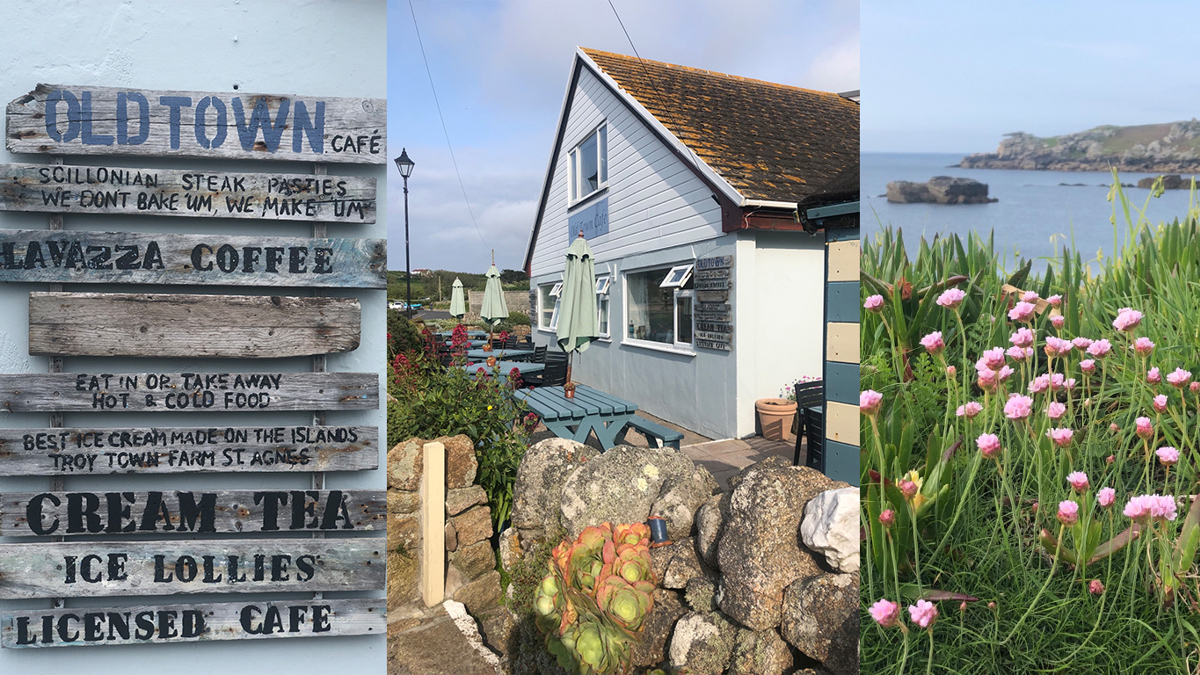 Exploring the coastal path
Feeling more energised, we continued our coastal path adventure, making our way to Peninnis Head. The granite rock formations there were amazing, with one resembling a monkey's side profile. From here, we enjoyed views of St Agnes and spotted several sailing boats. Seals and dolphins are known to be spotted here, but they were hiding from us during this trip!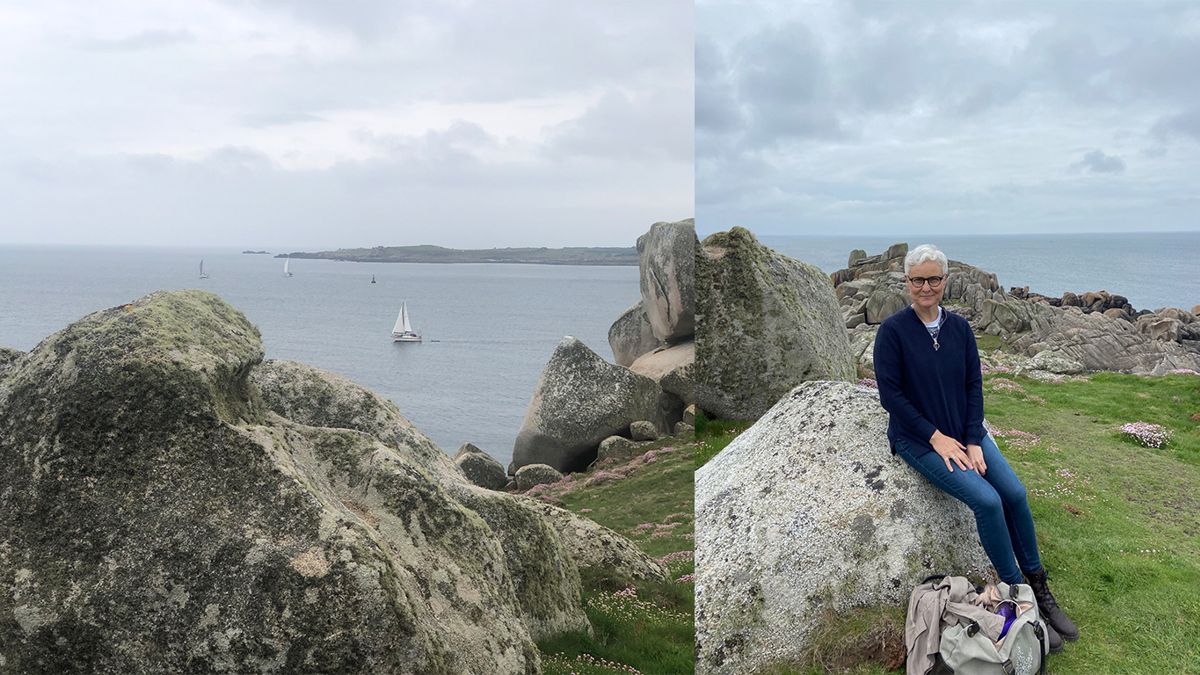 Our coastal path eventually brought us to Porthcressa Beach, a larger bay with pristine white sand, a visitor center and a few shops. Nearby, Hugh Town (the main centre of St Mary's) served as a bustling hub of activity. We saw several popular cafes, enticing boutique shops, artisan goods, and art galleries.
Spot of lunch at Dibble and Grub 
Returning to Porthcressa Beach, we found the perfect lunch spot at Dibble and Grub, a restaurant and bar that serves Mediterranean inspired food. A friend had recommended this gem to me before the trip - and I am so glad they did! Seated at a pretty table overlooking the beach, we indulged in refreshing mocktails, including the Blueberry Nojito and Amalfi Spritz, followed by a tasty selection of tapas dishes. The sun emerged just in time, complementing the friendly service and the mouthwatering food.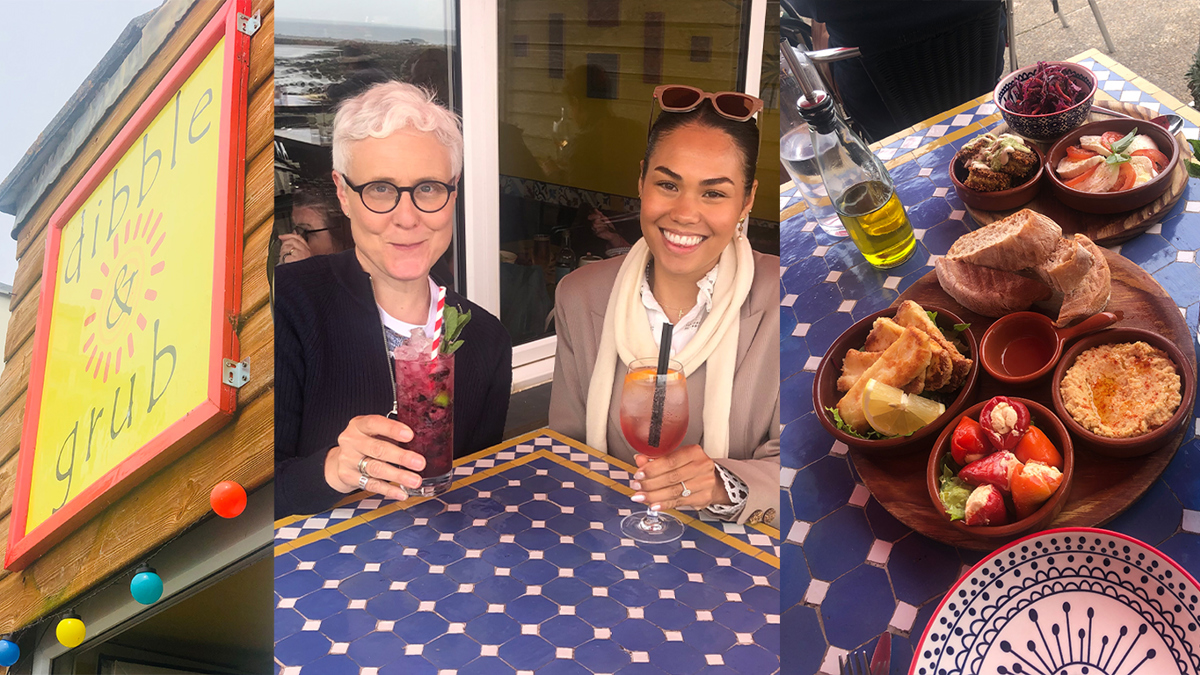 Afternoon strolls
Eager to continue our explorations, and feeling refreshed from our lunch, we meandered through the charming avenues of Hugh Town, admiring the characterful houses, vintage cars, and coastal flora. Our path then led us northward along the coast to Porth Mellon Beach, where a paddle boarding lesson was in progress. This location seemed perfect for those seeking an active adventure, with its expansive white sands, grassy dunes, and ideal conditions for windsurfing and kayaking. We also came across Harry's Walls, the remains of an unfinished artillery fort dating back to 1551.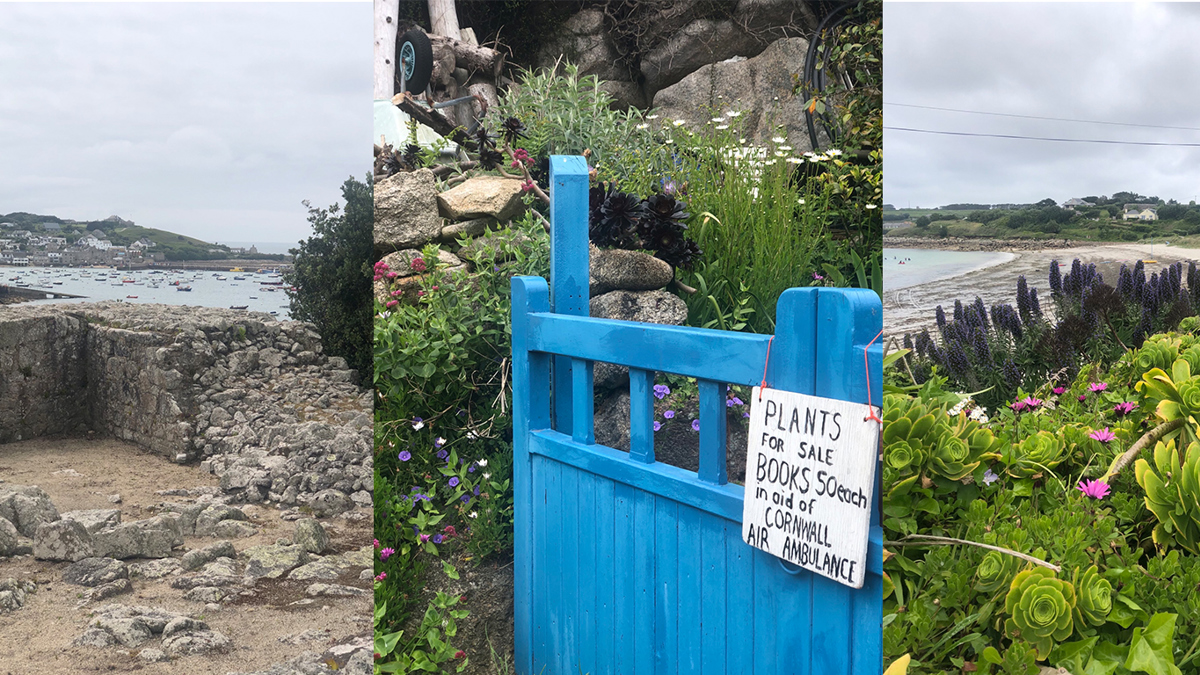 As the day neared its end, we reluctantly began making our way back to the airport. Along the way, we encountered a pottery shop run by John Bourdeaux, who happened to have connections to St Merryn near THE PIG-at Harlyn Bay. John was quite the character, and as we said our farewells, he gifted us each with good luck amethyst necklaces to take home with us - funny how small the world can be sometimes!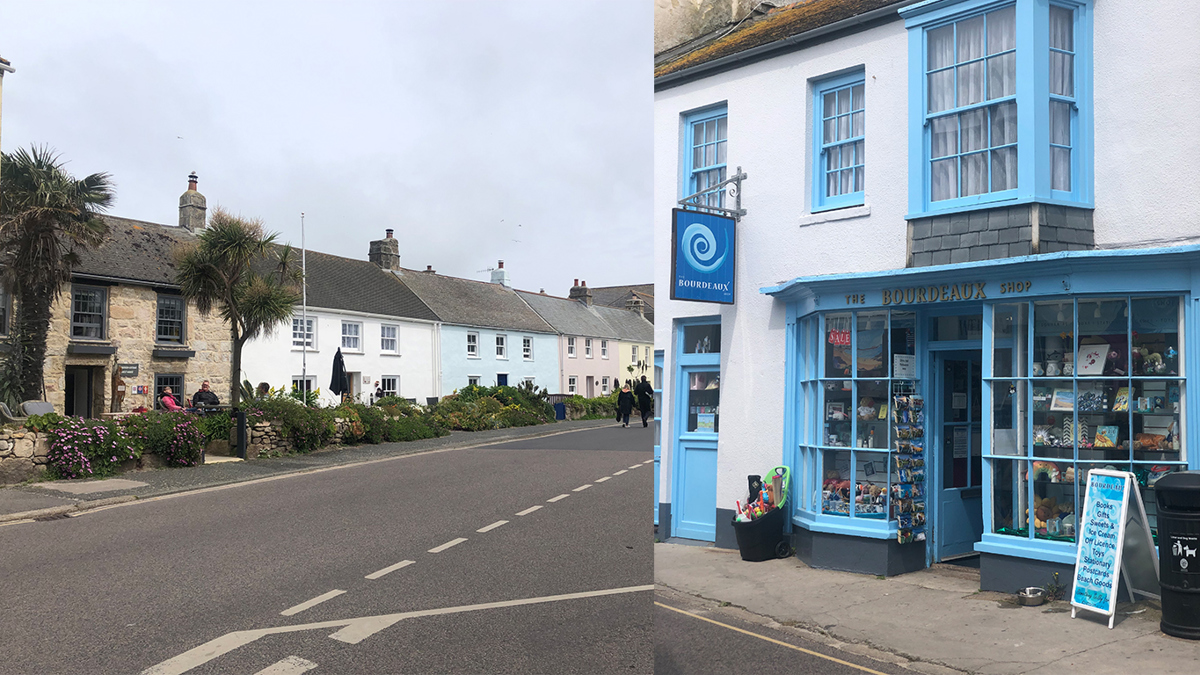 Back to home soil
Our journey home provided an unexpected bonus. We boarded a smaller Skybus aircraft with only six seats, and much to our delight, we were seated directly behind the pilot (an epic end to our day!).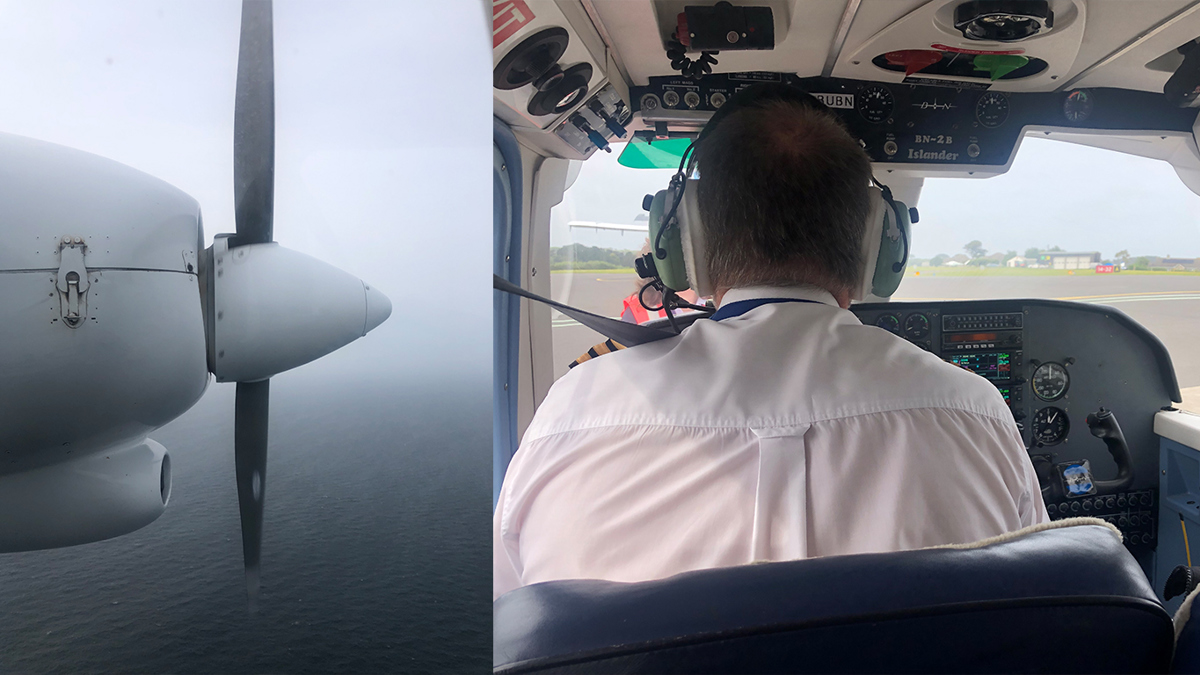 Liv and I loved our day trip to St. Mary's, it's safe to say that heading back to The Isles of Scilly to explore the island more is definitely on the cards for both of us!
Whether you're seeking a peaceful retreat or an adventure-filled day, this breathtaking island has it all. If you would like to find out more about The Isles of Scilly, click here.
Why not book yourself a stay at THE PIG-at Harlyn Bay, so after your time exploring, you can come back and put your feet up! Book a stay here.