10 min read
"The devil is in the detail". This rings true to the charming duo, Charles and Ruth Simpson who are at the helm of Simpsons Winery. Since establishing roots in 2012, they have achieved a monumental amount in a relatively short space of time. This includes planting 30 hectares of vineyards, growing a state of the art winery, crafting a range of still and sparkling wines, winning countless awards and developing a world-class vineyard and winery team. All in the sum of eight years.
Luke Harbour, Head Sommelier at THE PIG-at Bridge Place, spent some time chatting to Charles and Ruth about their wine style, and what makes Kent so special!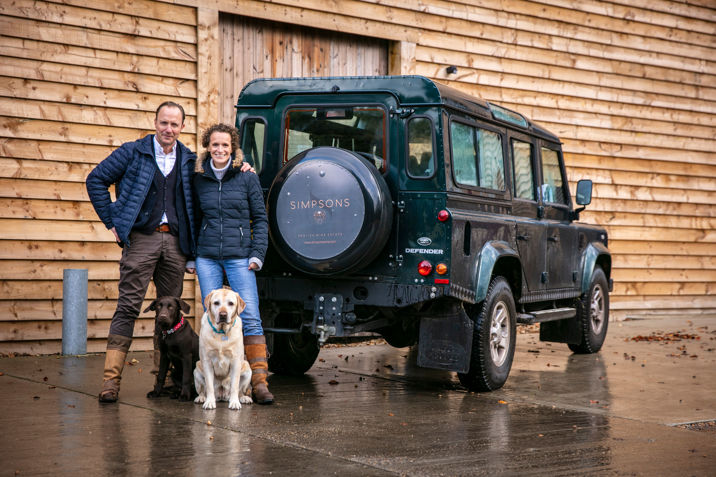 How did you first discover wine and what was your motivation behind owning a Domaine in the South of France? And, how did this lead to the journey of planting a vineyard in the UK? 
Our decision to cast aside our respective international careers in order to establish and run a high-quality, boutique, wine business in rural France was driven by a desire to work together and to create a family business of our own. It involved a large degree of risk and a huge amount of determination to realise this mutual dream.
Our passion for wine and desire to invest in an, 'emerging' wine-producing area, rather than an area that was already well established, led us to the exciting and highly diverse French wine-producing region of Languedoc-Roussillon. The dream had always been to produce quality wine and the property we found, Domaine de Sainte Rose, provided us with the perfect raw materials.
In the eighteen years that we have now been at Sainte Rose we have completely redesigned the winery, turning it into a state-of-the-art facility; we have gradually implemented major improvements in the vineyard, using environmentally sensitive farming techniques to gain our Haute Valeur Environnmentale certification; and we have successfully introduced our wines into fourteen different markets around the world. Our goal was to produce authentic, affordable, handcrafted wines of distinction. To our immense satisfaction, our wine has so far been universally well received by both the wine trade and the ultimate consumer in all the countries where the wine is available.
In 2012, attracted by the quality of the terroir and the opportunity to become part of what has become one of the most dynamic wine producing regions of the world, we brought our expertise and savoir-faire back to the UK, establishing Simpsons Wine Estate with an aspiration to produce the finest quality still and Method Traditional English sparkling wines.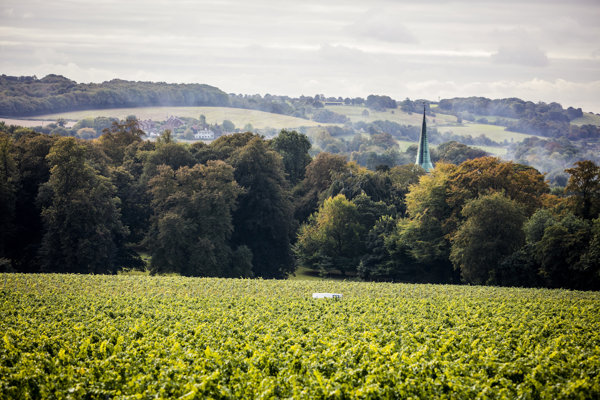 What has been the biggest challenge you have faced in the past 8 years of owning a vineyard in Kent?
The British climate is the biggest challenge! A lot of people talk about climate change as being the only reason that any wine can be successfully produced in the UK. We would have to qualify this and say that successful wine production is only possible in very specific sites within the UK and that regardless, we are still on the very fringes of viable viticulture. The most important criteria for all successful wine production, but particularly still wine production in the UK is site selection. The site must be south facing, preferably with decent slope, below 100m and preferably with protection from the wind. With all these factors working in your favour, to maximise the sunshine hours and heat accumulation during the day over the key harvest period, the hope is that your carefully selected clones pick up enough natural sugars and flavours to reach a potential alcohol and concentration worthy of making still wine.

We believe we have two very warm sites and have planted Burgundian (still wine) clones in the warmest spots. During the harvest we keep a very close eye on maturity as well as the weather and try to leave these grapes on the vine as long as possible to achieve maximal maturity. Climate still does play a part and we all know that in the UK it can be hugely unpredictable, but this can be the case in many cooler climate wine areas.
We always knew that the biggest hazard for our vineyards is frost, the devastating effects of which were experienced at The Roman Road site in 2017, when we lost 50% of the expected crop. That particular year, the warmer spring temperatures brought forward the bud burst, however it then gave way to cold weather fronts and hence the frost, burning and irreparably damaging the buds. This was an air frost as opposed to a ground frost and now this is managed with frost fans strategically placed in the vineyard. Unfortunately, this year due to 6 frost incidents and even with the frost fans in place, we have again suffered some frost damage, although at this stage of growth, it is difficult to quantify.
Talk us through your winemaking style and philosophy
Provenance is a key principle for Simpsons Wine Estate, therefore we only make wine from estate-grown grapes. At Simpsons' Wine Estate, no aspect of viticulture or winemaking is outsourced – a reflection of our belief in balance, detail and integrity. Our winemaking methods have been carefully chosen to promote the purest expression of the fruit and our Kentish terroir, with as little intervention as possible. As winemakers in the most dynamic wine region of southern England, unhampered by the weight of old-world tradition, we believe we are able to take a fresher approach to our craft, handpicking from both time-honed traditions and modern technology.
The proximity of the winery to the vines is critical in the creation of top-flight sparkling wine as minimal transportation and manipulation of the grapes prior to pressing protects the purity of the juice and minimises skin contact or colour bleed.
Both our Vaslin Bucher pneumatic grape presses employ the Inertys oxygen-free pressing system, using nitrogen rather than oxygen during the pressing process, thus protecting the delicate aromas and flavours of each grape variety. We think this has a marked effect on the flavour profiles of our wines, which reflect very pure and true varietal characteristics.
Why did you choose to plant a vineyard in Kent instead of another part of the U.K?
Even the subtlest differences in terroir – slope, direction, shelter, altitude, soil – can influence the characteristics of the grapes, and for us there was no more important consideration in our quest to create distinguished English wine than the quality and suitability of our land.
We laid down roots for the Simpsons' Wine Estate in 2012 amid the pristine beauty of the Elham Valley – an unspoilt seam in the North Downs of Kent where the contours of the land, the climate and the soil could scarcely be improved upon for viticulture. Located in a designated Area of Outstanding Natural Beauty (AONB), our two vineyards set an alluring scene, looking out over gently undulating English countryside towards the distinctive copper-green spire of Barham Church.
Is sustainability a priority in your everyday life at the vineyard and winery?
We have an acute focus on minimising our environmental footprint, especially with our winery located so close to the vineyards. We recruit staff based in the local area and have established close relationships with many local suppliers, clients and partners. We are also currently exploring the possibility of putting solar PV panels on the roof of our winery building in order to become more energy independent.
Where would you like to see Simpsons winery in the next 5 years and how do you see the Great British wine scene evolving over the next 10 years?
We would like to see our wines represented in high-end restaurants, hotels and independent wine retailers in many different countries around the world.
As an established business we would also like to have achieved our designated goal to improve our carbon footprint, to obtain full sustainability accreditation for both the vineyards and the winery and the installation of a solar PV array on the roofs of the winery buildings.
For the English wine scene, we think that it is very important to diversify into and further develop still wine production, especially following years like 2018 when the yields were higher throughout the country and the quality made still wine production a viable option for more producers. It is also important given that UK vineyard plantations continue to increase, so that there are more channels for that future uplift in UK wine production. Export is also important as an additional channel for the increased production.
Many people have commented that Method Traditional sparkling wines have done for England what Sauvignon Blanc did for New Zealand in the early years of production and internationally we should be focusing on establishing England as a world class sparkling wine producer. It is a unique category and style that is establishing England as the most dynamic emerging wine production area in the world today. As England's reputation becomes established, we definitely need to diversify in order to bolster that position and appeal to a broader market.
What would be your desert island wine and of course it cannot be your own?
Comte de Champagne 2006, some of which we are been lucky enough to have in our cellar. We love the complexity and finesse of this wine, which can be enjoyed as an aperitif or paired with carefully selected dishes. With Taittinger now established as one of our friends and neighbours in Kent with the Domaine Evremond project, this wine also makes us appreciate that personal connection.
How do you best enjoy your own wines and what food do you most crave when tasting them?
Asking for a favourite wine is like asking which is our favourite child!
We are however particularly enjoying our new vintage of the Gravel Castle Chardonnay 2019, which pairs beautifully with seafood such as Whitstable oysters, but also oily fish such as salmon or mackerel. It is also excellent with soft cheese, so again if you can buy local it will be lovely with the Kentish Chaucer's Camembert or Bowyers Brie.
We are also enjoying our Chalklands Classic Cuvée 2017, which has a broader pallet than the previous vintage, so we would recommend pairing it with richer dishes, both seafood and poultry of all sorts - especially dishes rich in umami.
We really do believe in the importance of provenance and supporting local. We are very fortunate to be based in the heart of Garden of England and spoilt for choice by a wonderful array of seasonal Kentish fare. This is one of the wonderful aspects of our partnership with The PIG and their commitment to using fresh, home-grown or locally sourced produce. 
You can taste Simpsons' wine at THE PIG-at Bridge Place and buy online here