We are busy bees in the Kitchen Garden in August, harvesting plenty of vegetables, herbs and edible flowers in the garden. The greenhouses and polytunnels are full of aubergines, peppers, chillies, cucumbers, melons, basil and my personal favourite … tomatoes!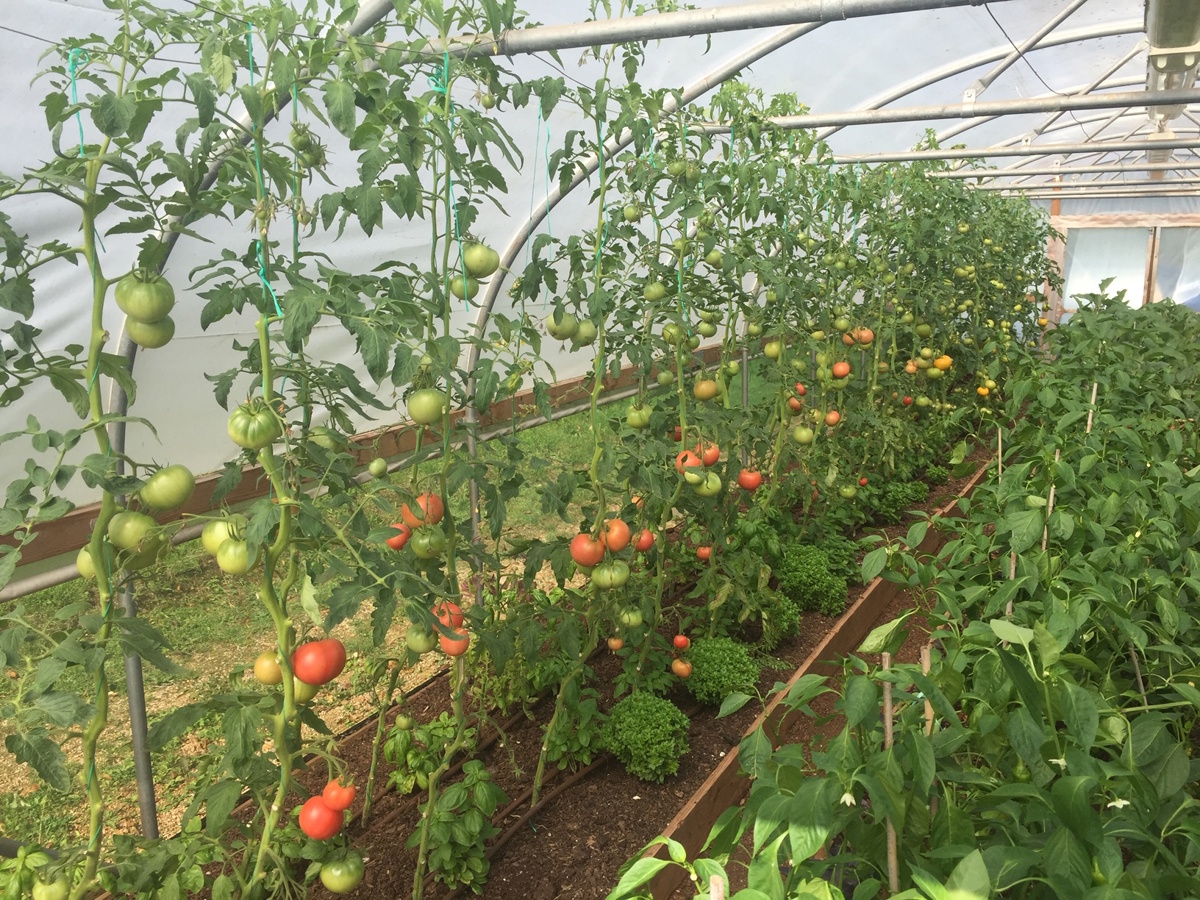 We are currently growing 8 varieties of tomato, ranging from big juicy beefsteak varieties such as 'steak sandwich' to super sweet cherry varieties such as 'sungold'. The tomatoes were planted in the polytunnels in late April and the first ones were ready in early July. They start to slow down in mid-September – this is when our kitchen gardening team would start to pull them out.
Our tomatoes go into so many of our dishes at THE PIG – near Bath, including our Tomato pappardelle, Confit tomato with chicken and our Tomato salad.
Here are my 5 tips for growing your own tomatoes:
Tomato seeds need to be sown indoors in warm conditions; we usually do this around the middle to the end of March. The seedlings will then be ready to be planted in the greenhouse/polytunnel around the end of April.
We grow our tomatoes on strings to provide support and make the plants easier to work with. This is done by tying one end of the string onto something directly above the plant and burying the other end below the plant when it's being planted. As the plant grows, we wrap the string around the new growth.
Taking the side shoots out as the plant grows will stop the plant from bushing out and becoming unkempt. It also diverts the plants energy to producing fruit rather than producing bushy growth.
Thinning out the old lower leaves when fruit begins to develop will help to ripen the tomatoes as they like direct sunlight, it will also improve the airflow around the plants which will improve overall health.
Once the plants have a decent amount of fruit it's best to keep watering to a minimum. This will improve the flavour of the tomatoes and keep them from splitting.
*Bonus Tip – Try planting basil all around your tomatoes as a companion plant, this will deter pests such as aphids and is a tasty companion for your tomatoes!
One of my favourite recipes including our tomatoes from the garden is the confit heritage tomato, garden chilli and basil flatbread…
Flatbread dough mix:
250g pizza flour
7g yeast
20g semolina
8g salt
165g room temperature water
10 olive oil
Mix everything together and knead until soft. Divide into 150g balls.
 Flatbread sauce:
1 tin tomatoes
40ml olive oil
Oregano
10 basil leaves
½ garlic clove
Salt
Pepper
Blend together
Confit tomatoes:
Selection of our home grown tomatoes
1 head of garlic
Thyme
Lemon zest
Olive oil
Crush garlic and add to a deep roasting tin with thyme and zest. Add tomatoes then give everything as generous coating of olive oil. Cook at 120 degrees for one hour and leave to cool.
To make the flatbread, roll out dough. Spoon on the required amount of tomato sauce (2 large tablespoons), heritage tomatoes and sliced chilli. Top with mozzarella and bake until golden crust and bubbling cheese. Finish with torn basil and garden flowers and enjoy!
Our delicious flatbreads are served on the terrace everyday rain or shine from 12pm-5pm!
Zack – Kitchen gardener at THE PIG near Bath
'THE PIG: Tales and recipes from the kitchen garden', has so many more tips and tricks from our Kitchen Garden Gurus, available to purchase here: