Use up all those festive leftovers in a tasty sandwich! For some of us, the best thing about Christmas is the leftovers, so why not stick them all in a sandwich… you can literally put anything in there and no one will judge…cold roast meats, cheeses, chutneys, stuffing, whatever you can get your hands on.
This sandwich was born in the early days of THE PIG – that hectic pre-opening period. After a long day, hotel director Lora came into the kitchen asking for something to eat. Kamil asked what she wanted, and she said 'Anything… everything', which Kamil took literally, putting more or less the entire contents of the fridge into a sandwich. It was a revelation… Listed below is what went in that day, but it varies depending on what we have available. It could be leftover pork from a Sunday roast, with dollops of apple sauce, or some sliced cured meats and chutney. This sandwich is never the same twice, and nor should yours be… and it can be your inspiration for your Christmas leftovers sandwiches!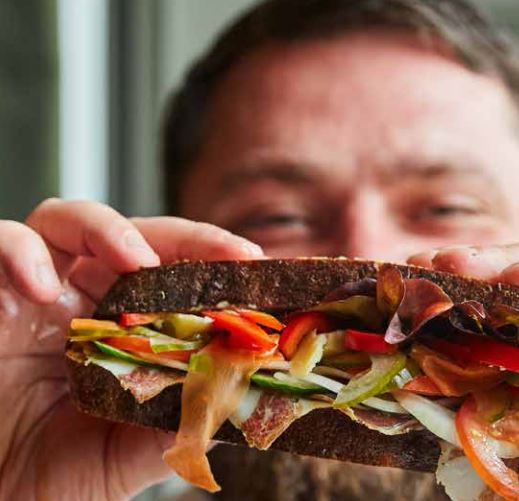 Serves 1
2 slices of sourdough
mayonnaise
Dijon mustard
homemade pickles, or whatever you have in the cupboard: gherkins/sun-dried tomatoes/pickled onions
2 slices of pastrami
4 thin slices each of cucumber, red pepper, tomatoes
strong hard cheese, sliced (we use a local Cheddar)
1 spring onion, sliced
pitted olives
garden leaves
watercress
salt and pepper
Toast the bread on one side.
Spread one untoasted side with mayonnaise, and spread the other with mustard.
Layer it up with the remaining ingredients and off you go!
*Kitchen Tip*
Toasting the bread on just one side is critical to the particular munchability of this sandwich. It makes the sandwich crunchy on the outside but soft in the middle, which means it stays succulent and not too dry. The recipe for this is entirely changeable – it really just depends on what you've got in the fridge – and even the oddest experimental combo can be a delicious surprise.