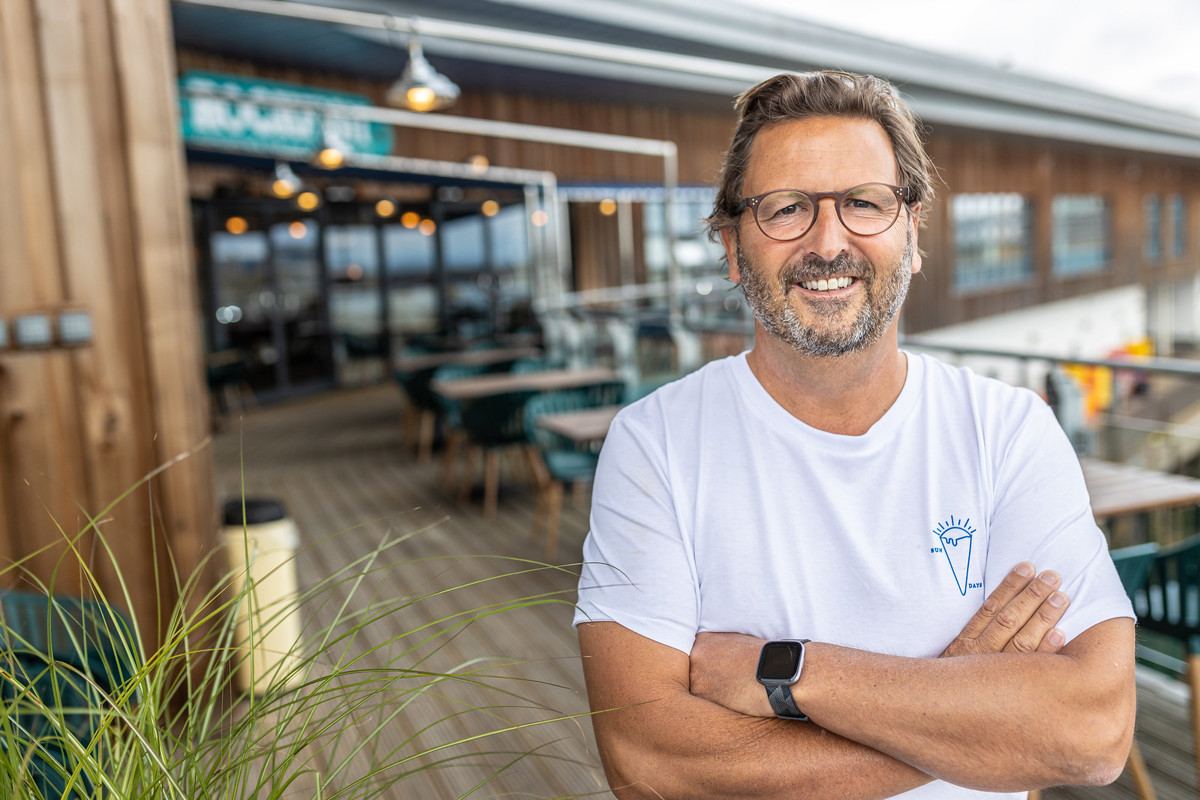 Mitch Tonks is one of our good chef friends, his route from accountancy to culinary stardom was as unorthodox as it was successful. Today he is a talented chef, innovative restaurateur, and first-class cookery writer.  But above all he remains a passionate advocate for the delights of the sea.  Among many awards, he recently received a Lifetime achievement award from the Herald Express; Observer Food Monthly awarded The Seahorse Best UK Restaurant, Tatler named him Restaurateur of the Year, and the World Gourmands Awards named his Fishmonger's Cookbook Best Fresh Fish Book.  In addition to running the Rockfish restaurant group in Devon and Dorset and The Seahorse in Dartmouth he launched the Mitch Tonks Seafood Academy at South Devon College in 2012, has written five seafood cookery books and makes regular TV appearances.
Having lived in Brixham, Devon for the last 15 years Mitch certainly knows a thing or do about life in Devon.
Tell us a bit about Devon and you…
South Devon is one of the most beautiful counties in the country. We have mix of green hills running down to a rolling rugged coast, crystal clear water and wild moorlands, all of this within a few hour or so drive between them. There are some of the most beautiful places to walk and swim as well as places to eat and shop. Some of the best seafood in the world is caught off the coast here and it should be part of everyone's visit to Devon to enjoy it. The biggest fishing port in England is Brixham, my home now for the last 15 years.
The fleet land fish here 24 hours a day and the catch is sold every morning to some of the finest restaurants in Europe and the UK, one of the those is THE PIG-at Combe which I think is a wonderful sanctuary to relax, eat, drink and enjoy exploring everything that's on its doorstep. In all my travels I've yet to find a better place to live and on a summer's day with warm sunshine and water as clear and blue as any place on earth my thoughts are confirmed. If you are visiting the area I hope you will enjoy your time here, I've listed some places that are part of my life and places I love to go, enjoy exploring all of them, they are all worth the trip.
Tell us some of your favourite places to shop 
Middle Street in Brixham is great for enjoying a street full of independent retailers including some fabulous food shops and restaurants. My friends James and Claire run the Wine Loft in Brixham, it's a wine shop but you can choose to sit in and ask to drink anything in there, choose from over 150 wines or drink what they open each day, alongside the wines you can enjoy some marvellous cheeses, cured hams and a range of tinned seafood which is magnificent, you can also pick up deli items from tables full of Spanish produce.
A few doors down is 5 doors up a brilliant artisan Baker run by Dan, you can order online, and he will bake to order, or just pop in and see what's he's got. I would recommend trying his delicious cookies and croissants or just popping by to have a coffee and a chat. Everything he bakes is wonderful, I particularly like his soft white rolls which are a perfect foil for fresh crab! The Curious Kitchen is the town's most popular place for breakfast and brunch, the food is innovative, delicious and there's always a queue but it's well worth it, it's become a local institution for families.
Totnes is a great town to spend some time shopping. I buy my cheese for home from Ticklemores, they sell their own cheeses as well as a huge diverse range from some of Britain's best cheesemakers, the staff really love what they do and are happy to advise and let you taste. Just across the road is the butchers I also use for home Mr Mcabes, the counter is always wonderful with local Dartmoor Lamb and Dexter beef as well as veal, game and offal, Chris Mccabe is one of the last generations of butchers of this quality, he still wears a tie to work and is happy to cut, bone and roll anything for you.
Trinity Marine (Dunsford, Exeter) does take a bit of finding but if you like the nautical theme this is the place to go. From doors to lamps, models, crockery, furniture, you name it, if it was once on a luxury cruise ship or yacht it will end up here, you can find pretty much anything and they can also make things bespoke for you too, it's a magical place that you could spend hours browsing shelf after shelf and barn after barn.
What are the best Pubs and Restaurants in the area?
There are so many great places to eat locally or stop off for a drink, The Manor inn (Brixham), is a lovely pub run by a sailing pal of mine Jack and his wife Soraya, Jack sails on Hugo Boss so I always love hearing his stories of sailing offshore with Alex and the stunts they manage to pull off. The atmosphere is great and a warm evening you can sit in the street with your drinks and catch up on the town chat. The Rugglestone Inn (Widdecombe in the moor) is great for if you are looking for an old traditional pub then this is the one for you. If you head to Widdecombe on the moor on Dartmoor, there are lots of walks around the pub but just parking in the village and turning left at the church gives you a short walk to this wonderful pub which is often enough after a few ales! There is great food, beers and ciders and the pub experience that hasn't changed for years, it should be protected from change forever.
If you've ever wondered what happens on the wholesale fish market? Visit the Fish Market Tours in Brixham and go behind the scenes with auctioneer Barry young and get a tour of the market and an inside track on England's biggest fishing port then enjoy a seafood breakfast at Rockfish overlooking the fleet.
Dr Inks (Exeter Quay) is a small bar on Exeter quay but is a real find. It's quirky and brilliantly done, cocktails are the thing and they do them well. Find yourself a corner, it's one of those places where everywhere is cosy and interesting the staff are dressed to match and make a real thing about making their drinks, its wonderful theatre and the drinks are world class. 
Tell us about some of your favourite places to eat
 If I had to pick a favourite Devon day, this would be it. Dittisham is a beautiful spot just a mile or so up the river Dart, it's home my favourite pub, The Ferry Boat Inn, there's always a good welcome and you can take your beer and sit on the foreshore whilst children crab on the jetty (it's the best place in Devon for crabbing), after a few beers you can cross the narrow road and into the Anchorstone cafe, a local institution and my favourite place to eat in Devon. Seafood is the thing here and they do it really well, fried squid, oysters, scallops and a whole crab are what I go for every time with an ice-cold bottle of rose. There is ferry that will take you there all the way back from Dartmouth but if you're on your own boat you can just fall into a wonderful sleep tied to one of the many mooring buoys just off the pub and cafe, that's the way I like to end a long Anchorstone lunch.
The River Exe Café in Exmouth is a gem, it's a floating seafood restaurant in the River Exe at Exmouth, you get a water taxi there and back from the Exmouth Marina. It's easy to find when you are there, you can also arrive in your own boat. The seafood is all local and beautifully prepared, to sit on a barge and eat mussels fresh from the sea is truly wonderful. This is Devon's most unique spot to eat and an absolute must.
My favourite curry house is East in the West in Paignton, and I think it's the best I've eaten in the South West. Everything is prepared with fresh curry leaves and spices, for me the best meat dishes are the peppery lamb and the lamb shank vindaloo but my standard order is the Jingha Masala, king prawns cooked in the clay oven with spices and pomegranate and to follow, the Mangalore King prawn curry (it's not on the menu so ask for it) and the freshly made nan bread with garlic and fresh chilli, both hot spicy and delicious. A must visit if you are in the area!
What are some things to get up to in Devon that you'd recommend?
If you want a leisurely cycle then the route from Exeter to Exmouth is a joy, you cycle alongside canals, the small harbour at starcross and the fabulous estuary at Lympstone, there are two fabulous pubs en route, The Double Locks and The Turf Locks, they both do great food, lovely beers and add to what is a fabulous day out.
The breakwater in Brixham is my morning walk but it's also the place to take your family fishing. Grab a rod from the tackle shop in Brixham, Brixham bait and tackle and ask them to rig it up with feathers for mackerel. It's best to fish when the tide is on the way in and you can while away a few hours casting out to sea and hopefully reeling in some nice fat mackerel for the barbecue. 
Walk from Dartmouth to Blackpool sands, the whole South Devon coastline is stunning, one of my favourite bits is the chunk from Dartmouth to Blackpool sands, you will walk through rolling fields, come across small bays and coves and have the most breath-taking views over what is some of the most beautiful scenery in the world down to Blackpool sands and Torcross. There is the Venus cafe in Blackpool sands which is a great place to stop and at Tor Cross you have the Start Bay inn which served wonderful fish and chips. The water on both beaches is crystal clear and worth a bracing swim, the water is warmest in October and November, this walk is stunning at all times of the year in both hot sun and wild winds. 
If you fancy some activity then Edge Water sports in Exmouth is the place to book kite surfing lessons, it's run by Steph Bridges and her sons who are all world champions in the sport, so you'll be in very experienced & safe hands. Exmouth is a perfect place to learn how to kite surf with shallow water and good shelter, I'm starting my own lessons here in September after watching them surf in the estuary, it looks such good fun and can't wait to get going, it's been tempting me for ages.
Don't forget to follow us on Instagram for our next PIG insider Guide: @thepighotels