We LOVE local and at all our PIGs we use a range of great local suppliers within 25 miles of the hotels. Two years ago, THE PIG-on the beach found a new cheese supplier; The Book & Bucket Cheese Company based in Cranborne in Dorset. This family-run business produces an amazing range of artisan cheese made from sheep and now cow's milk right in the heart of the Dorset countryside - from Dorset's answer to Haloumi, to Feta matured in Kalamata olive brine they take traditional cheese and add their own unique touch. All of their milk is sourced locally, collected within 24hrs of being milked and is made into cheese that day!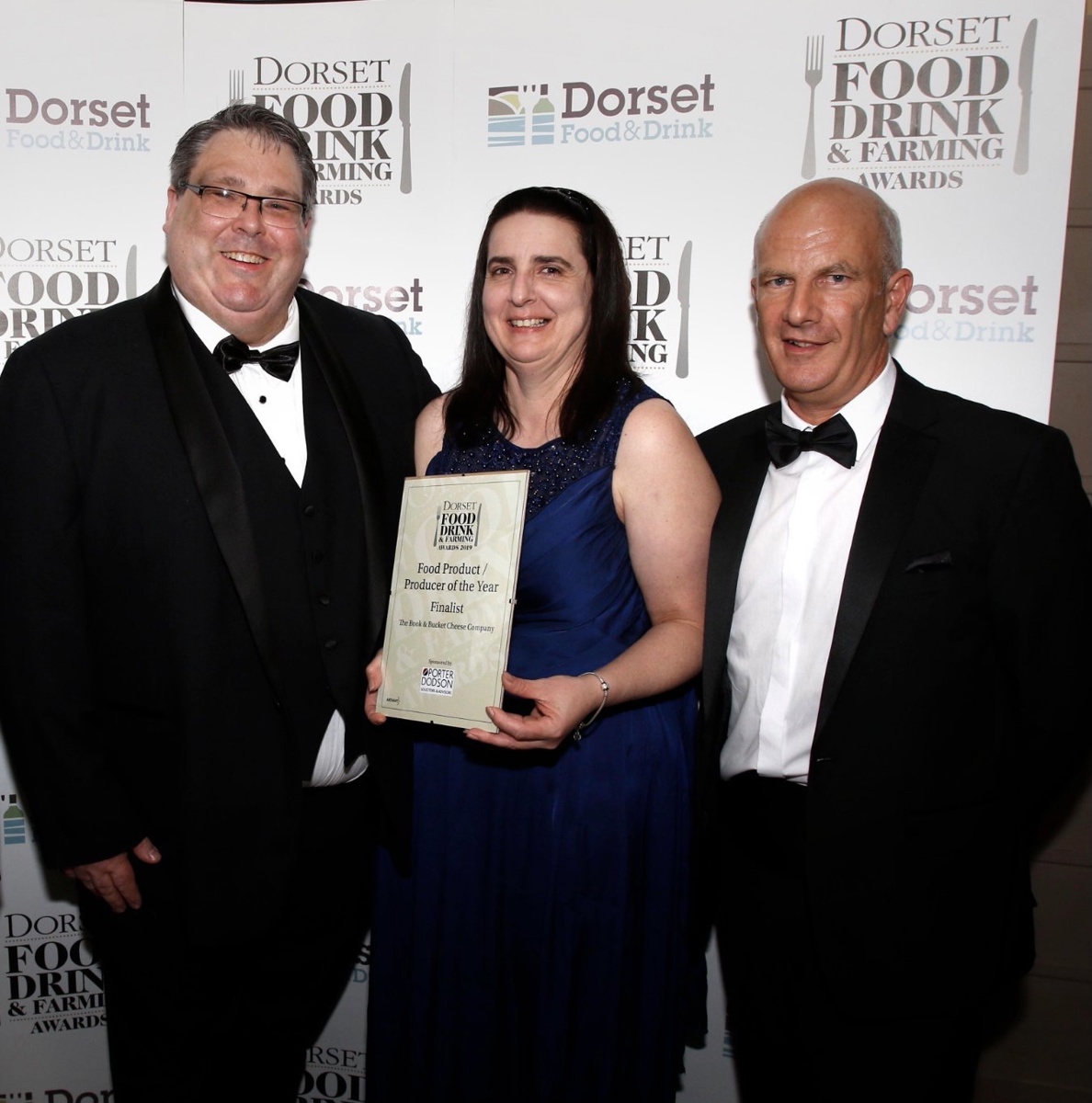 We have been working with them ever since that day two years ago and because we love what they do so much we are now even working with them to create our own cheeses!
We spoke to the team at The Book & Bucket Cheese Company to find out a little bit more about them…
Tell us a bit about how the Book & Bucket Cheese Company came about?
I worked at a dairy company that specialised in sheep milk products, mainly yoghurt for 9 years, developing the cheese. I reached a point in my life where I decided it was time to step away and start to build something of my own. So, in January 2019 I stated the Book and Bucket Cheese company with my wife and my brother-in law as a business partner.
I guess the first question I get asked is why The Book and Bucket? it's a long story but the short version is that I am a self-taught cheese maker and when I first decided to make cheese I spoke to a number of well-regarded people within the industry and they all came back with the same advice, and one phrase in particular stuck with me, read as many books as you can and the rest is bucket science. It's much like a chef developing a new recipe, start cheese making in a bucket, and when you make something you like and you think people will buy, move to a bigger bucket.
So that's what I did. I started in a 20 litre Bain Marie and now have 2 big 500 litre buckets (or cheese vats!) So, when we sat down to decide on a company name, I couldn't think of anything better that where it all started from, The Book and Bucket Cheese Company.
That one recipe has now turned into 12,  all needing their own unique names but that tied in together, so keeping with the theme we name all the cheese after famous authors, from Shakespeare and Hardy's to Blyton and Pratchett.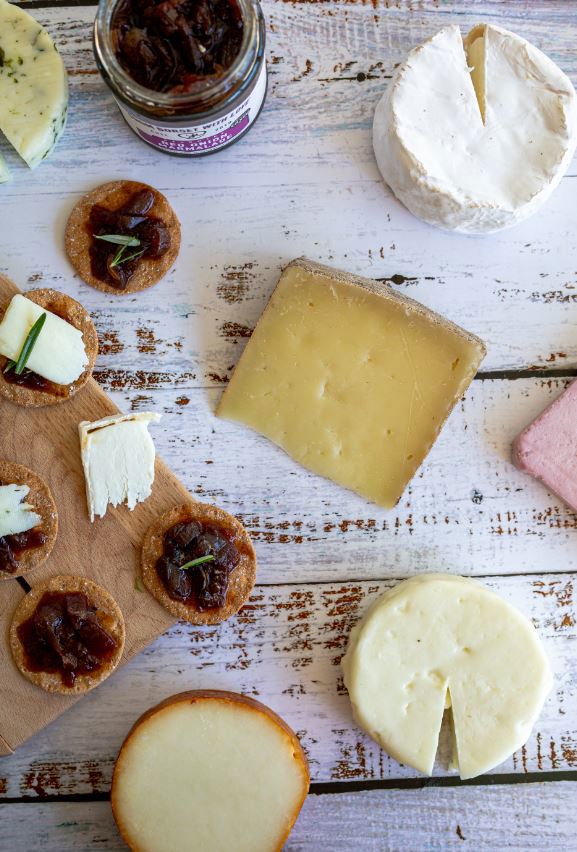 What sorts of cheeses do you make and what makes them unique?
The key for me was to have a range of cheese's that would work on menu's at different times of the year and be more than just a classic cheese board selection. Also, from a business model I needed cheese that would be ready over different time periods, to help balance the books but also the space within the dairy.
The original range were all made from sheep's milk as that was where my roots started, I like to take traditional methods and add unique and if possible local twists. We started with Hardy's a Manchego style cheese that we seal using a local rapeseed oil that is produced 2 miles down the road, and 2 styles of feta, a traditional one and then one we mature in Kalamata Olive Brine, this is a By-product from a local olive company that was being poured down the drain when they decanted the olives, it gives the cheese a striking deep red colour but more importantly a hit of salty olive flavour. Taking the customer back to the lazy days on a Greek island holiday.
We also make Brie, 4 styles of Halloumi, soft cheese as well as several bespoke cheeses for THE PIG group.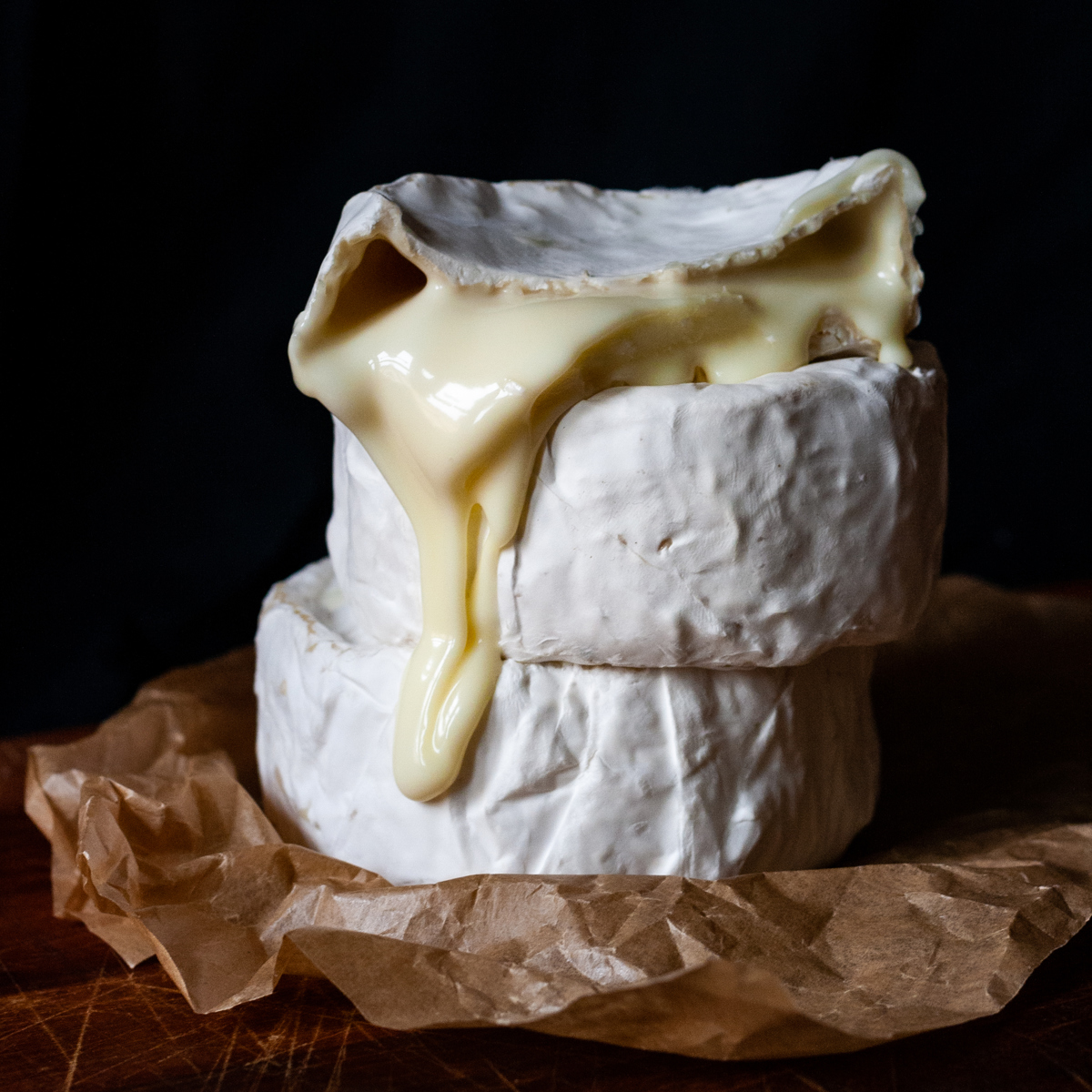 Tell us a bit about your dairy?
The dairy is located in the idyllic village of Cranborne Dorset, with the views from the window over open fields and a stream. We have around 2000 square foot which is split into a production room, 2 cheese cellars and a fridge. We pasteurise our milk as we feel it is important not to exclude any customers from eating our cheese, we also use vegetarian rennet across the range. The Cheese is made in 2 vats each holding 500 litres, which allows me to hand make all our cheese.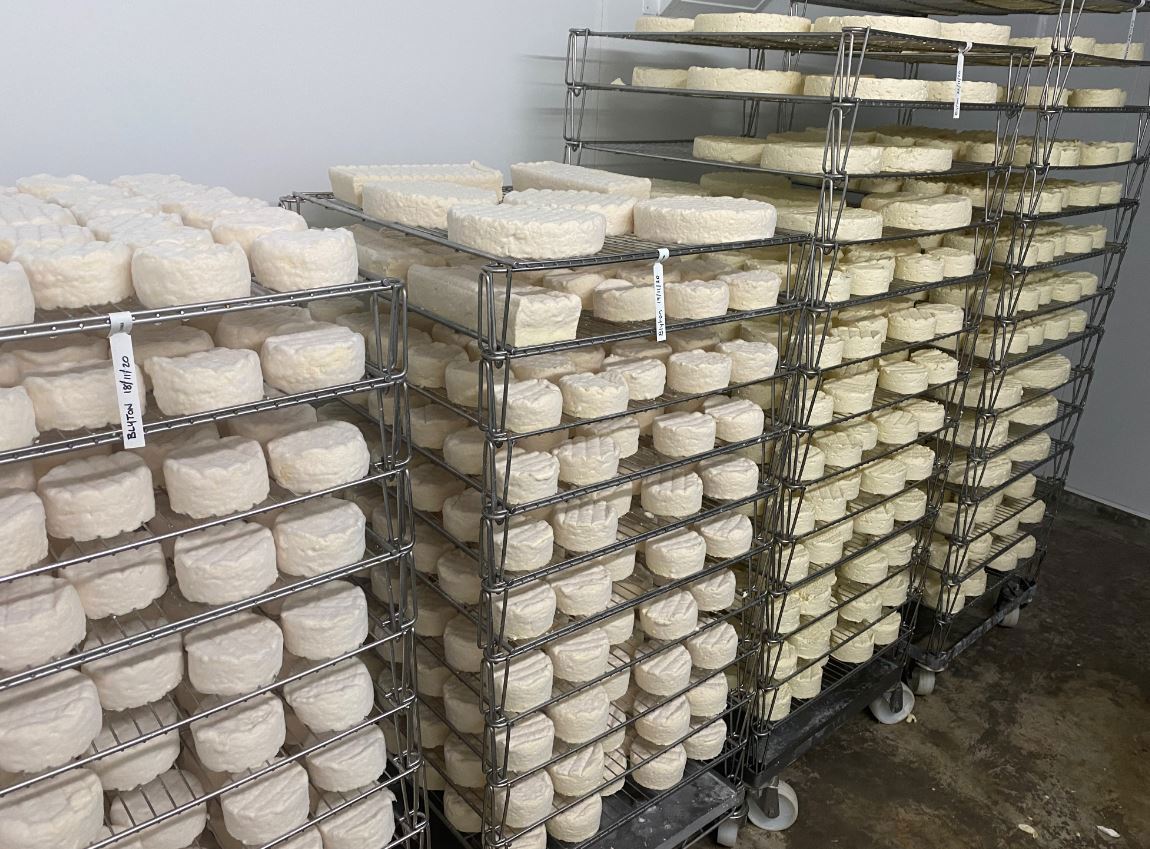 We have been honoured to have won a number of awards, in the first year of the company we were awarded Dairy Producer of the year, and in 2020 we were blown away when it was announced we were the Dorset Food Drink and Farming Food Producer of the year.
The cheese has had incredible success, beyond anything I could ever have expected. In 2020 we won 4 Gold Stars in the Taste of the West Awards with Hardy's and Smoked Burns both shortlisted in the Final 3 Dairy Products and I think the Highlight was winning a Two-star and 4 x One star in the Great Taste Awards which are international awards with over 10,000 products being entered.
We had planned on entering the World Cheese Awards but unfortunately, these had to be cancelled in 2020 but watch this space…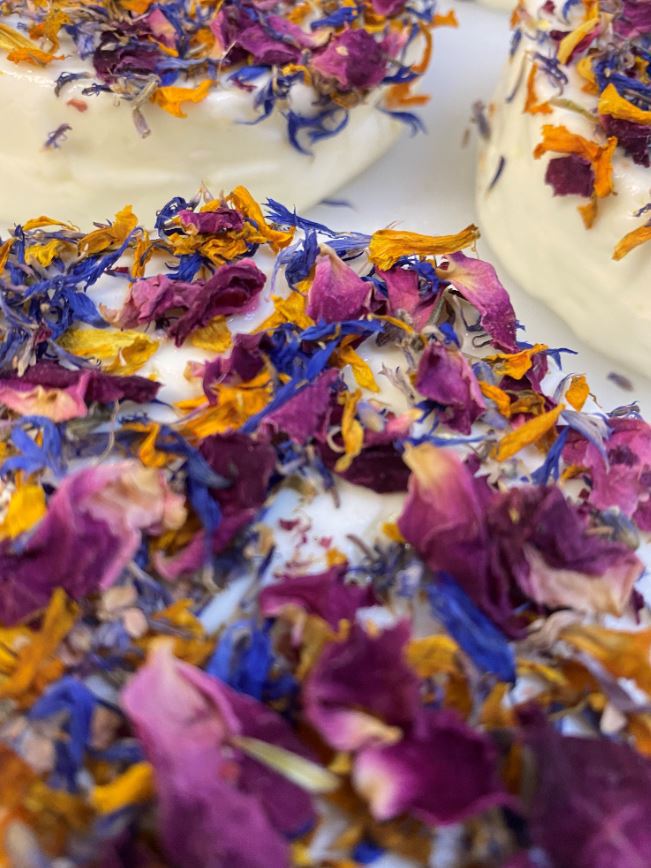 We love your cheese at THE PIGs! Could you tell us a bit more about your work with us, as well as PIG cheeses you're working on?
THE PIG- on the beach was one of my first customers, I remember meeting Adam who at the time was the Head Chef at THE PIG-on the beach (he is now Head Chef at THE PIG-at Harlyn Bay) for the first time after a busy lunchtime service, we sat out in the garden overlooking the incredible coastline and talked for a couple of hours about the products, his passion about the range and also about locally sourced ingredients in general. I then went on to meet Andy, (who now oversees a number of THE PIG kitchens) who spoke about his plan for our cheese and how he would like to use them on the menu making dishes around them rather than just incorporating them.
That was 2 years ago now, and since then the relationship has grown and now after spending regular time with the Group Chef Director James Golding looking at new products that fit with the ethos of THE PIG Group. It was during one of these conversations James spoke about a family favourite cheese from his childhood, a pressed ricotta. The cheese is made from the ricotta that is produced as a by-product when we make halloumi from sheep's milk. The Ricotta is a little grainier than that of cow's milk due to the high protein levels in sheep's milk, so not ideal for a fresh ricotta. However, you can then take this ricotta, salt it and then is pressed for 48 hours. It's a tricky cheese to make as the ricotta is very fine and powder-like during the early stages.
James was keen to develop a real depth of flavour into the cheese, so we incorporated a blend of cultures to add lactic notes and, we use Blackthorn Sea salt as well. The cheese is then moved into one of our maturing rooms where we let it develop a natural mould rind for 2 to 3 months. We have also recently adapted this cheese and added another twist by adding some Black truffle that James had sourced locally to one of the hotels, and wow it really does take it to another level.
During lockdown Andy got in touch about rind washing some cheese, this is where you take a cheese, we chose a brie style and then you brush the surface every other day with a cultured brine solution to prevent a rind developing, you can then incorporate other flavours into the wash most commonly Cider or Beer. It's also a great home teaching activity where children can get involved and see the effects of mould development and the aging effect on the cheese. This is something we hope to develop further and will look to use something produced within the walls of THE PIG gardens maybe using apples, pear or even a sloe gin!
How has the pandemic influenced business?
The first lockdown hit us hard, like most producers we lost the hospitality trade overnight, and along with the food festivals, we had some serious concerns for the business that had only been trading for 12 months at that time. Around two-thirds of our business income disappeared.
The first thing we did was took stock and looked to see what we could do to firstly help others and keep our heads above water. The first part of this was to offer local customers cheese care packages, the uptake on this was staggering and although incredible time consuming and hard work it did enough to help us keep the door open. We also developed an online shop which has proved to be a real asset.
But I think the biggest thing was a call I took from a local cow dairy farmer that had seen his quota cut to the point where he was going to pour milk away. I think everyone thought I was mad, but it was at this time I decided to diversify from sheep milk and increase our range of cheese to include cow's milk cheese as well. And this really was the turning point for our business. The new cheeses have opened doors that I had been knocking on for 2 years, adding a new customer base and adding 5 new cheese to our range. Blyton the Cows milk Brie has become our biggest seller, which is mad, and would never have happened if we didn't take that chance.
I think the Pandemic has really made us look at what and how we do things and appreciate the people around us. The support from the Chefs at THE PIG has also been humbling, to get phone calls from chefs asking what cheeses I need them to take and develop dishes around has been incredible and a lifesaver. There is nothing worse than spending some time 18 months looking after a cheese to then consider if you need to bin it. I have always tried to find positives in life from every situation, and I think that will get us through these terrible tough times.
With the world moving towards a more sustainable way of doing things, how is the dairy industry adapting?
I think from our point we have set the business up with this in mind, the cheeses use By-product olive brine, locally sourced rapeseed oil and we forage wild garlic from the Cranborne estate, but we have to go beyond that. I have seen a large shift towards more artisan producers, smaller independent farms that are diversifying and focusing on the quality of the raw ingredients they produce rather than mass-produced but they need more support.
The key is education, and sadly we missed out last year, but hopefully this year we can get back to some food festivals where we can engage with consumers and talk with passion about how we do things. We need to bang the drum on the amazing produce this country produces, and that is why we love working with the chefs at THE PIG hotels so much. They get it, they understand that the cheese will change through the year, THE PIG menus show where the products come from and that makes a huge difference to our industry, it puts a face to the product, it helps us educate, and through that, we can continue to improve and push further towards better practices and sustainable methods.
What advice would you give a budding cheesemaker?
I think the same as to anyone who wants to start in a new direction, you have to have passion, and believe in yourself then commit 100% to it. There is no right or wrong way to do things. I was once told the most important thing is to make a decision, if it goes wrong, learn from it, correct it and move forward. It's only a bad decision if you repeat it.  And if it is cheese-making you decide on, trust me it will go wrong at some point, you won't always know why it did just keep looking forward and you might end up with a world winning cheese, someone has to, right?
What's your favourite cheese and a dish it could go into?
Tough one, it changes almost daily, I should say Golding I guess, but I think right now it has to be the Smoked Burns (oak smoked halloumi) it's comfort food, smells incredible when it's cooking so versatile and different to anything anyone else is making.
And as for the dish, this could start an argument on who claims the development of it, but I had the opportunity to try the development of a Texan bean dish, which had a wonderful rich tomato base topped with the smoked Burns and finished with a rich duck egg. It was Andy I saw that day so will give it to him!
Find out more about The Book & Bucket Cheese Company here and you can buy their delicious cheeses online too!