Could there be a pud that screams more of early autumn than Apple and Blackberry Crumble? The hedgerows were groaning with shiny and juicy blackberries in late August, early September, although we do grow our own in our fruit cages that have been picked and frozen to keep them fresh, and our orchards are have provided us with a bounty of apples thanks to the early spring.
Somerset is famous for its apple orchards so it was only right to head to THE PIG-near Bath kitchen for this classic recipe.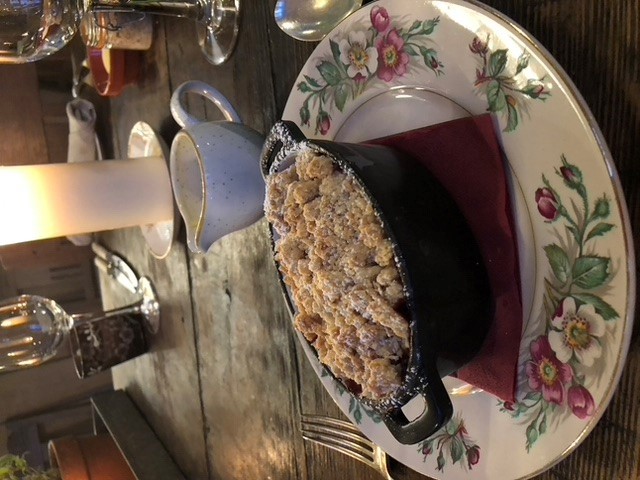 Crumbles are one of the finest comfort foods on the planet, so it won't surprise you to learn that we love them at THE PIGs. There are so many fillings and toppings to choose from, and then there's the old 'ice cream or Bird's custard' debate. It's both, obviously. At THE PIGS we have a number of different orchard trees and we don't even know the variety of some of them, so this crumble is a great way of using up a random selection of fruit.
This year at THE PIG-near Bath the Kitchen garden team harvested a huge amount of Bramley apples perfect for using in a crumble. Here's how to make one!
Serves 6–8
For the fruit mixture
600g (1lb 5 oz) Bramley apples, peeled,
cored and each cut into 8 chunks
2 tablespoons golden caster sugar
2 tablespoons water or apple juice
juice of 1 lemon
2 punnets of blackberries
For the crumble topping
175g (6oz) unsalted butter, diced
120g (4¼oz) demerara sugar
300g (10½oz) plain flour
70g (2½oz) jumbo oats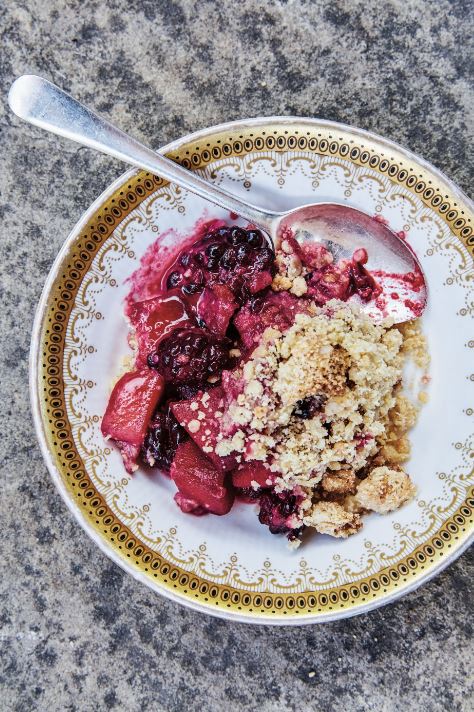 Let's get baking!
Put the apples, sugar, liquid and lemon juice in a pan and heat until the mixture starts to bubble and the sugar dissolves.
Turn the heat down low and cook until the apples start to get soft but not mushy. Remember, it'll be going in the oven, so you don't need to cook them all the way through. Add the blackberries and mix in, allowing them to just warm through – you want them to keep their shape.
Preheat the oven to 200ºC, 180ºC fan (400°F), Gas Mark 6. Line a baking tray with baking parchment. To make the crumble topping, rub together the butter, sugar and flour with your fingers until the mixture has a breadcrumb consistency. Stir in the oats and spread over a lined baking tray. Bake for 8 minutes.
When you're ready to serve, place the fruit in an ovenproof dish, draining off any excess liquid as
you don't want the topping to be soggy. Sprinkle the crumble topping evenly over the fruit, making a layer at least 1cm (. inch) deep. Heat it in the oven for 25 minutes until golden brown, bubbling and delicious.
Enjoy!