When THE PIG-at Bridge Place went back into Lockdown 2.0 in November, we could never have imagined the doors would still be closed 4 months later! A small team took up residence on site, just as they did last summer, with the hotel, gardens and local village quickly becoming a home from home.
Freya, Reception Manager at THE PIG-at Bridge Place tells us all about the discoveries they have found right on their doorstep and what has been going on in the Kitchen Garden!
Winter is usually a quieter time in the Kitchen Garden, but our Head Kitchen Gardener Fran is busy planting Shallots, Onions and Broad Beans this week, he is also focusing on weeding (we get stuck in with this too!), keeping all the plants happy and keeping the pigeons away - they were especially pesky when we had some snowfall earlier this month – as most of the plants were covered, the tall brassicas became a target! However, the massive amount of snow in Kent did have a positive impact on the Garden, chilling the temperature of the soil which rids it of insects and other pests meaning the plants will have fewer problems in the spring. 
In the Polytunnels we have just finished growing Pak Choi, Spinach and Coriander – perfect for a home grown stir fry (one of our go-to lockdown lunches!) We are now growing lots of fresh leaves for salads – Mustard Leaves, Mizuna, Lettuce and Chicory.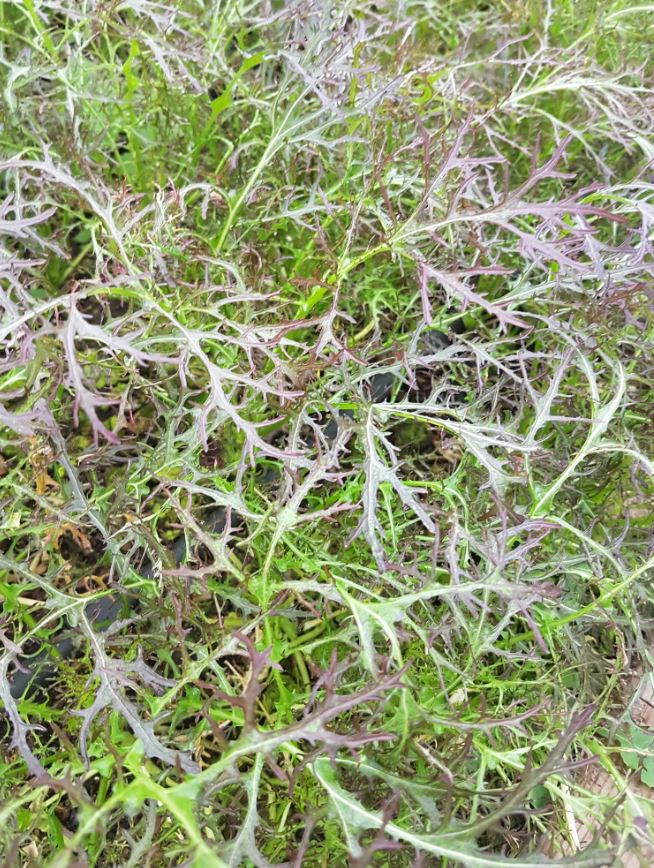 Our flock of Romney Marsh sheep, a Kentish breed that originates back to the 1800s, have been let loose on the grounds to become our ecological lawn mowers! Although they have quickly figured out where the good stuff is and Fran has had to put up barriers around the Kitchen Garden...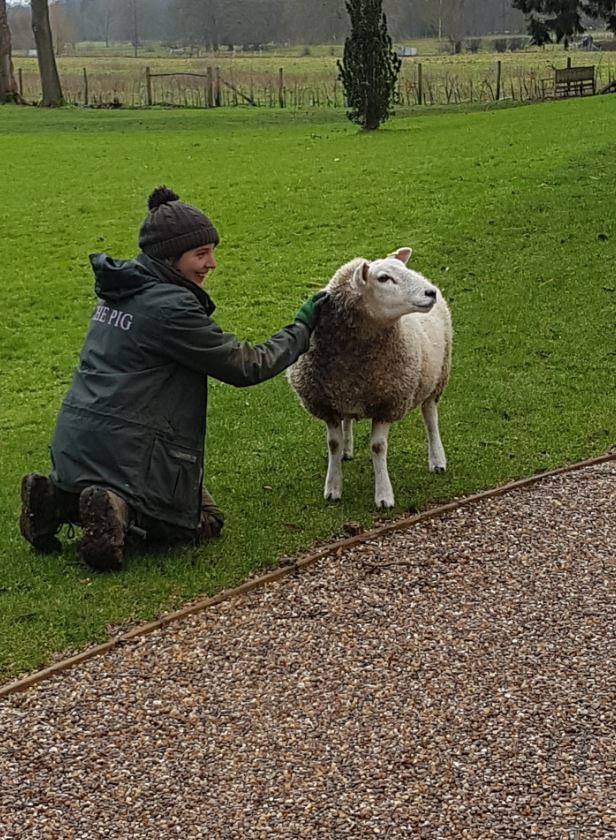 Our two-person maintenance team Alex and James have also helped Fran to build a new barn ready for lambing season. They used some recycled wood from an old feed store on the property to make the barn, which will be used to birth the lambs and house them for the first few days of their lives whilst they get used to the bright new world – the first new arrivals will be a very exciting day for us all!
We recently ran a lamb butchery masterclass for a small selection of junior chefs using lambs from our flock. We used every inch of the lamb – including the tail which will be used for stock! The offal was used to make a PIG favourite dish – our traditional faggots; and the lambs were very fatty so the fat will be used to make delicious sauces!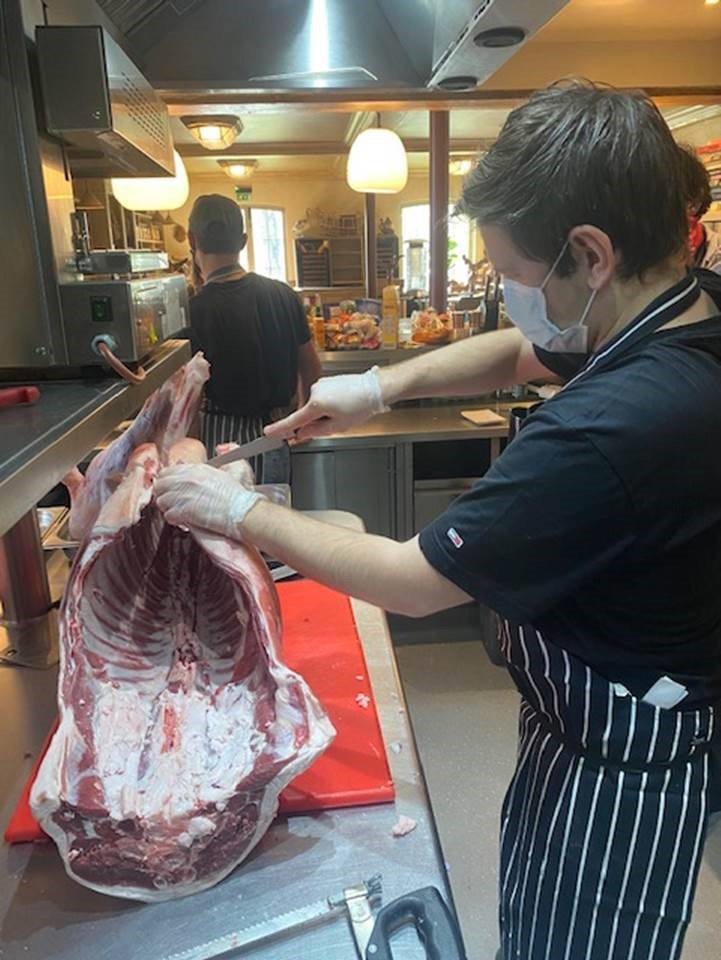 Keeping it local – foodie finds for our local friends
We have been making the most of the fantastic local suppliers, producers and watering holes that are on the doorstep for us here in Bridge – many of them have had to adjust and change how they do business to survive and as is our passion at THE PIGs, we love local, and will do everything we can to support the artisan and small businesses in our communities.
We have been visiting our very local Worgan's Farm Shop under a mile from us just at the end of our road for local meat galore! It's also ideally located next to Tadpole Tearooms who are serving coffees and cakes daily from their "hatch" instead of the café. One of our restaurant team members Chloe Blanks – born and bred in Bridge - says they are the best Brownies (apart from ours) in Canterbury! Definitely worth a visit when you are next in Bridge!
There must be something in the water around there, as just next door you can find Will Burnett Chef  – he has been keeping us going with a weekly menu of reheat meals, larder goodies and even bespoke drop off dinners for special occasions or just because! Will offers local delivery or collection from his HQ if you are local to us. 
Our nearest pub (and team favourite!) is The Red Lion in the village. Owners Rene and Harry are offering their pub classics for delivery or to takeaway Wednesday-Saturday for lunch and dinner, and Sunday for lunch. Contact on 01227 832213 or email rene@redlionbridge.co.uk.
Our favourite Thursday night treat is Fish and Chips from the pop-up van "Fish and Chips Kent". You can ring them throughout the day to pre-order your dinner for collection between 5pm-7.30pm (when in Bridge). They travel around the area throughout the week:
Tuesdays & Wednesdays – Ashford
Thursday – Bridge
Friday – Littlebourne
A hop, skip and a jump over the North Downs Way and you'll find the Independent Pedlar, a lively cafe beautifully set on a farm in the middle of the local countryside with stunning views that uses local produce and serves coffee from London's oldest coffee merchant. They are currently open for takeaway drinks and sweet treats, but when they do re-open they are the perfect stop off on a walk or cycle ride when you are visiting THE PIG-at Bridge Place.
Now heading out of Bridge, take a short walk through to Bekesbourne and make sure to stop at Mama Feelgoods (1.8 Miles from us). They are open for to pop into their shop for lots of foodie treats and takeaway and you can order online or over the phone on 01227 830830. Great for unbelievable home-made cakes and coffees – we have had to ration ourselves! Good walks around the area too!.
For local, premium independent food boxes at home check out Ethelbert Road.  Kieran and Elliot, two of the team from our nearby Michelin starred pub The Fordwich Arms have started a lockdown venture offering 3 courses, bread and appropriately paired wine for 2. Available for local delivery or collection.
In Canterbury, we are loving City Feast Street Food Pop-up (4 Miles from PBP). This is a Street Food Pop up partnership in the centre of town between Radburger & Just Wing It.
Available for Takeaway 7 days a week they have been Food & Beverage Manager Darryl's go-to for comfort food during lockdown – they do a VERY good burger! 
Take a trip to our local farmers market The Goods Shed showcasing some of our finest Kent suppliers selling seasonal and local veg, meat and fish as well as store cupboard essentials. Press Wine Services offer a large selection of English wines featuring many of our top tipples from the Wine Garden of England. Delivery available to most of east Kent. The Goods Shed was my very first experience of Kent – a fantastic introduction straight off the train!
Further afield gems…a must-visit for your next escape to Kent!
We asked our restaurant supervisor Bella (a Whitstable local!) for her top seaside fish and chip takeaways:
Her personal favourite it Ossies Fish Bar on the high street – she recommends the classic cod and chips, or the veggie spring roll, chips and mushy peas for her fellow vegetarians!
V.C. Jones comes highly recommended, although not suitable for veggies as they use beef dripping
At The Harbour, you can also add cockles to your takeaway and browse their fresh fish market!
The Coalyard in Whitstable is a must, with a deli-style food offering and takeaway beverages. Bella recommends their Focaccia – "it's next level". The menu changes every day so be quick – once it's gone, it's gone!
Flotsam & Jetsam  – Takeaway seafood and frites on Broadstairs Beach as recommended by our Hotel Director Guy. The small takeaway service operates from a window and serves up a variety of specialities including lobster and crab dumplings. Well worth a trip!
The Rose in Deal (15.2 Miles from PBP), have launched their Cook At Home boxes over the past few months and are currently featuring "Tokyo Nights" – featuring Noodles, Sushi & Sashimi!
Macknade is a long-standing Faversham foodie favourite – they've been around for over 170 years! At their Flagship store, you'll be spoilt for choice with row upon row of specialty fine foods as well as all your daily essentials from the Delicatessen, Grocers, Butchers, Bakers... whilst the café is currently closed, you will still find food and drink to takeaway from their Deck.
Folkestone's Harbour Arm is a beautiful promenade out at sea with incredible sea views. Our Duty Manager Sarah says you'll find the best bagel of your life at Bobbies Bakehouse – her favourite is the salt beef bagel. You'll also find Docker Brewery and Bakehouse selling quality artisan products – including the sourdough we serve at THE PIG – at Bridge Place! Pick up a warming latte from Harbour coffee and stretch your legs on the clifftop promenade The Leas where you'll spot magnificent buildings, squares and gardens. There is even a bandstand where events take place during the Summer.
For another cliffside stroll, try the iconic White Cliffs walk all the way down to Kingston. With unmissable sea views, this path is perfect for a rosy-cheeked winter wander.