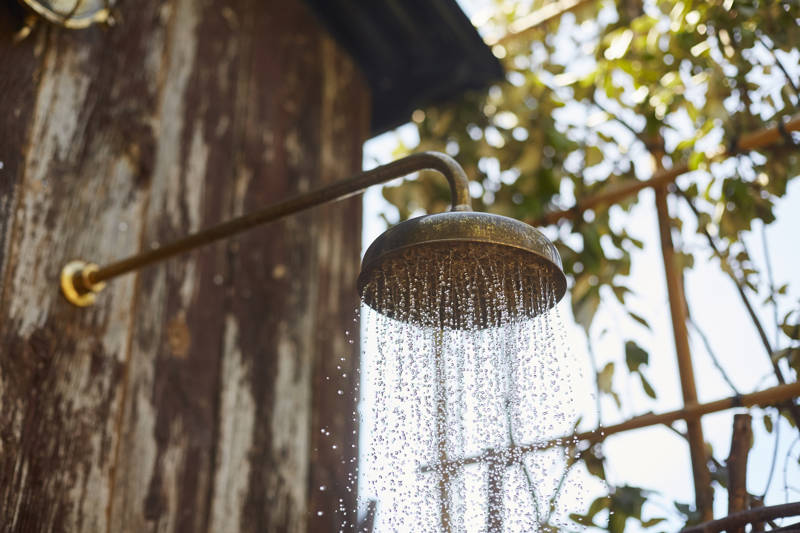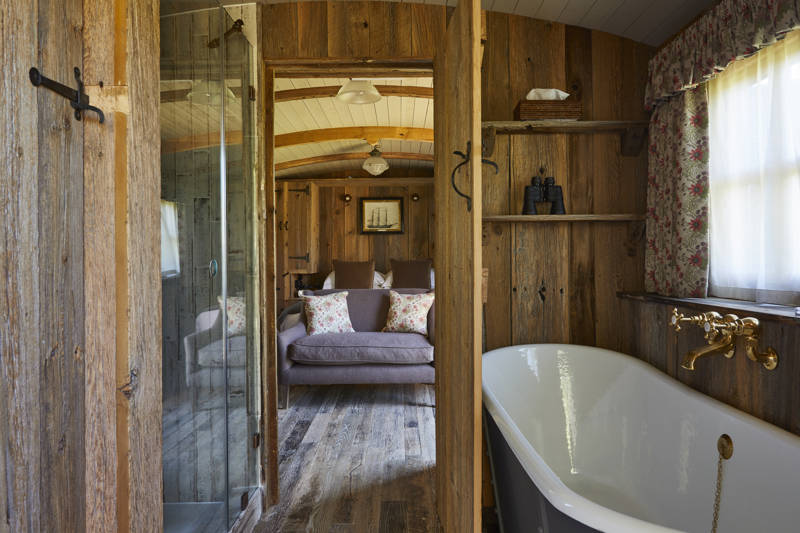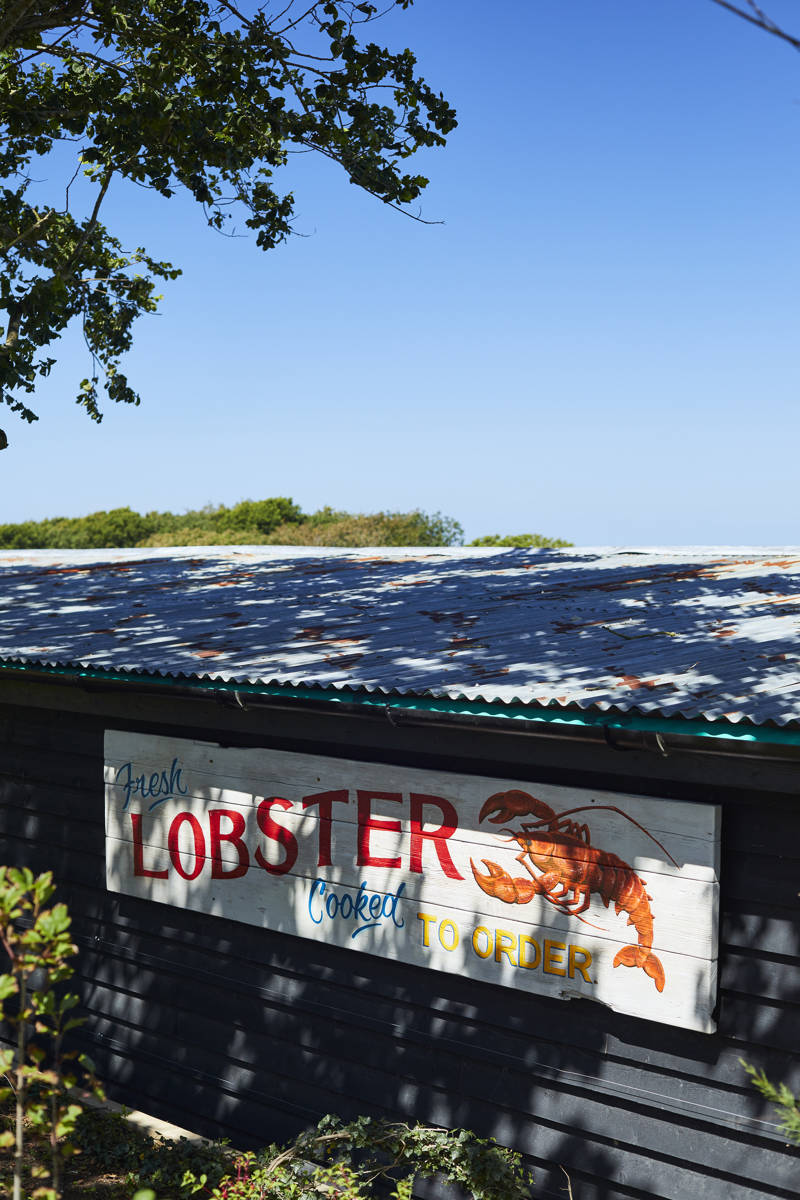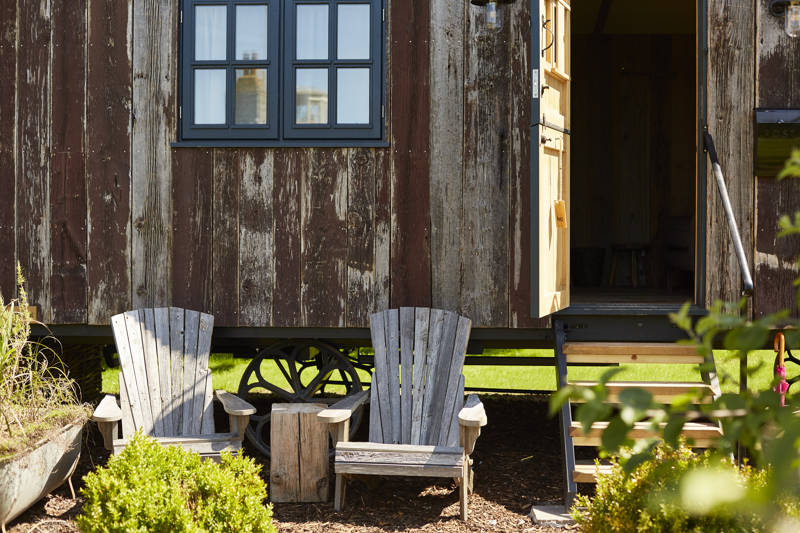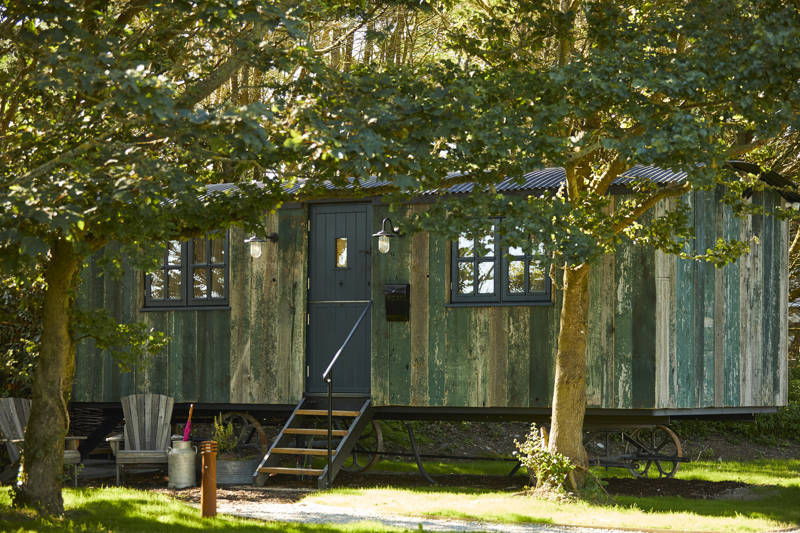 Tucked away by the Kitchen Gardens, just a short stroll from the house, the Garden Wagons at THE PIG-at Harlyn Bay are our secluded garden getaways - perfect if you are looking for a little adventure.
If you've ever stayed in a Shepherd's Hut before then these are a whole new ball game... the Garden Wagons are our levelled-up romantic retreats with more space and more mod-cons… all under one roof! Built by Plankbridge, they are light and airy in the hotter months, and warm and cosy during the colder, close to nature all year round - we can guarantee this will be a 24 hours made of special memories…
7am – Catch the sunrise over the gardens and fields, pop on a hot coffee and slowly greet the day from our beds, so cosy you won't want to get up!
8am – Embrace the countryside and head outside for an alfresco shower. Hidden behind shrubs and bamboo (we promise you can't be seen), rinse off ready for the day with Bramley's natural bath and body wash.
9am – Gently make your way through the gardens from your secluded retreat to the main house for a spot of home-grown goodness for breakfast to fuel yourself ready for the day.
11am – Luckily the Garden Wagons are right out in the heart of our patch. Step outside straight into the Kitchen Garden, explore where we sow and harvest for our 25 mile menu, chat with our friendly Gardeners and learn how to go from plot to plate.
12:30pm – Head to The Lobster Shed, just a stone's throw from your Wagon and dig into wood roasted fresh lobster, chargrilled meats and Cornish tipples.
2pm – It's time to adventure towards the coast. Wander down the Harlyn Bay beach, where you can trail the headlands of Trevone Bay, catch a surf with Harlyn Surf School or George's Surf School or jump in the car and explore the picturesque town of Padstow.
5pm – Hunker down back to your wagon, away from the hustle and bustle of the main house, but with bags of space for some down-time in your secluded spot. Relax on the terrace with a game of cards, sink into a good book or soak your feet with a bubble bath in our free-standing roll-top baths, so big you'll feel like you're swimming!
7pm – It's time to taste our garden pickings which are growing right on your doorstep. Tuck into our 25 mile menu, packed full of simple British Kitchen Garden food, local catches, and flavours from our trusted Cornish suppliers.
9pm – With full tummies, meander back through the gardens, stop for a spot of stargazing and cosy up in your wagons with the log burner fired up. Don't worry if you get the midnight munchies, we have larders stuffed with local treats and old school goodies, plus a tipple or two.
10pm – Tuck yourself in the peace and quiet, away from the patters of feet in the main house, and sink into your king-sized beds for some sweet dreams.
Book a stay in the Garden Wagons here.