It's the vegetable that's also a fruit! While rhubarb is typically harvested during the spring and summer months, they also flourish in greenhouses which makes them available almost all year-round. Field-grown rhubarb tends to start around April, however, during the colder months of December to March, forced rhubarb season lands where we lure it out of hibernation early with darkness and warmth.
Rhubarb makes nostalgic comforting puddings, but it's sharpness means it also makes delicious duck, fish and chicken dishes. Kelvin, our Group Pastry Chef, has rustled up a classic that you can tuck into at home on a warm evening - super quick, simple and packed full of spring-time flavour.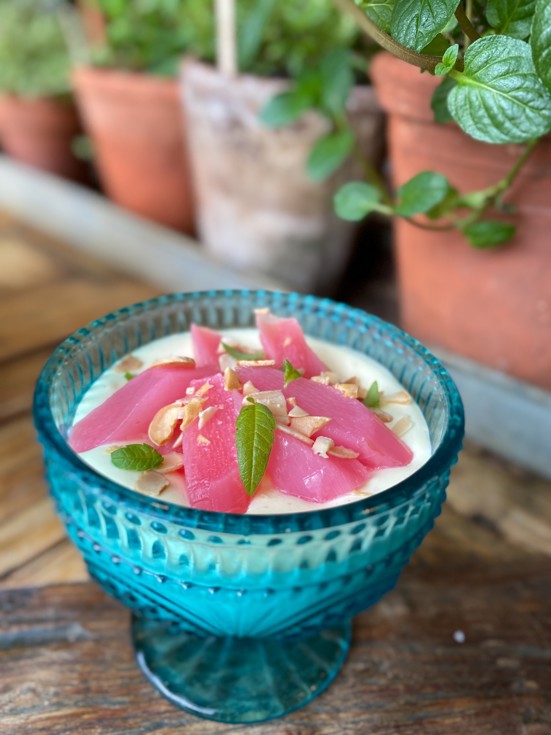 "At this time of year, we are limited to only one seasonal fruit, but luckily for us, this often-overlooked fruit, which is exported all over the world, and revered by Michelin star chefs, is readily available.
 "forced" rhubarb is bright pink with long slender stalks, and is grown undercover. The most famous is the "Yorkshire triangle rhubarb", which in 2010 was granted a "PDO" (Protected Designation of Origin Status), just like Stilton, and Champagne.
This simple dish brings back memories of childhood, and at THE PIG we don't add vanilla to the custard, but of course, you can, if you prefer."
Roast Rhubarb Ingredients:
200-250g Forced English rhubarb
A handful of demerara sugar
Zest and juice of half a lemon
Custard Ingredients:
160g Double cream
55g Egg yolk, or the yolks of 3 medium eggs
40g Caster sugar
Vanilla seeds/paste (optional)
80g Double cream
Method:
Pre-heat oven to 2000c.
Top, tail, wash and pat dry the rhubarb, then cut across the stalks at a 45 degree angle.
Lay flat on a roasting tray, and sprinkle with a handful of demerara sugar, the lemon zest and juice.
Place on top shelf of oven for five minutes.
Remove and allow to cool at room temperature, but don't chill.
Place 160g of double cream into a heavy based pan, with the optional vanilla paste/seeds, and put on a low heat.
In a bowl, beat the egg yolks and sugar.
When the cream is hot, but not boiling, pour whilst whisking, on to the yolks and sugar.
Return the custard to the pot, and gently heat whilst constantly whisking until it starts to thicken – if you have a temperature probe, take it to 820c, then remove from the heat, pour into a bowl, give it another whisk, and allow to cool, before chilling.
In another bowl, lightly whip the remaining 80g of double cream, then with a spatula gently combine with the chilled custard.
Pour into your favourite glass dish, arrange the rhubarb on top, remembering to use the syrup as well, and serve immediately.
Make sure you sign up to our newsletter to receive more recipes like this straight to your inbox.