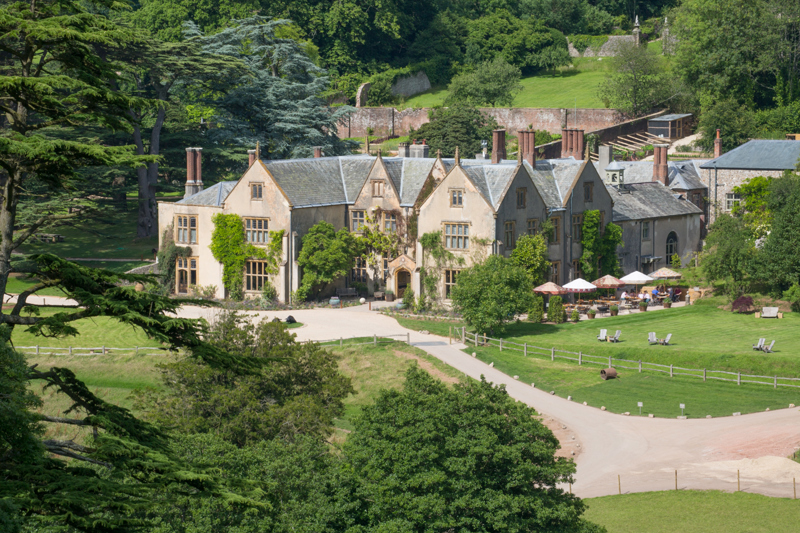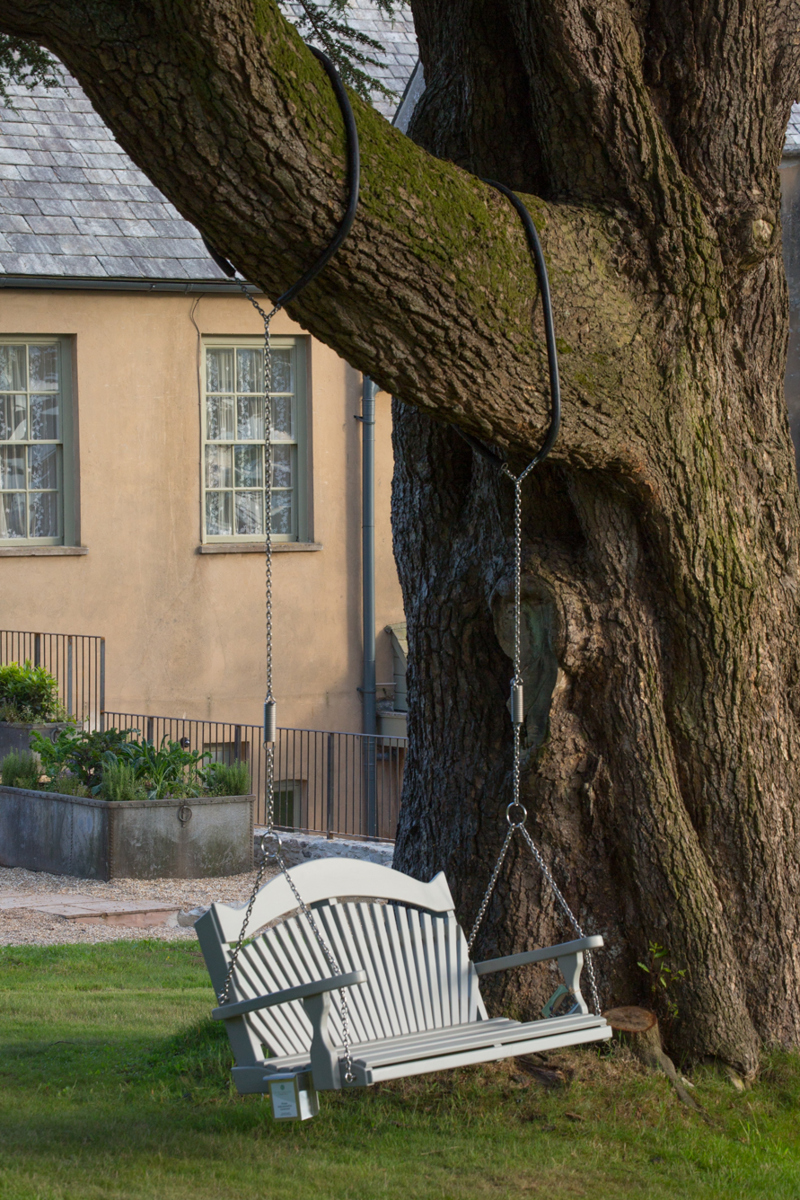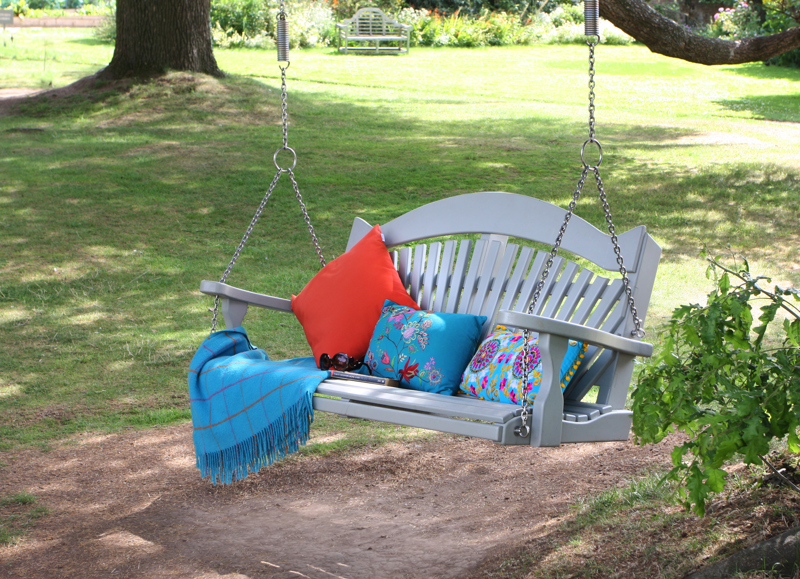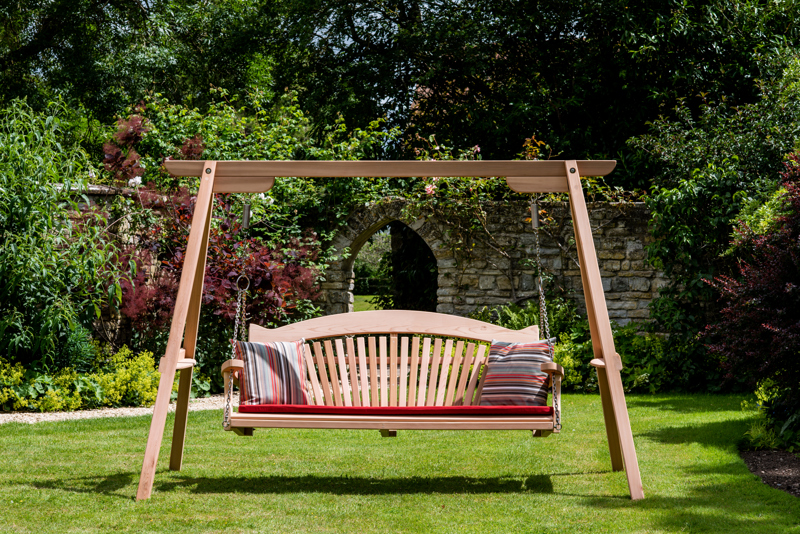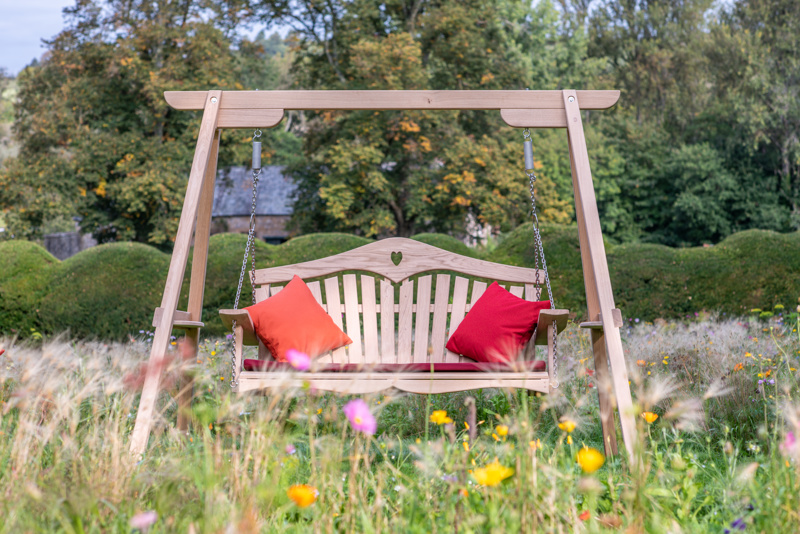 Just 30 minutes from THE PIG-at Combe (17.8 miles), Sitting Spiritually handcraft a range of one-of-a-kind garden swing seats in their workshop in Lyme Regis. If you have been for a stroll in our gardens at THE PIG-at Combe, you may have noticed our 2 beautiful swing seats that look out over the lush Devonshire countryside – this was created by the team at Sitting Spiritually.
We spoke to them to find out a little more about how they came about… 
How did Sitting Spiritually come about and what is the story behind the company?
Everything started back in 2004 when we were invited by the National Garden Scheme to submit our garden to their listings for charity. They visited the garden and concluded that because of its size—around a third of an acre—it needed some seating so that people could sit and enjoy the beautiful natural surroundings. I'd always hankered after a swing seat; those solid wooden affairs you'd see in American films, so I thought I'd go and buy one. 
After a bit of digging, what I found on the market was a bit of a disappointment. So, I sent away for blueprints, returned to my joinery roots, and made one. The National Garden Scheme approved the garden, and on the first day we opened, five people asked me for a quote. That's how it started.
Tell us about your products and how they are made?
Since then, we have developed and expanded a range of beautiful wooden swings seats, Rockabyes, pergolas and swinging day beds. We have always avoided southeast Asian hardwoods; sourcing instead timbers with very clear ecologically credentials—so we major in oak, cedar, and Accoya. We have six joiners in total, all of whom work closely with us and produce under our license. Everything we make is 100% handcrafted from start to finish, something we're very proud of.
What makes your products unique?
The quality of our materials, the workmanship, the design, and the ergonomics of everything we make. We have a very strong, customer care ethos, and a policy of ongoing improvement in everything we do. Most importantly, we all enjoy what we do!
Tell us about your tree planting initiative and why it's important to you?
We have engaged with a West Country-based company whose goal is to restore biodiversity by creating habitats and planting trees. The scheme is simple: for every commission we sell, we fund one tree to be planted—which helps fund wetland creation, meadows, marine habitats, and much more. The environment and wildlife are extremally important to me and a huge part of our working principles at Sitting Spiritually.
How did your relationship with THE PIGs begin?
We originally had a seat installed when it was called Coombe House Hotel. As they were selling the business, the owners suggested that we come and collect our swing seat. It was on that visit that I met Robin Hutson (the man behind THE PIGs). We discussed the ideas of replacing the original seat and frame, with the one that now hangs from the tree on THE PIG's main lawns—as well as a two-seater rope swing. From what I've heard, they are both very popular with the visitors!
Sign up to our newsletter here to hear more from our local suppliers, offers and news from THE PIG and Smoked & Uncut.