Here at THE PIGs, we pride ourselves on using homegrown ingredients and wasting as little as possible! This includes using our own honey in a range of dishes, from honey roasted parsnips to glazed figs this liquid gold can be found on our menu all year round. To bring a bit of THE PIG into your home why not try some of our favourite recipes below.
Hampshire Syllabub (serves 4-6)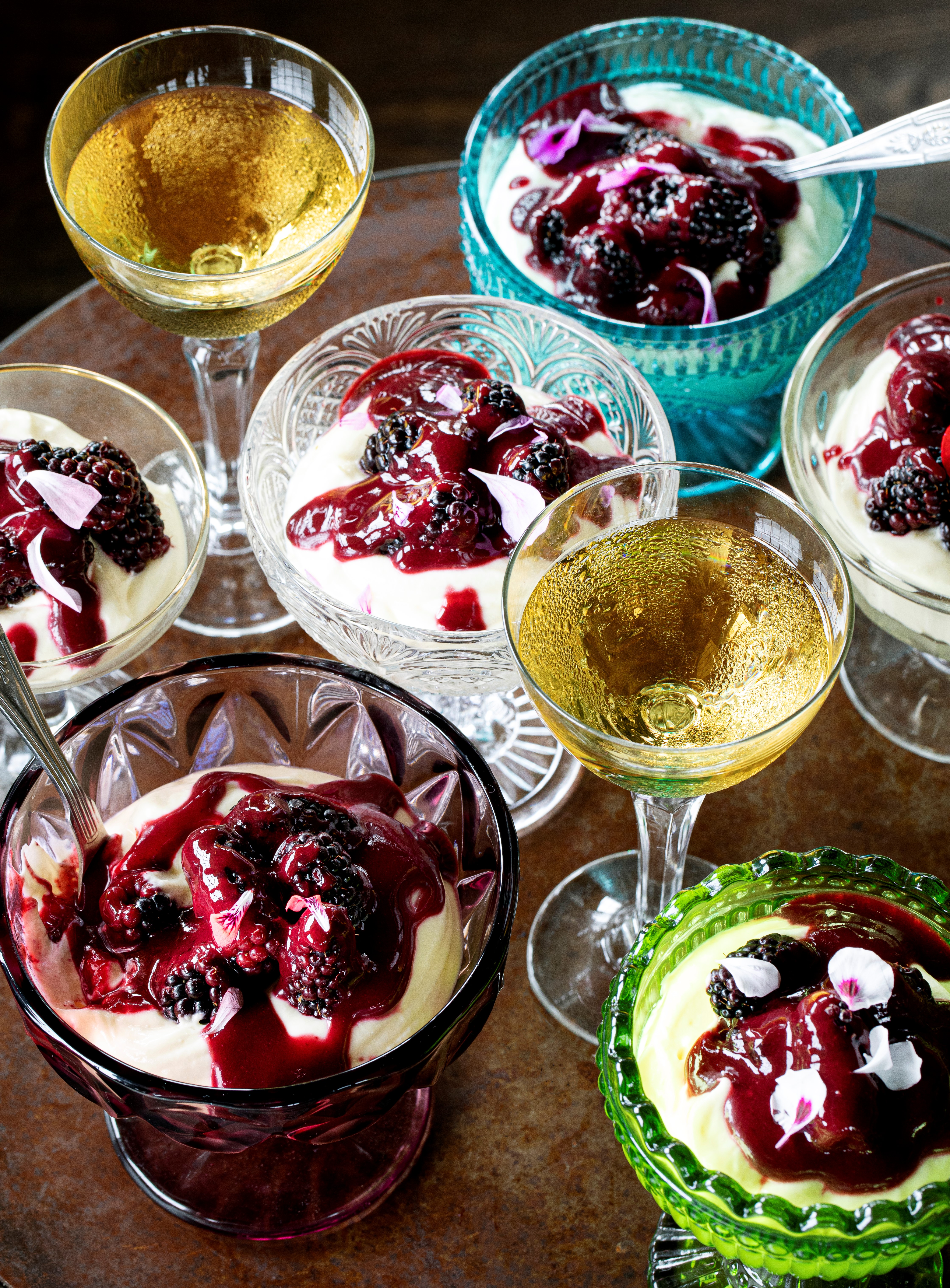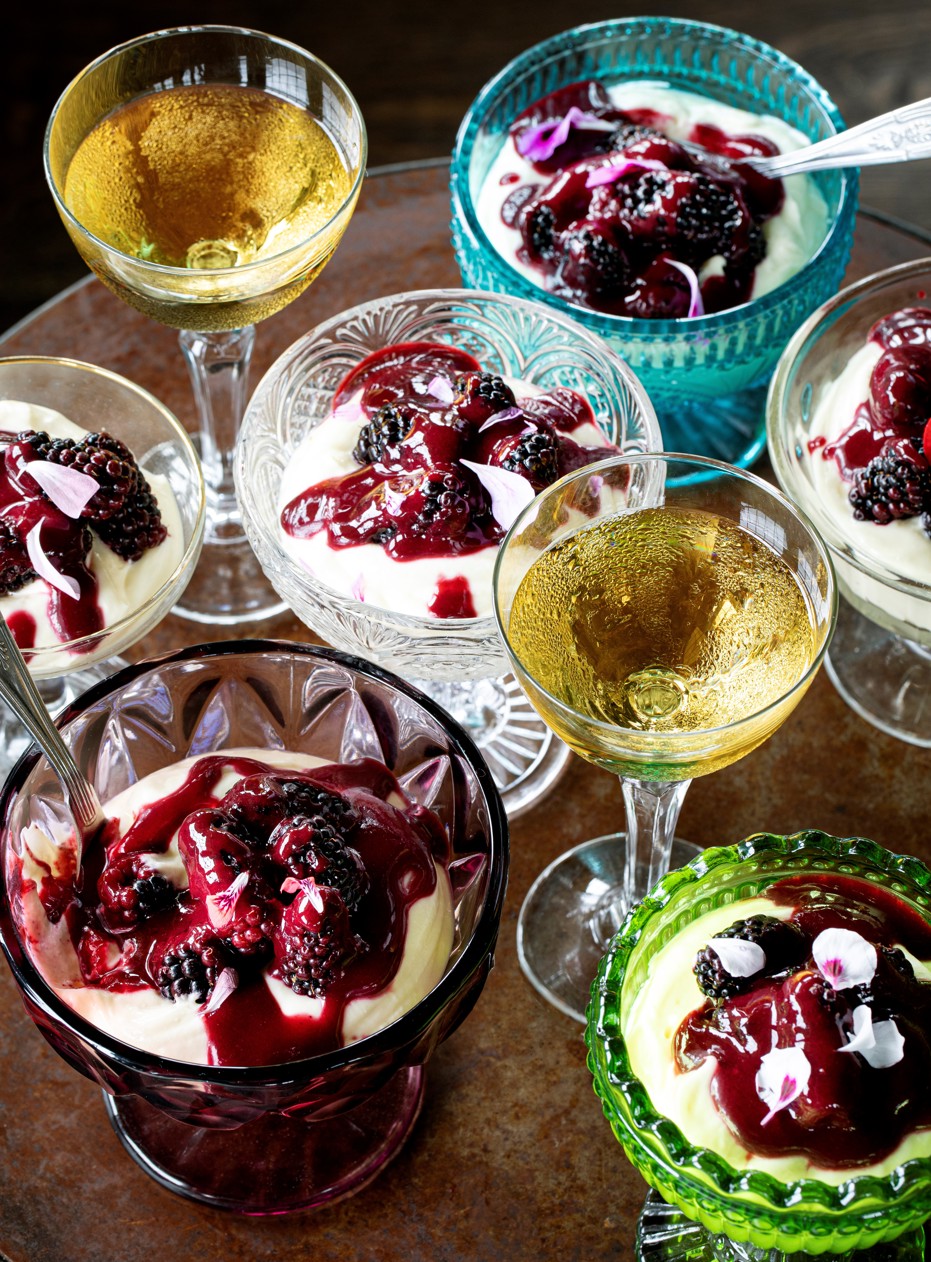 Syllabub is one of the oldest known English puddings. However, it started life as a crude drink, made from milk and cider. In later years, the Georgians adapted it using thick cream and alcohol, and named it "the everlasting", because it didn't separate after making. This boozy pudding can be made with white wine and brandy, or with dry sherry, and can be made in advanced and chilled. We like to garnish with blackberries, but any soft fruit will do.
You will need:
1 x lemon slice of rind, with no pith and the juice
2 x sprigs of lavender, well bruised
150g dry sherry
30g brandy
85g local raw honey
300g double cream
A handful of blackberries, or any other soft fruit to garnish
Method:
Place the lemon rind, lemon juice, bruised lavender, sherry and brandy in a bowl, cover with cling film and leave overnight. Pass the liquid into a pot, add the honey and gently heat until the honey dissolves, then pour into bowl and allow to cool. Slowly add the cream, beating gently until it starts to ribbon, then carefully whisk until it forms soft peaks. Pour into suitable glasses, and chill.  Serve with ripe, room temperature berries, and garnish with lavender.
THE PIG's Beehive Set Cream (serves 4)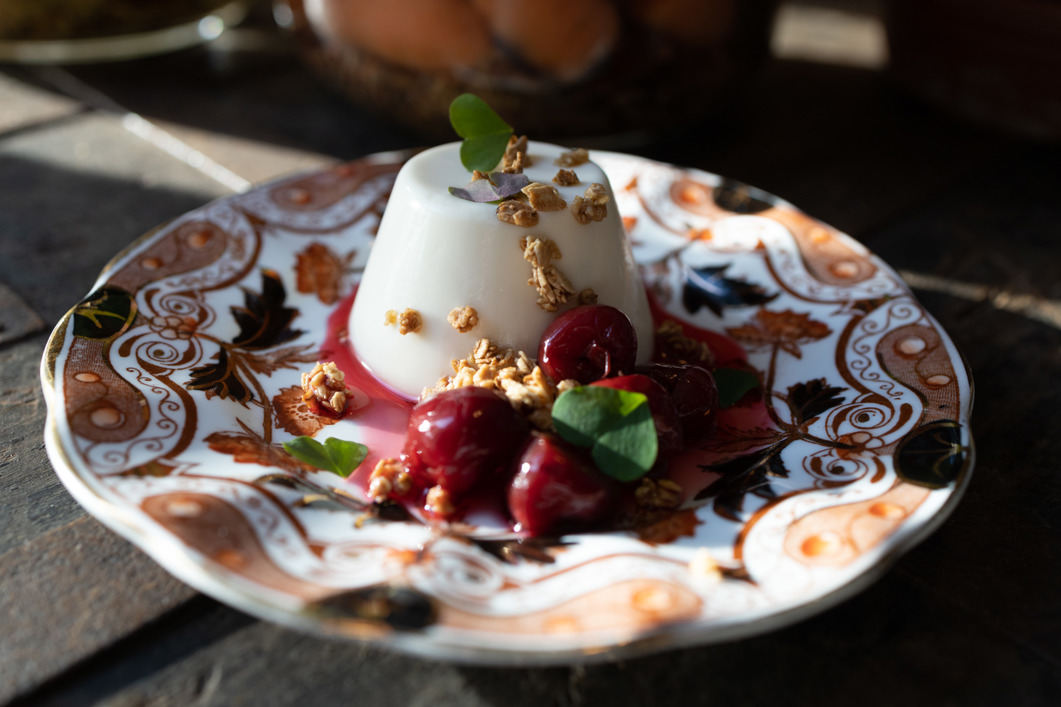 This simple recipe is usually made in decorative antique moulds and turned out on to the plate. However, it can also be made in individual soup plates, or shallow bowls.
You will need:
105g full fat milk
310g double cream
90g local raw honey
 1 ½ sheets of leaf gelatine (available in all good supermarkets)
A handful of honeycomb or room temperature strawberries, or raspberries to garnish
Method:
Soften the gelatine in cold water.  Place all other ingredients in pan and gently heat. Squeeze the excess water of the gelatine, and add to the pot. The heat will dissolve the softened gelatine. Mix well and make sure the gelatine has completely melted, but avoid whisking, as this will create air bubbles. Divide into 4 glasses/moulds/soup plates and chill for a minimum of 2 hours (if turning out). Garnish with honeycomb and/or soft fruits of your choice.
THE PIG's Raw Honey Cake (gluten and dairy free – serves 8)
 
This lovely cake by Tash, our Head Pastry Chef at THE PIG-in the South Downs, has proved very popular as it's gluten and dairy free.
You will need:
167g local raw honey
150g flora vegan butter, or unsalted butter
67g soft dark brown sugar – but will work with soft light brown.
2 x medium eggs
200g gluten free self-raising flour
Method:
Pre-heat oven to 1800c, or 1600c for a fan oven/Gas mark 4.
Melt the honey, sugar, and butter, then boil for 1 minute. Allow to cool for 15-20 minutes. Sift the flour into a bowl. Beat the eggs one at a time, into the honey mix. Pour the wet mix into the flour and mix until smooth. (The mix will be runny this is fine). Grease and line an 8" cake tin, and pour the mix in. Place on the middle shelf of the oven and bake for 30 minutes - check if it's cooked with a skewer or cocktail stick, if not cook for a further five minutes.
Heat the honey glaze, and when the cake comes out of the oven pour over the warm honey glaze, and allow to cool at room temperature.
We suggest warming slightly in a microwave and serving with any fresh fruit – fresh figs or poached pear, works particularly well. We also crush a few smoked almonds and sprinkle on top for an added crunch, and a dollop of crème fraiche.
Isle of Wight Apricots with THE PIG's Raw Honey (three apricots per person)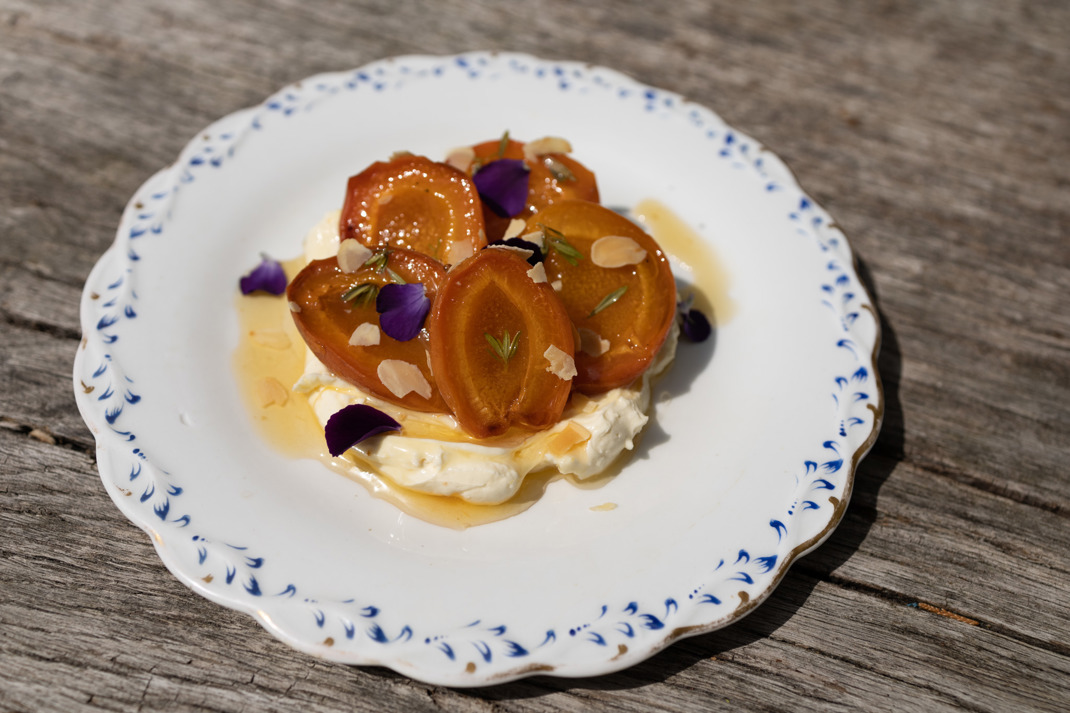 The English apricot season is very short, and at THE PIG in Brockenhurst we take full advantage of these beauties!
You will need:
3 x ripe apricots, or other stone fruit such as plums and greengages
1 x dorset Ricotta
A handful of lemon or orange thyme
A good drizzle of  local raw honey
Method:
Pre-heat your oven to 2200c/gas mark 7. Cut the apricots in half, remove the stones and place skin side down on a baking tray. Strip the thyme leaves off the stalk, and sprinkle of to the apricots, then drizzle with honey. Place the Ricotta in a bowl or mixing bowl, with a drizzle of honey, and beat for a few minutes. Divide and spoon into the centre of each plate, and using the back of the spoon gently flatten. Place the apricots in the centre of the oven for roughly five minutes, then remove and allow to rest for a few minutes, before drizzling a little more honey on to them. Place the warm apricots on to the Ricotta, and pour any juices on the tray over, and serve immediately.
For an added crunch sprinkle some toasted flaked almonds on top, or omit the Ricotta and serve with a refreshing apricot sorbet or ice cream.
Garden Honey and Chilli Cocktail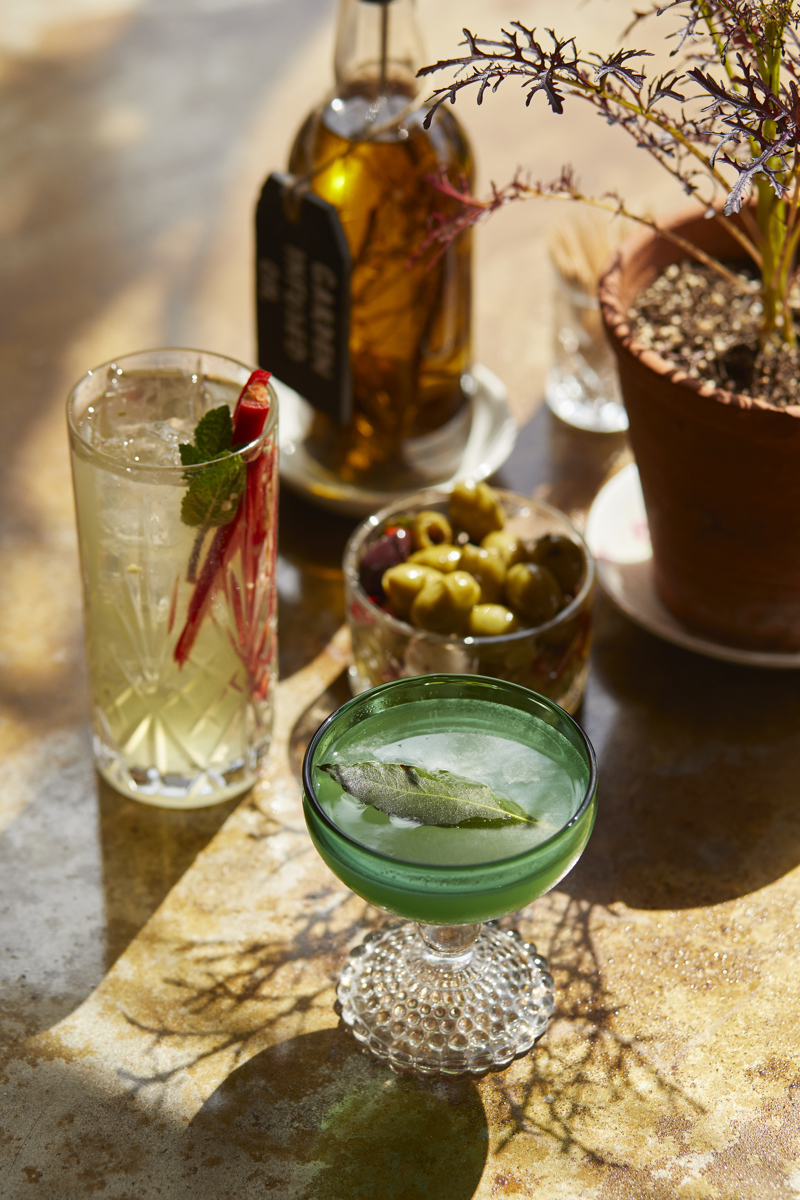 Got some honey left over? Why not treat yourself to a Honey Cocktail using Sapling Gin from one of our new PIG friends.
You will need:
50ml Sapling gin
35ml local honey, bay and chilli syrup
20ml freshly squeezed lemon juice
Top up with FeverTree soda water (Approx. 90ml)
Method:
To make honey, chilli and bay syrup:
250g local honey
500ml water
8g chilli flakes 
12 x large bay leaves
Simply finely chop the bay leaves and add into a heat resistant bowl along with the honey and chilli flakes.
Add 500ml Boiling water and stir until the honey has completely dissolved into the water.
Leave to infused until the syrup is cold, and then pass through a sieve to remove all solids. (For more clarity, we have strained the syrup again through a v60 coffee filter)
To finish the cocktail, shake all ingredients (excl. Soda) in a shake and double strain into a Hiball over ice. To finish, top with soda water and garnish with 2 bay leaves.
Why not come along to your nearest PIG to try for yourself! Book a table here.