As we come into autumn, the earthy sweet flavour of our home-grown beetroot is a staple on our 25-mile menus. Not only are they packed with nutrients, but they brighten up any salad dish with their beautiful golden and candy colours.  
This dish uses two varieties of beetroot, Golden and Chioggia – a striking globe variety with orange-pink skins with eye catching red and white rings on the inside, that fade to a soft pink when cooked. It is sweet, tender and succulent with dark green leaves and ruby-red stems.
This classic PIG recipe was created for the Oscars of the hospitality industry – The Cateys. THE PIG team took over the kitchens at the Grosvenor House Hotel in London and served a Kitchen Garden mile menu to 1,400 guests from the industry.
This dish makes the perfect starter for a family meal or as a quick alfresco lunch soaking up the last of the Indian summer sun.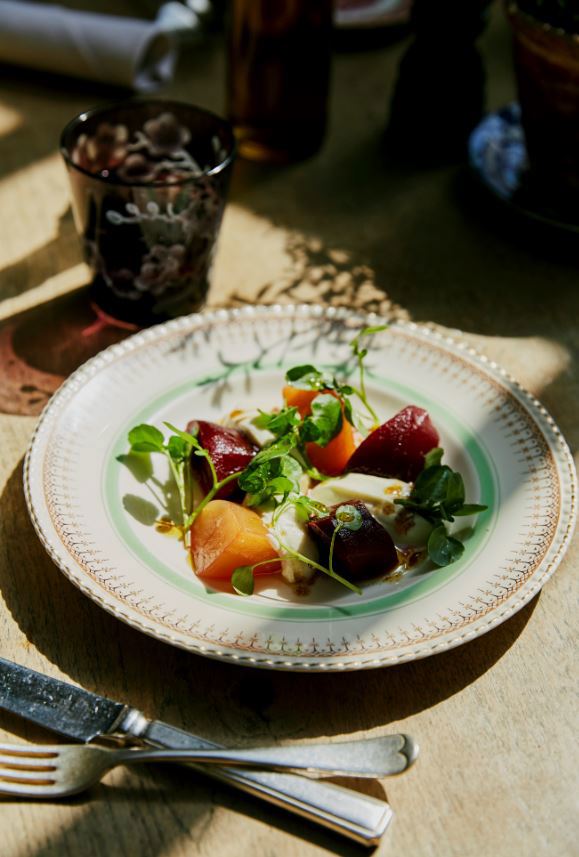 You'll need (serves 4-6)
250g golden beetroot
250g Chioggia (candy beetroot)
2 sprigs of rosemary (1 in each pan)
2 sprigs of thyme (1 in each pan)
2 cloves garlic (1 in each pan)
2 pinches black peppercorns (1 in each pan)
2 pinches coriander seeds (1 in each pan)
Salt and pepper
Watercress to garnish
For the whipped cheese
125g Dorset Blue Vinny cheese (without rind) or stilton
75ml water
190ml double cream
Lemon juice, a squeeze
Salt and pepper
For the dressing
2 tablespoons balsamic vinegar (or fruit vinegar)
6 tablespoons rapeseed oil
Let's get cooking:
If you can't get these fancy beetroot varieties, any old beetroot will do. Boil the beetroot in separate pans of salted water along with the rosemary, thyme, garlic, peppercorns, and coriander seeds, until just cooked – roughly 45 minutes.
Drain and, using a pair of tongs, carefully roast each beetroot over an open flame on the gas hob – just enough to nicely char the skin. If you don't have a gas hob, season and oil the beetroot and put it under the grill at a high temperature until it starts to blister.
Rub the charred skin off the beetroot, then cut the flesh into 2.5–5cm (1–2 inch) pieces.
To make the whipped cheese, combine the Blue Vinny and the water and blitz in a blender, until smooth. Whisk the double cream with a squeeze of lemon juice until it forms soft peaks.
Fold the whipped cream into the smooth Blue Vinny, season to taste and decant into a bowl.
Place 3 tablespoons of the whipped Blue Vinny on each plate as neatly as possible with the beetroot. Lightly mix together the balsamic or fruit vinegar and rapeseed oil and drizzle over the salad.
Garnish with the watercress, serve and enjoy!
Don't forget to follow us on Instagram @the_pig_hotels for more recipes like these!