We sat down with our friends from Willy's ACV to talk about all things Apple Cider Vinegar!
We sat down with our friends from Willy's ACV to talk about all things Apple Cider Vinegar!
Sharing our love for all things homegrown, Willy's Apple Cider Vinegar can be found across THE PIGs, from being a staple on our breakfast grazing tables, popping up at the Smoked & Uncut Festivals, and featuring in the many cocktail concoctions by are Bar Teams!
We think their products are to live by, and with their 60 Day Challenge in full swing, we sat down with our friends from Willy's ACV to talk all things gut health, wellness, and trying new things. They even shared a few of their favourite recipes for us to share with you!
Tell us a little bit about Willy's ACV are and what you are all about...
At Willy's we believe that regenerative farming methods and eating flavourful, fermented, local foods, as part of a flexitarian diet, are the future. All of our apple cider vinegars are fermented using our 300 year old mother, which originates in our organic orchards, giving a unique flavour and probiotic diversity to our products. The health of the soil and biodiversity of our orchards are imperative to ensure the health and efficacy of our mother, which in turn aids a healthy gut and a happy mind.
All of our bottles contain raw, unpasteurised ACV, and are alive with the mother, with a range of products to add to your daily wellness routine and kitchen essentials list. Try pickling with Willy's Original ACV, adding Fire ACV to your Bloody Mary's or drizzling some of our Apple Balsamic Vinegar over your salads to liven up your dishes and support gut health.
We are passionate about gut health and constantly looking for innovative ways to bring delicious, live fermented foods to the table, and to help to educate people about the importance of looking after your gut microbiome. The opening of our new fermentary with a shiny new kitchen, will hopefully mean we can get members of our community in to learn about fermenting, pickling and other gut friendly recipes.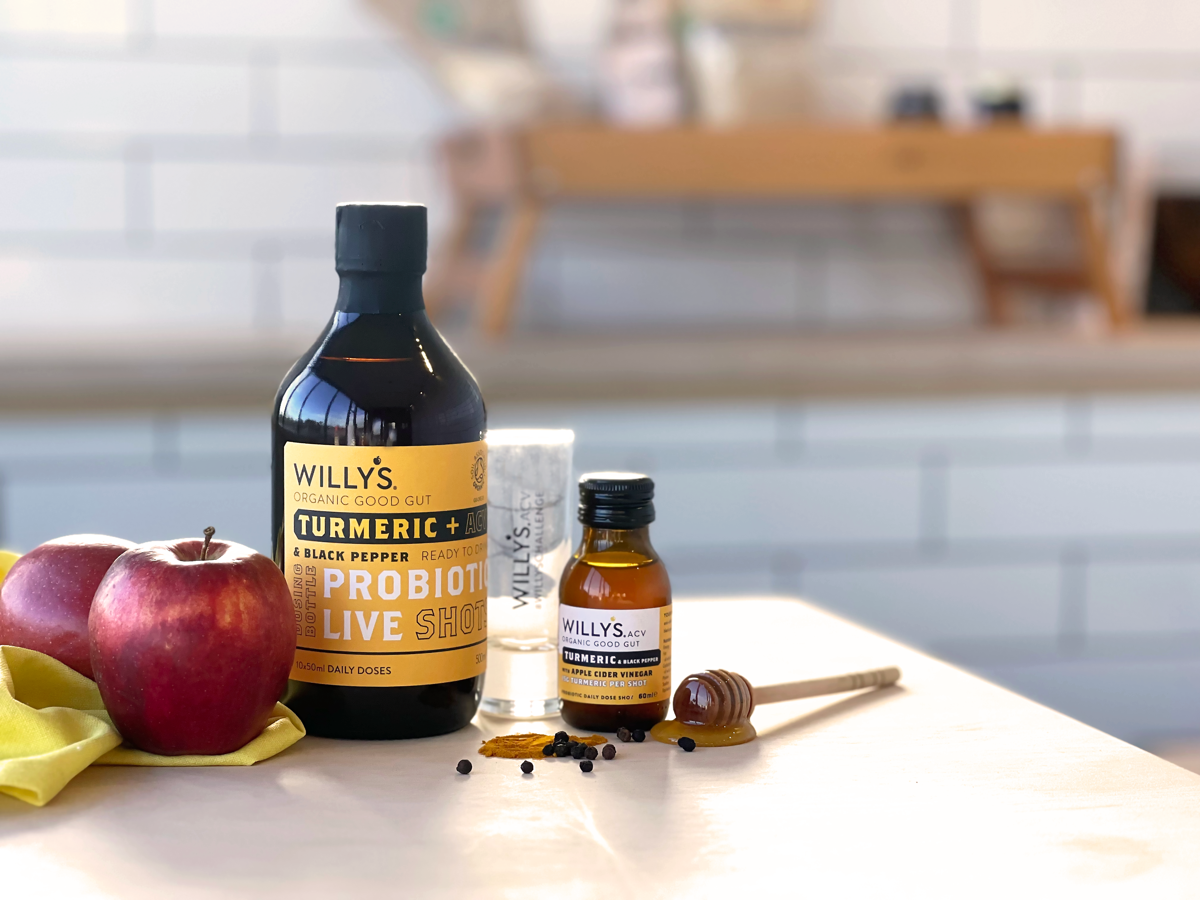 What makes Willy's ACV products stand out from other brands?
We have a 300-year old live mother present in every bottle. Our orchards and soils have been relatively untouched for 300 years, meaning that the microbiome of the soils, trees and fruit have also remained relatively unchanged for many years. She is present in every bottle of Willy's ACV and provides valuable probiotics to replenish your gut microbiome which research is increasingly showing us, is so important in maintaining overall health and wellbeing.
Our Original ACV is the star of the show and can be used for live dressings, pickles and pickling, as a probiotic toner for skin, popped in the bath for eczema and other skin conditions, given to your horses to aid arthritis and promote a healthy gut and numerous other things.
Our Apple Balsamic is aged for a minimum of 3 years in Oak Bordeaux barrels, giving a rich and sweet balsamic, which is 100% organic, live, unpasteurised and best of all made in England! It has a truly special flavour which develops well in the bottle and is fabulous with strong cheeses, as a dip for sourdoughs, drizzled over vegetables and salads, for caramelising onions or prawns or dunking tempura into.
Willy's Fire Cider ACV is made with turmeric, ginger, garlic and horseradish, giving a different kind of spice to mainstream chilli sauces. We are planning to make it hotter in the future so it really packs a punch! Outstanding as a dressing or drizzle, it is also wonderful in a virgin (or not) bloody mary.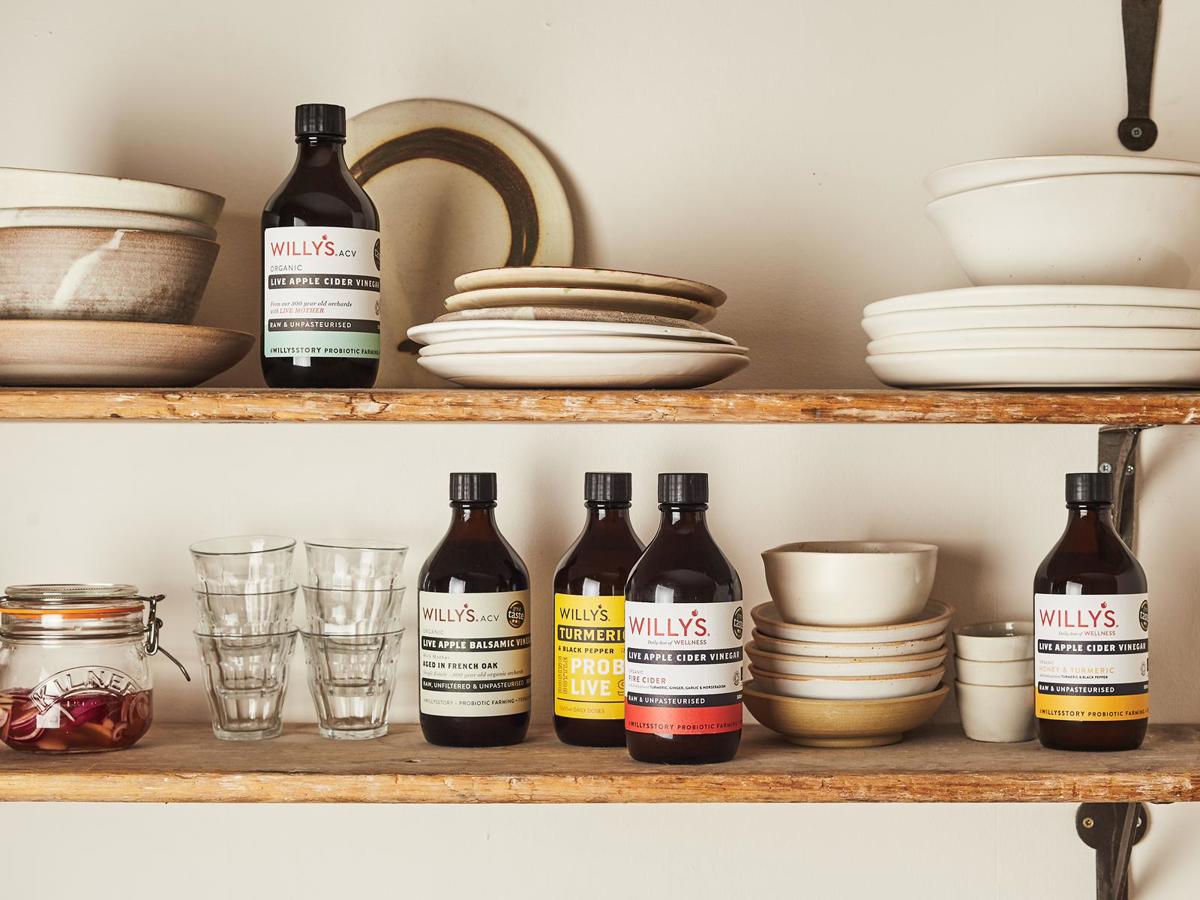 What is The 60 Day Challenge?
For 2023, we have relaunched our 60 Day Challenge to help people form new, healthier habits. They say it takes 21 to 60 days to form a habit, so our cases of dosing bottles contains 6 bottles of ready to drink Turmeric ACV with Black Pepper, which contains high levels of piperine which allows the curcumin in the turmeric to be absorbed more easily into the bloodstream and aid with reducing inflammation in the body. The apple polyphenols in the ACV are powerful antioxidants and our 300 year old mother contains many different strains of probiotics bacteria and yeast to boost your microbiome after all the seasonal indulgence. Each bottle is 500ml and you only need 50ml per day, so one case is enough to get you started on the road to a healthy and happy 2023.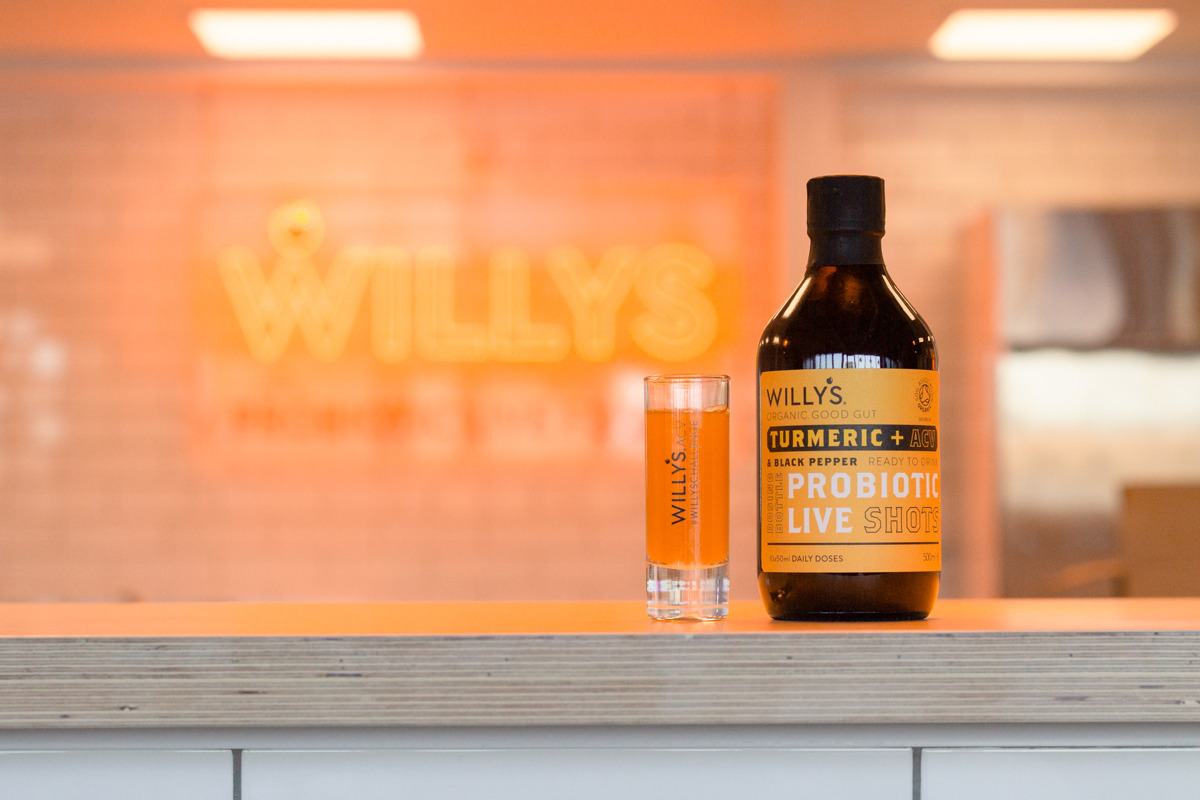 Willy's Top Three Recipes Using Their ACV
Sweet Potato, Apple and Thyme Soup
Vegan, Gluten-Free, Dairy-Free, Paleo
Ingredients:
2 medium sweet potatoes, finely chopped

2 sweet apples, cored and chopped

1 white onion, chopped

2 garlic cloves, peeled

2 tbsp olive oil

1 tsp salt

6 - 10 sprigs of fresh thyme or 1 tsp dried thyme

1 litre bone broth or stock at room temp or cold

4 tbsp Willy's Turmeric ACV

Coconut milk for topping (optional)
Cook up this delicious soup with the full recipe here.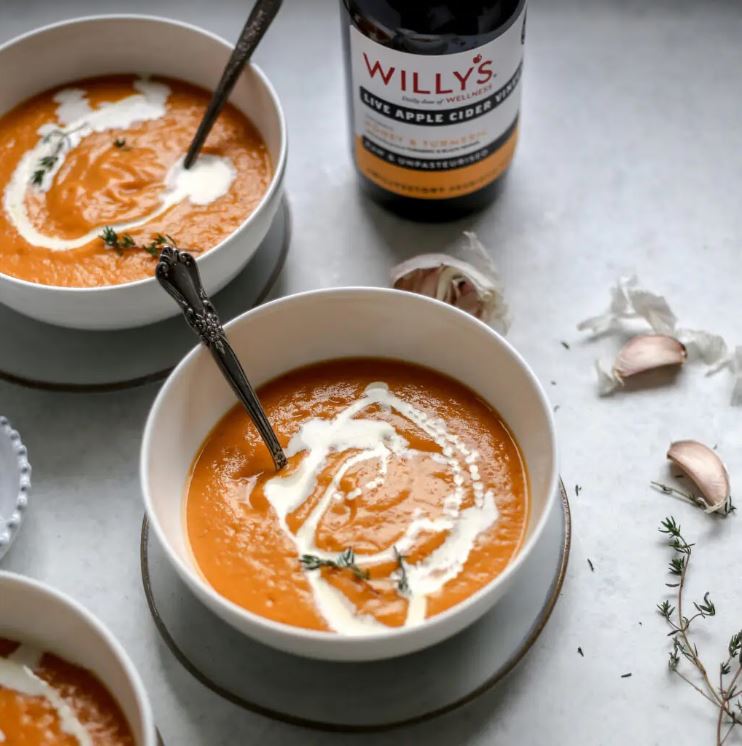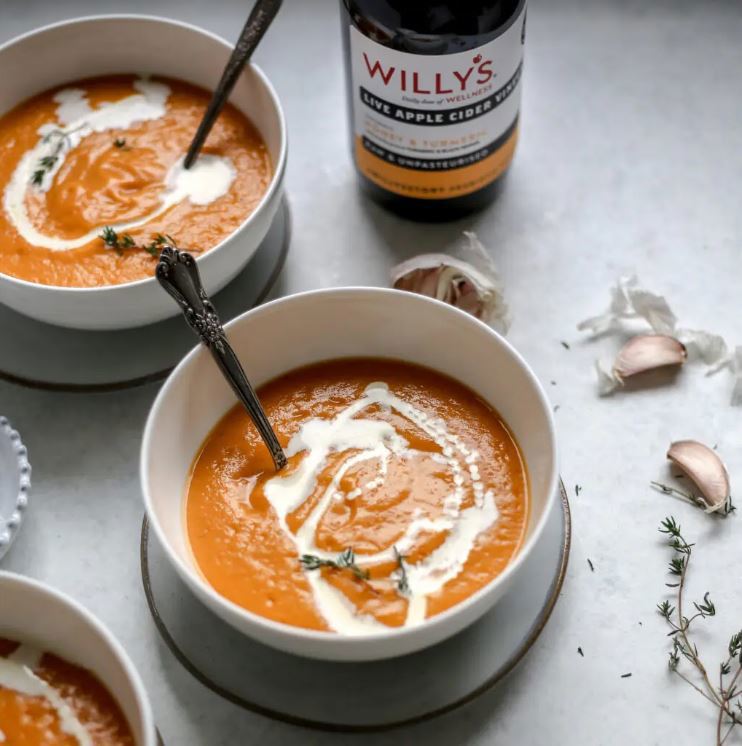 Honey, Ginger, and Lemon Shrub
Ingredients:
140 ml honey

1 half of a fresh ginger, grated

1 tbsp grated lemon zest

2 tbsp lemon juice

Sugar alternative to taste

50 ml water

120 ml Willy's Turmeric ACV
Stir this drink up with the full recipe here.

'Secret Sauce' Dressing
Ingredients:
1 cup of extra virgin olive oil

2 tbsp Willy's Turmeric ACV

2 tsp of whole grain mustard

1 fresh garlic clove

Pinch pink Himalayan salt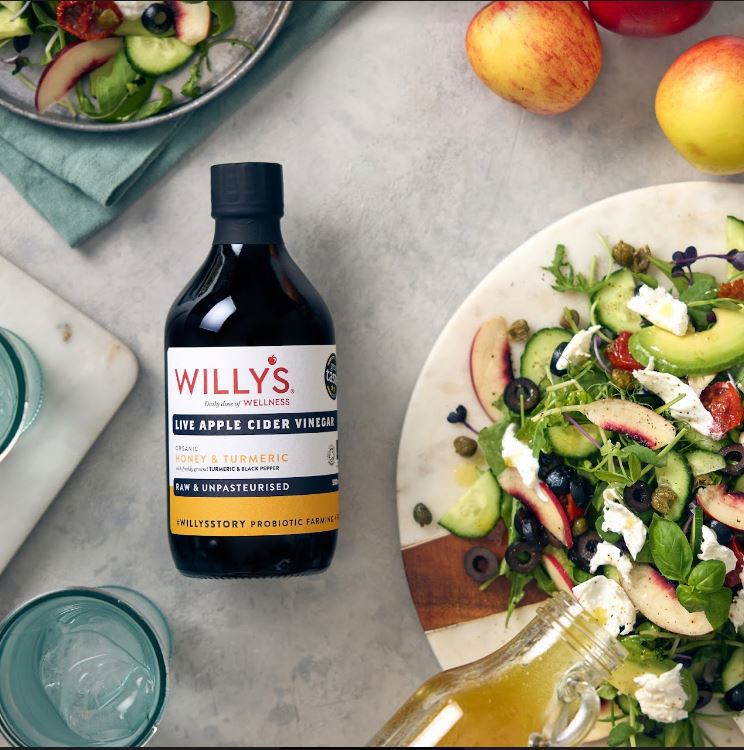 Fancy trying some of Willy's ACV yourselves? Why not pop to a PIG or swing by Smoked & Uncut this summer!