Shop Local: Cornish Community
Our surroundings influence our food in every way at THE PIG which is why our local communities are so important in all we do. The newest member of the litter, THE PIG-at Harlyn Bay, is lucky to have a rich variety of top quality fresh produce from land and sea, and we can't wait for you to taste some of the produce from our Padstow friends.
Until we open up our doors, you can get a taste of the Cornish coastline straight to your door -perfect if you can't get outside at the moment or are struggling to pick up what you need from the supermarket.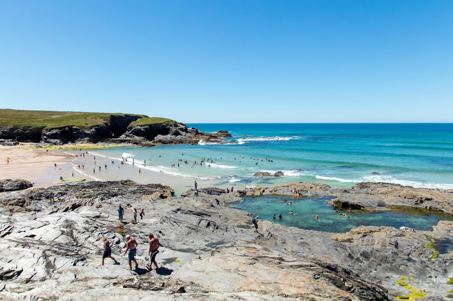 Padstow Kitchen Garden (3.7 miles)
With 4 acres of land nourished, nurtured and tended-to by 6th generation farmer and former Stein's head-chef, Ross Geach, Padstow Kitchen Garden are passionate about growing and rearing first-class produce. If you live in Padstow, St Issy, Wadebridge, St Eval, St Merryn or Constantine you can order fresh and seasonal veg boxes to the comfort of your home – just visit their website. 
Philip Warrens Butchers (36.5 miles)
One of the oldest farm shops in Cornwall established in 1880, Philip Warren are top quality professional butchers that farm and sell indigenous breeds of cattle like Red Devons, Angus, Dexter, Herefords and Galloways. On top of this they work with many small farmers in Dartmoor, Bodmin Moor and throughout the grasslands of the Tamar Valley. You can enjoy their delicious beef, pork and poultry delivered to your door. Find out more. 

Cornish Duck Co (18 miles)
If you're looking for the highest quality, free range, fresh duck delivered from straight from the farm to your door then you've come to the right place! Cornish Duck co know their ducks are at the heart of everything they do, which means they give them the best standard of care and attention. Their welfare influences every decision that they make, from the style of drinkers they use to the living space they provide. They are offering home deliveries on their website  
Cornish Mushroom Farm (14.9 miles)
Cornish Mushroom Co grow and sell exotic mushrooms using cultivated organic methods, producing fresh and delicious mushrooms that are economically grown and environmentally friendly. With no pesticides, no fungicides and no chemicals in their growing process, you can be sure these are some to of the tastiest mushrooms you will sink your teeth into. 
Camel Valley (15 miles) 
When ex-RAF pilot Bob Lindo and his wife Annie planted their first eight thousand vines in 1989, they never dreamed of the phenomenal success they would achieve within 2 decades. They had bought their farm in the heart of the Cornish countryside several years earlier, seeking a change from service life and the perfect place to bring up their young family, and initially farmed sheep and cattle.
As the years passed, Camel Valley wines have been consistently winning medals at both national and international level. In 2002 Bob and Annie won the Waitrose Drinks Producer of the Year Award, and the following year the South West Business Challenge award for Creating Wealth in the Rural Community. Bob continued as Winemaker, but now had a small team of full time staff to help in the vineyard and a new state of the art winery, and had started making Cornwall's first Traditional Method sparkling wine as well as still wines. His finest moment came in 2005 with an International Wine Challenge Gold Medal for Camel Valley 'Cornwall' sparkling wine. At THE PIG-at Harlyn Bay, we are looking forward to serving Camel Valley, but until then you can buy online here.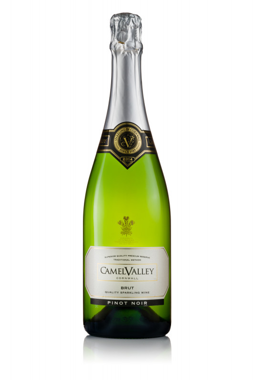 Tarquin's Gin (16 miles) 
In 2012 Tarquin Leadbetter set his sights on establishing the first Cornish distillery for over 100 years. He had never distilled anything before in his life and so his first task is to begin self-teaching! Over 100 different trial gin batches were developed. But then he hit upon the winner! From his bounty of botanicals, 12 are finally selected – a concoction of roots, spices, nuts, seeds, fruits and flowers sourced from the far corners of the world as well as from his back garden. On 30th July 2013, the first bottle was sold to the Gurnard Head Hotel in St. Ives, Cornwall.
After winning a string of international awards in his first year Tarquin added  the most prized feather to his already fairly illustrious cap. The third addition to the permanent range, the brilliantly bold Tarquin's "The SeaDog' Navy Strength Gin, clocking in at a punchy 57% abv, is crowned the "World's Best Gin" at the 2017 San Francisco World Spirits Competition from a contesting using age pool of over 260 individual gins. A fairly remarkable achievement for a self-taught distiller, using old techniques in a converted cow shed perched on a windswept hilltop overlooking the wild Cornish Coast! 
We can't wait to serve Tarquin's world-class gin at THE PIG-at Harlyn Bay, but meanwhile why not try it for yourself. You can buy it online here.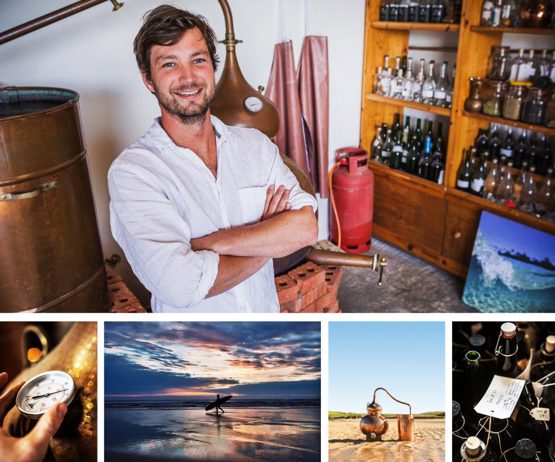 BinTwo
BinTwo is an independent wine merchant with a twist right in the heart of Padstow harbour.  They stock a wide range of carefully chosen wines, champagnes and spirits and when they are open serve a selection of them by the glass too. Cosy seating and friendly chat await you inside the shop and, when the weather co-operates, they have a wine terrace outside complete with views down to Padstow harbour. BinTwo are still delivering locally and nationally from their online shop!
Padstow Farm Shop
A family-run farm shop selling an amazing selection of their own home-reared meat, home-grown vegetables and other Cornish produce. They are still open for business Tuesday-Saturday, so if you are local you can pop in to stock up on essentials. Find out more. 

Further afield
Daylesford
Our friends at Daylesford are offering nationwide delivery on their sustainable organic ingredients. With over 40 years in farming in Staffordshire then the Cotswolds, Daylesford are passionate about farming with integrity and sharing their love of eating well through seasonal, organic, local food that nourishes our bodies. Visit Daylesford to browse their range of products or if you are looking for fresh Daylesford Delivered, they are currently serving both London and the Cotswolds to the elderly and vulnerable. Find out more. 
Chase Distillery
Walk into any PIG Bar and you'll see our eclectic mix of infused Chase vodkas and gins. Our friends at Chase Distillery have put their farm to even better use during these times and created HR1 Antibacterial Hand Sanitiser. Right now thy are prioritising healthcare and emergency services around the Herefordshire & Worcestershire area, though you can pick yourself up a bottle online. They are also offering 15% off their cult classic spirits and are still delivering – staying in is the new going out after all!