Plans for spring were well under way for our Kitchen Gardens by autumn 2019, so it was just a waiting game before we could get our hands on home grown produce such as spinach, broad bean tops, chard, salad leaves, pea shoots, salad onions, kale and oriental leaves such as Pak Choi, Chinese cabbage and You Qing Choi. All of this produce was planted ready in anticipation of our spring and summer menus!
So, when the country went into lockdown and we very sadly had to close our hotels on Monday 23rd March, our Gardens were just about to flourish but we had no guests to feed. It quickly became clear that our Kitchen Gardens were going to become vital to our local communities over the days and months ahead, and that our remaining on-site teams would be able to help provide some essential provisions for some of the most vulnerable in our local areas.
THE PIG-at Bridge Place
The non-furloughed Kitchen Garden team in Kent have been delivering their abundance of produce to the doorsteps of NHS workers and high risk and vulnerable individuals including to Kent & Canterbury Hospital, Bridge Parish Church, some of their elderly neighbours, Bridge Surgery, as well as the 'residents' of the nearby gorilla sanctuary at Howletts Wild Animal Park.
The 29 western lowland gorillas, which the Aspinall Foundation intends to re-introduce to protected forests in Central Africa, are now enjoying  gone over parsnips, chard, celeriac and spring onions that would otherwise go to waste.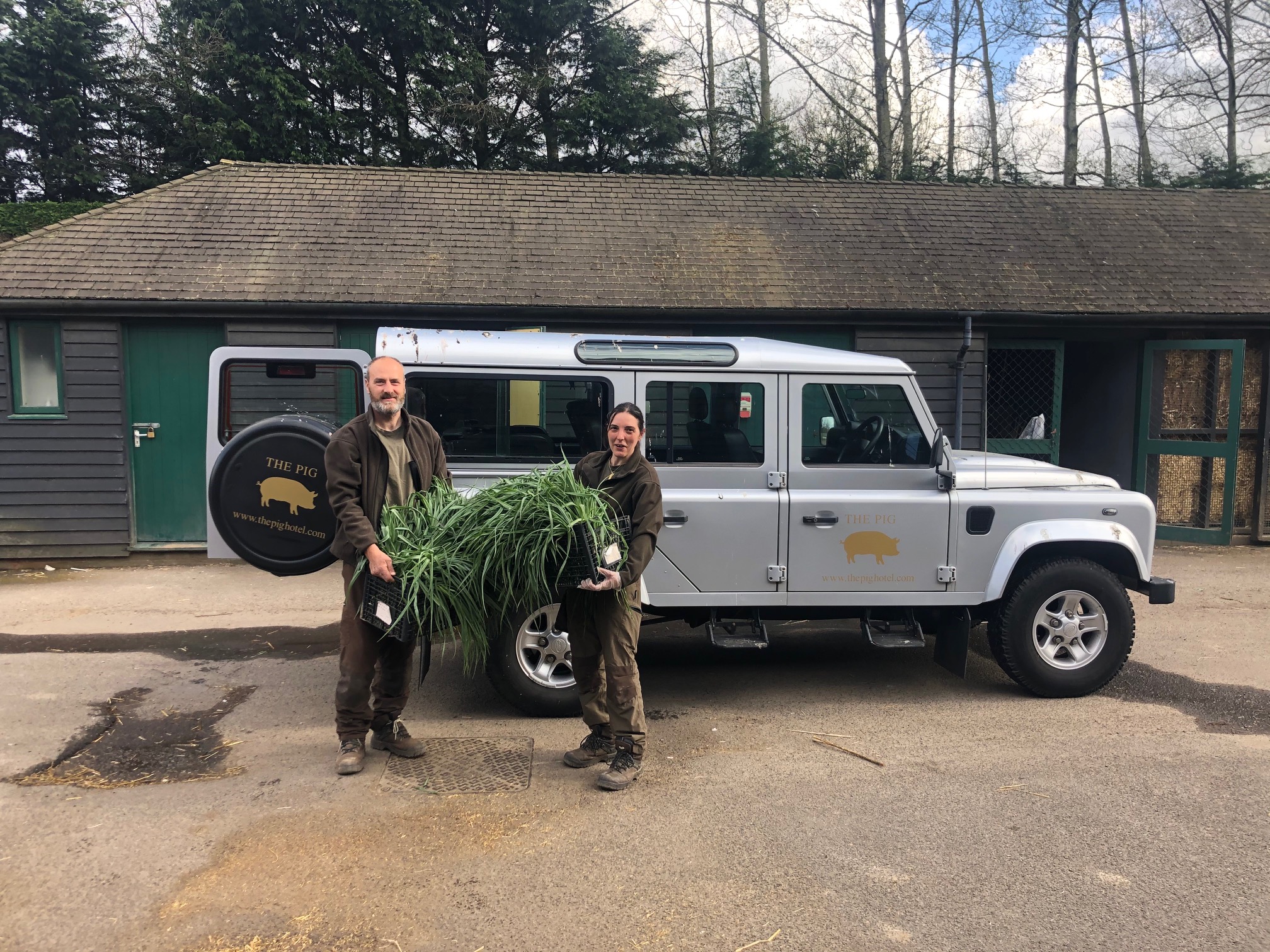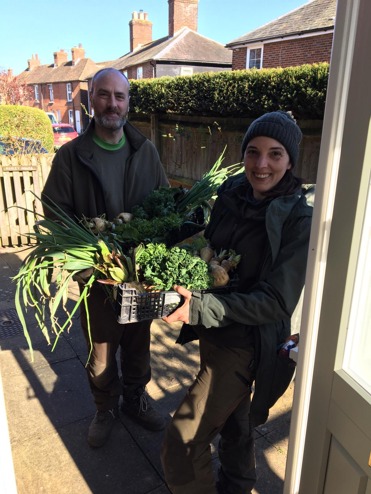 We didn't want any food to go to waste but veg can only be preserved for so long. We have asked all in our local village of Bridge to let us know what they need and have ensured that the local NHS workers, elderly and vulnerable take what they want. We still found ourselves with leftover veg as the gardens are at their most productive in April, May and June. So we are delighted to have found that the gorillas are happy recipients.  Guy, Hotel Director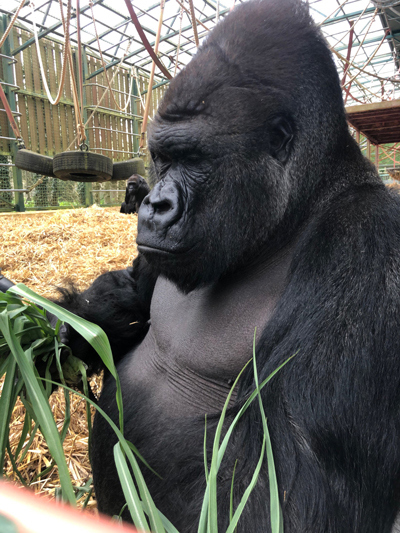 THE PIG-at Combe
The team in Devon have been preparing veg and egg boxes for the residents of Gittisham, including some veg plants so that families can get growing in their own gardens!
Great excitement at the gate this afternoon. Lots of very appreciative villagers would like me to pass on their thanks. The veg plants were especially well received by some children, who now have gardening work to keep them busy. The mushrooms were an exciting addition for some too. I love the idea that our elderly residents are well topped up on vitamin C from all this fresh stuff - they'll be able to fight off nasty viruses. – Gittisham Resident
Boxes brimming with fresh produce have also gone to Adelaide Lodge a Care Home in Honiton, where Chris, our General Manager at THE PIG-at Combe's Grandmother lived for 10 years.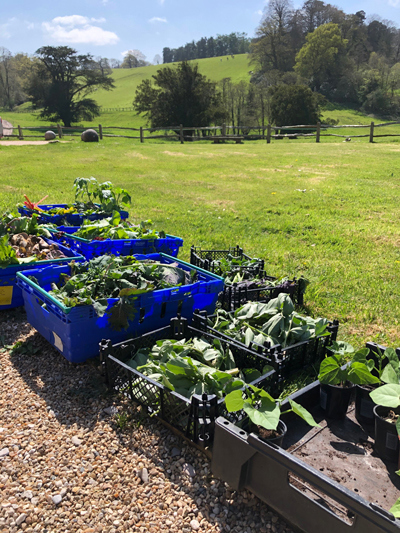 THE PIG-on the beach
Our team in Dorset have been busy helping to keep our vulnerable neighbours in Studland topped up with fresh salad, veg and quail's eggs. The Kitchen Garden team drop off boxes twice a week to the local church who then distribute them locally.
More produce is then donated to Swanage Food Bank who then distribute it to families who are really struggling during the pandemic.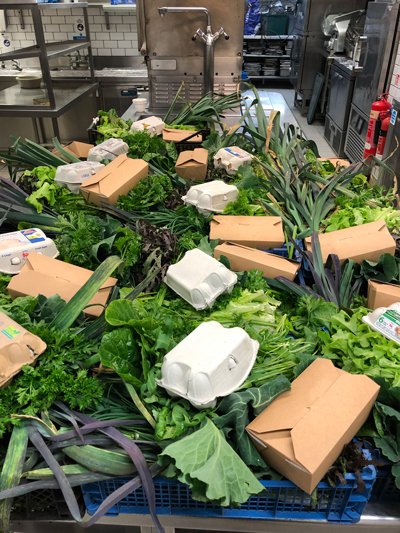 THE PIG-at Harlyn Bay
With the opening postponed, the Kitchen Gardeners at THE PIG-at Harlyn Bay have been working with Jack Stein, Chef Director of the Rick Stein group. As a huge thank you for all the work that the NHS heroes continue to do, Jack is offering free soup to NHS staff, with sourdough bread donated by Coombeshead Farm and freshly harvested kitchen garden salad, including Pak Choi, mustard leaf red frills, mustard leaf golden streaks, lettuce navara, par-cel and parsley bravour, donated from our brand new Alitex Greenhouse in the garden.  Jack's team have also been making meals for the vulnerable locally in Padstow and St Merryn and for staff at Treliske Hospital that have included the salads from the Greenhouse. 


THE PIG-near Bath
Our biggest Kitchen Garden has been providing for the vulnerable in the local village of Hunstrete where the team do a drop off every Monday. They have a weekly collection of produce for a local food bank and one of the kitchen apprentices also collects each week for a local soup kitchen that she volunteers in.
THE PIG, New Forest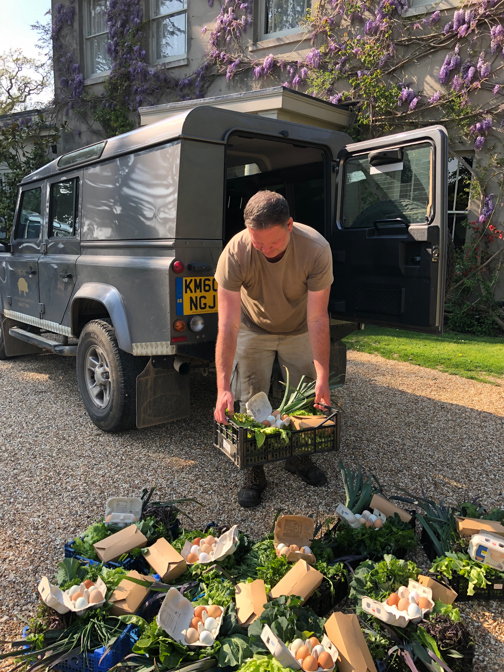 In the New Forest, Colin, our Kitchen Gardener has been out every week delivering boxes filled with veg and eggs from the resident chickens to our vulnerable and isolating neighbours in Brockenhurst.  He has also been dropping off  gone over veg to Long Down Activity Farm to help feed their animals, we were told it was particularly popular with the goats! 
#treatourNHS
Loving local is in our DNA, so we want to support those who are part of our very own communities. As a gesture of our huge thanks, we are going to donate the night prior to our first night of our re-opening (whenever that might be) across each of our hotels to members of the NHS that live or work within 25-miles of each of our hotels, the same radius that we use for sourcing our menu producers and suppliers.
We very much integrate ourselves into the communities where our hotels are based, many of our staff and their families are part of them, and so by choosing to recognise members of our community embraces our ethos of supporting and loving local.
190 overnight stays to give our valued care givers a chance to put their feet up and be cared for by our teams!

Nominations have been pouring in for your NHS heroes, and although we know we will not be able to have each and every one to stay, we have be told that even a nomination is enough to lift someone's spirits.

Nominate Your NHS Hero