As a team we are always looking for ways to reduce our footprint, care for and protect the environment and give back to the communities we are a part of. This approach is integral to how we operate and in turn we hope to demonstrate to others that you can succeed as a business in a natural and environmentally correct way.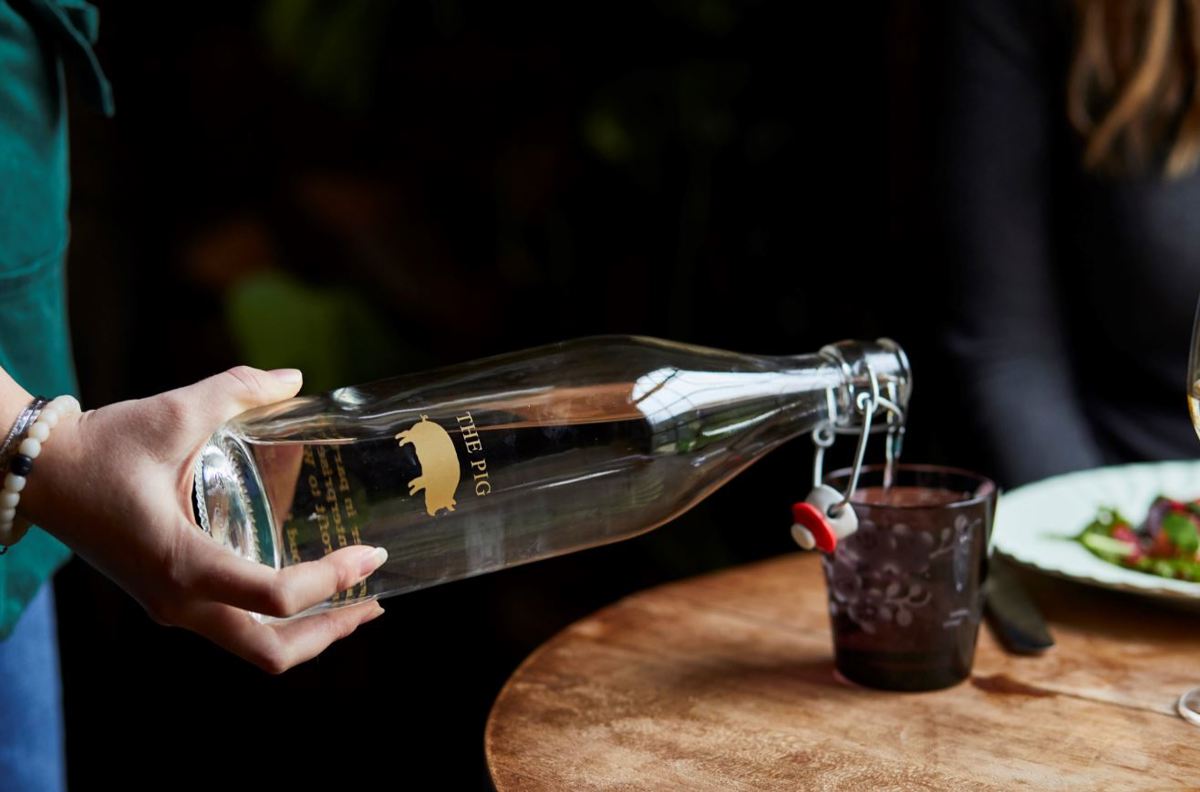 We have been a longstanding partner of Belu British Mineral Water, the leading sustainable mineral water on the UK market, serving their water in our restaurants, bars and bedrooms in ethical glass bottles, and helping them to change lives for good worldwide through their partnership with WaterAid - Belu donates 100% of their net profit to WaterAid to help make clean water, decent toilets and good hygiene normal for everyone, everywhere within a generation.
Like Belu, we are always looking for ways to reduce our footprint and give back to communities, so in January last year, we set out intentions to find ways to deepen our commitment to sustainability (you can read more about what we have been working on so far here).
Reducing waste was a big one for us, so along with the realisation that bottled mineral water sales were going down, Belu supported us to take the next step up in sustainable water service with the introduction of the Belu Filter Initiative.
We gave it a go at THE PIG-at Harlyn Bay when we opened last summer, installing where two Belu filtration systems serving chilled still and sparkling filtered water on tap to our thirsty guests and followed with the rest of THE PIGs by the end of last year.
We serve the filtered still and sparkling water in reusable glass bottles to every table for £1.50 for unlimited refills, and unlimited filtered water is complimentary in every hotel room, and half of all sales are donated to Belu.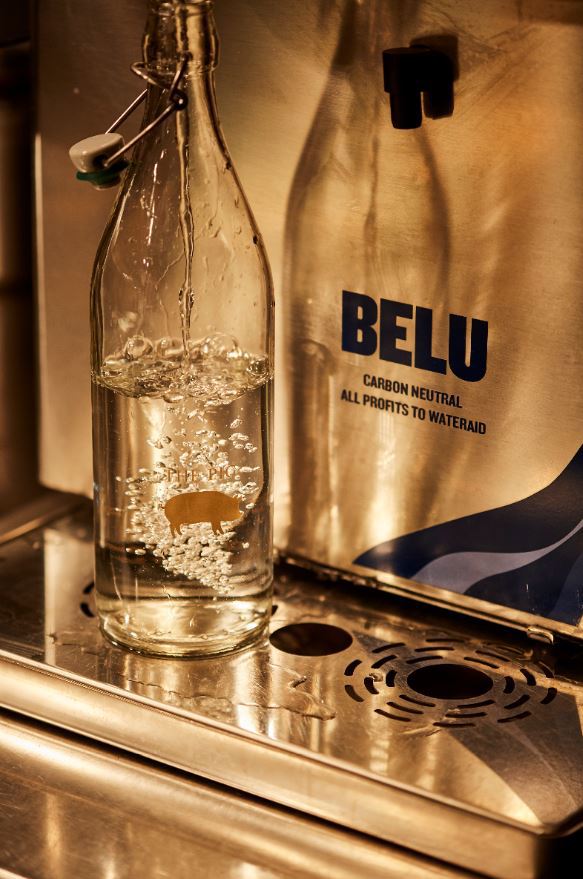 We think it's a winning formula for both people and planet and business:
THE PIG's switch to Belu Filtration is seven times less carbon intensive, with a carbon saving of 36 tonnes of CO2e a year, that's equivalent to 10 return trips between London and Hong Kong.
Over 116, 000 single use bottles have been removed reducing recycling which is a cost saving for us and means less trips for bin lorry.
THE PIG will continue to help Belu and their impact partner WaterAid to bring clean water, decent toilets and good hygiene to more communities worldwide, helping to Goal 6 of the UN Sustainable Development Goals, so it's a win for our global society.
It supports Belu, a social enterprise to continue to sustainably innovate and grow.
All guests receive a premium water service, plus staff are also kept hydrated.
"Responsible, sustainable and environmentally sound decisions can and need to be taken in conjunction with a focus on the bottom line. The decision to switch to Belu Filtration allowed us to be part of a process which should significantly increase profit for Belu whilst having minimal impact on our own. The process is incredibly straight forward and the guest response has been very positive It is only with affirmative action that we can make a difference. We all have a part to play." Tom – our Operations Director
A simple sustainable swap with multiple benefits. Together we hope to demonstrate to that one can succeed as a business and adopt sustainable practices.