We're opening up our kitchen gardens every month with a new series to take you behind the scenes of our menus.
This month, senior kitchen gardener Ollie Hutson shows what's been happening over winter in THE PIG gardens across the south, as well as letting you in on what's being sown for the spring and harvested to make an appearance on our menus.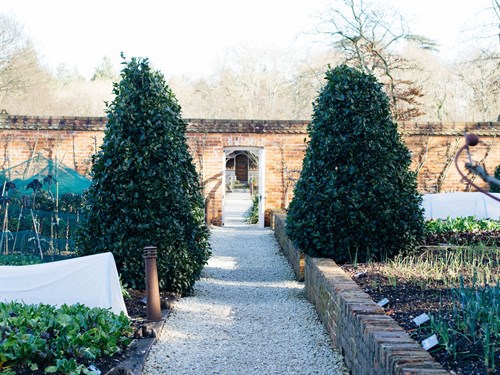 The hungry gap
February is a quiet time for our gardeners, known as the 'hungry gap', when many vegetables and herbs are overwintered. The hungry gap runs from new year through to April, and we use this time to press the reset button on the kitchen gardens.
We take time to tend to dormant plants, pruning soft and orchard fruit trees through January and February, and remove previous crops to make way for new varieties of vegetables and herbs to take us through the upcoming year.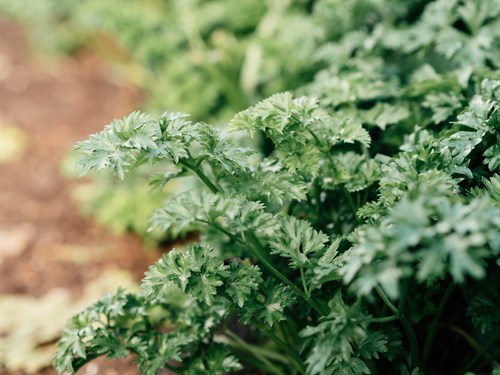 The polytunnels are restocked with salad leaves and herbs such as mustard, rocket and flat-leaf parsley, along with new favourite par-cel. A cross between parsley and celery, this herb is gaining traction among kitchen gardeners and our chefs love using it – although Ollie reckons it'll be a while before it hits the supermarket shelves. 
While the kitchen garden may not look like much during the hungry gap, it's an important phase of the gardening cycle. As well as facilitating regrowth, the winter period allows time for the gardening team to pick exciting new varieties of crops to grow.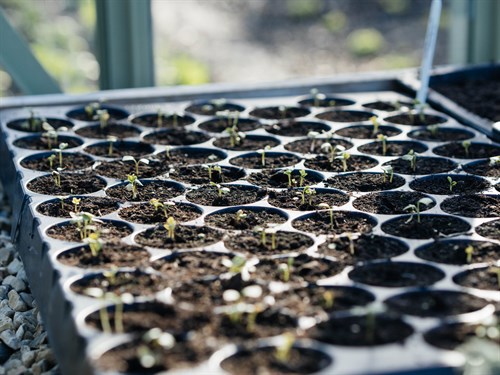 Time to sow
February is an ideal time to sow vegetables and fruits ready for warmer days, such as chillies, tomatoes and aubergines. This year the team are mixing it up and have put together a brand new line-up of chilli varieties to grace our plates this summer:
Apricot habanero – a fresh, pretty orange chilli that's almost heat-free. The fruits have a fragrant aroma and crunchy texture to add something special to dishes
Bellaforma habanero – another mild variety that delivers chilli flavour without too much heat. The fruits look like a string of colourful lights, ripening from light green to beautiful red
Dorset Zinger – a superhot chilli that can be identified by tiny pimples covering a matt red surface. The fiery fruits measure a staggering one million on the Scoville heat unit scale, making them an exhilarating addition to the garden and kitchen
Lemon Drop – brilliant yellow fruits that deliver a citrus flavour with a punch of heat
Pimiento de Padron – a popular mild chilli, originating from Spain where the fruits are fried and sprinkled with salt for a traditional tapas dish
 In 2018, huge juicy beefsteak tomatoes will feature on our menus – sowed this month in our kitchen gardens. February also sees onions and garlic planted, ready to be harvested later in the year.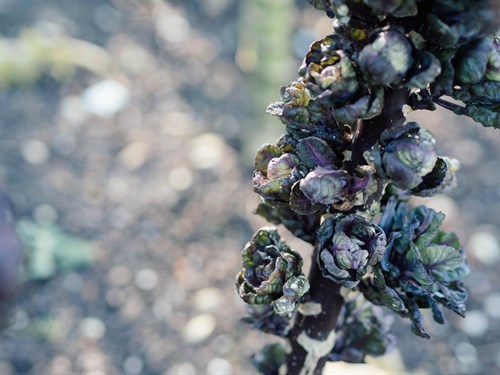 Ready to harvest
Much of the garden may be asleep in February, but a special group of winter vegetables are now ready for harvesting. Brassicas, including kalettes – a cross between curly kale and Brussels sprouts – are at their peak for being used in dishes.
Other brassica types such as the colourful white and purple sprouting broccoli have been growing well for months and are ready to make their way into THE PIG kitchens.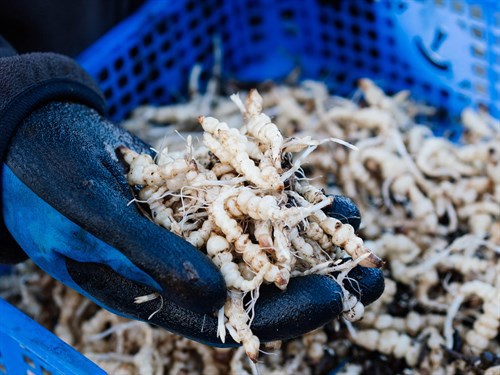 As well as these, this year our gardeners have invested in crosnes – also known as Chinese artichoke. These curious-looking tubers have a nutty taste and crunchy texture, and can be sautéed or pickled to add a new level of flavour to dishes.
Crosnes are also a useful addition to our winter menu, with a history in traditional Chinese medicine of treating colds. And as if that wasn't enough, the plant is a symbol of good luck – even more reason to tuck in!

Grow your own kitchen garden
At THE PIG, we have an obsessive commitment to home-grown and local produce, and our kitchen gardens are the beating heart of our operations. We believe everyone has the ability to grow perfectly-imperfect fruit, vegetables and herbs with any size space – from a large plot, to pots on a windowsill. 
Many of our vegetable seeds, including our stunning assortment of chillies, are sourced from Dorset-based Sea Spring Seeds. We implore you to choose now what you'll sow this month for the summer – and show us your own kitchen garden snaps on Facebook, Twitter and Instagram. 
And if you're stopping by any of THE PIGs, don't forget to tag your shots with #ThePigHotel and #piggythings to show up on our site. Happy digging, quaffing and troughing!