Broad bean & Porthleven mozzarella salad recipe
Broad bean & Porthleven mozzarella salad recipe
Our second PIG Book, 'THE PIG - 500 Miles of Food, Friends and Local Legends' is available now to purchase online at THE PIG Market. Our second book is a celebration of the counties we call home, the unique produce and flavours associated with them and the exceptional cast of characters that make up our PIG family. We are giving you a sneak peek into our latest book with our broad bean & Porthleven mozzarella salad from THE PIG-at Harlyn Bay in Cornwall. We love using local mozzarella from Porthleven but any fresh mozzarella works perfectly.
Podding broad beans is endlessly satisfying – the feel of your thumb running along the edge of the pod and then that perfect pop revealing the emerald green jewels inside their velvet overcoat. When they're fresh and in season you really don't need to do much to prepare your beans, leaves and pods – they're tender and delicious enough just as they are, uncooked. A local soft fresh cheese and plenty of minty dressing on a warm spring day is really pretty spectacular.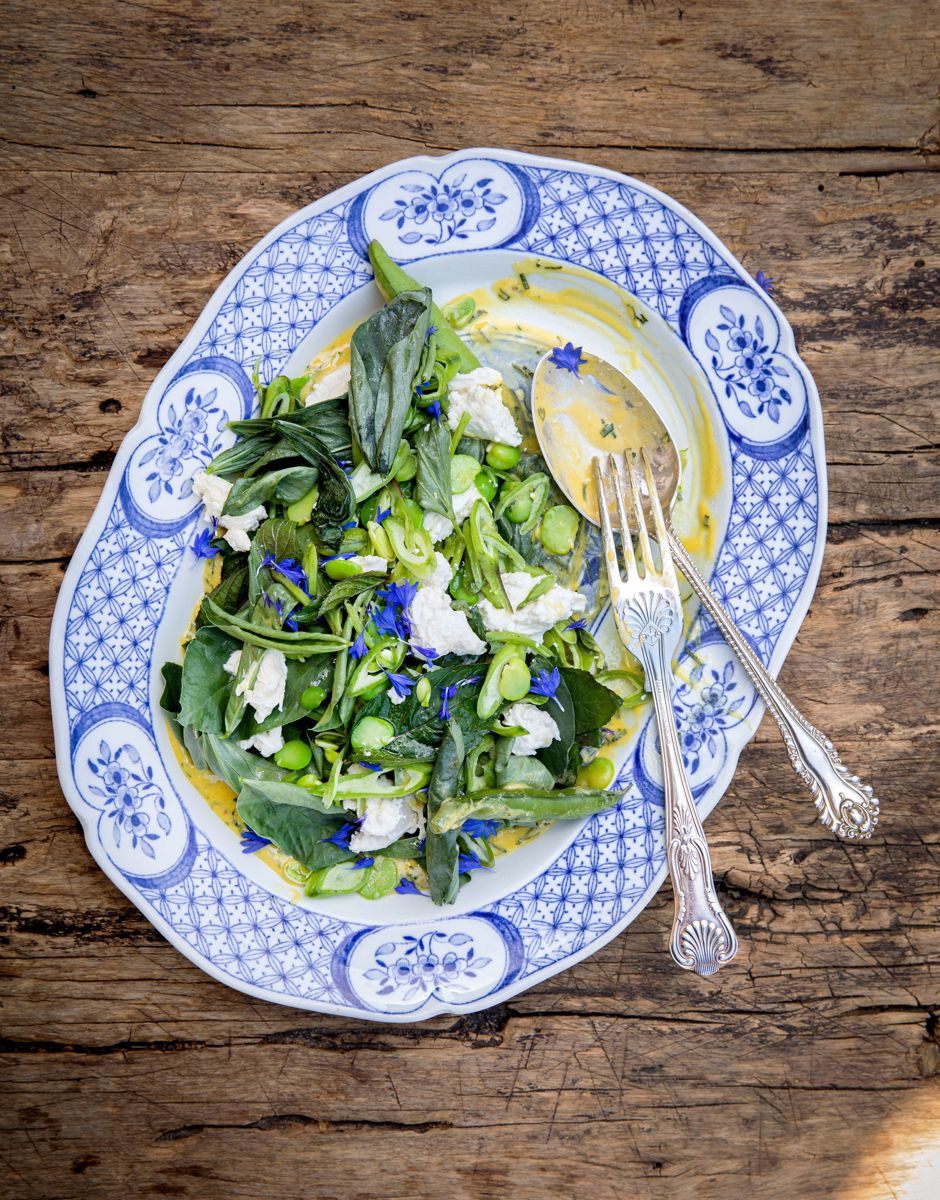 What you'll need
(Serves 4)
150g broad beans, podded (shelled weight)
a few broad bean leaves
400g fresh young broad beans in pods
2 x Porthleven mozzarella balls, roughly torn
salt and pepper
For the garden mint dressing
50ml white wine vinegar (infused with 6-8 leaves of mint)
2 tablespoons Dijon mustard
100ml rapeseed oil
8-10 leaves mint, finely chopped
a little honey or sugar to taste if needed
What do to
For the dressing, infuse your vinegar with mint at least 2 weeks in advance. Place the bruised mint into a jar with the vinegar, seal and leave for 2 weeks.
 On the day it's needed, remove the leaves and mix the minty vinegar and mustard to a smooth paste. Whisk the oil into this and finish with the mint. (Otherwise, blend the vinegar and mustard in a small spice grinder, add the oil and mint and blitz.)
Depending on the vinegar you use and your personal preference, you might want to add a little sugar or honey to take the acidity down a notch.
Blanch the podded broad beans for 1½ minutes, drain into a sieve, run some cold water over them, and then pop them out of their skins. Pick the leaves off the stalks. Finely slice the young beans in pods.
Combine in a bowl with the mozzarella, salt and pepper and the mint dressing. Toss together and put onto your plates. If you have any cornflowers to hand, add a few petals on top and enjoy!
For more delicious recipes, garden tips and tricks and chats with our PIG teams, pick up a copy of our brand new book here.