Visitors to THE PIG- at Combe were treated recently at our first 'Chef Meets Kitchen Gardener' event.
26 guests joined us for a five-course, family-style sharing meal in June, with a special menu tailored by our chef and gardening teams.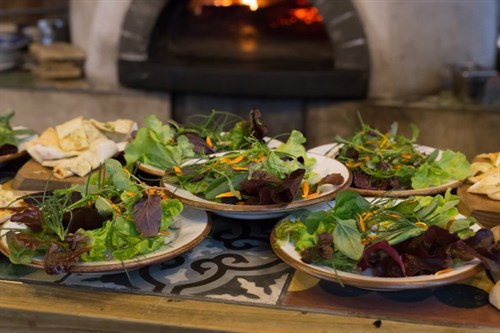 To kick off the proceedings, guests were given a guided tour of the kitchen garden to see how our menus are made up of produce at its absolute peak.
Our gardeners showed the garden beds, green houses and walled infusion garden where the ingredients for the night's meal would come from.
The Folly, our semi-restored rustic hideaway, played host to the dinner as guests took their seats and tucked into the first course.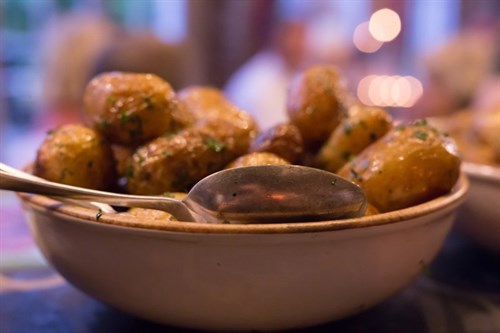 The menu 
Combe pickles
Tempura veg
Beetroot puree and cracker
Combe Collins
-
Wiltshire burrata
Broad bean leaves and matador lettuce
Madeleine Angevine/Solaris – Dalwood Vineyard, Devon, 2017
-
Gibbin's Farm pork rack
Red spring onions, tree spinach, sugar snaps and Taunton Deane kale, Devonshire potatoes
Pinot noir – Bourgogne Rouge, Nicolas Potel, Burgundy, 2010, MGM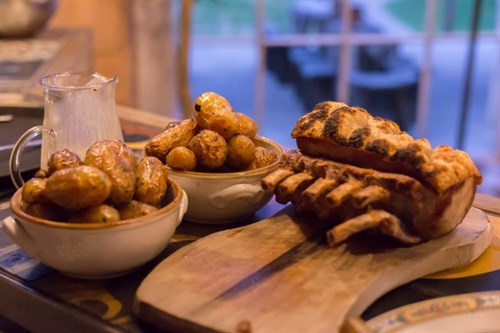 -
Orange mint mousse and cheddar strawberries
Long pepper
Moscato D'Astic, G.D Vajra, Piedmont, 2017
-
Piggy fours
Lemon balm piggy truffle
Orange mint marshmallow
Thyme financier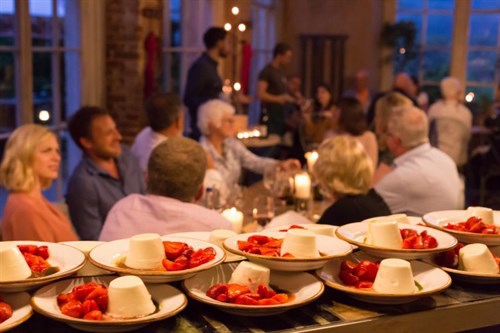 Chef Meets Kitchen Gardener follows a successful Chef Meets Sommelier event back in March, where the team at THE PIG- at Combe tailored an evening of home-grown food, expertly matched with great wine.
Our latest event focused on featuring the best seasonal ingredients, overseen by James Golding, chef director across THE PIG group, and Dan Gavriilidis, head chef at THE PIG- at Combe.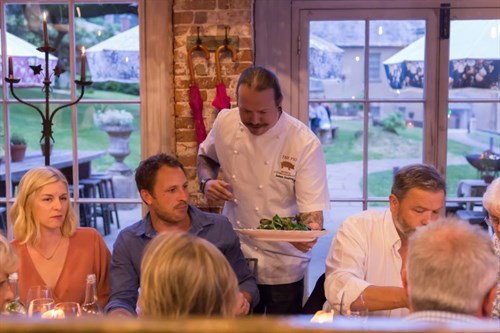 James said: "The Chef Meets Kitchen Gardener event was a great way to introduce people to new flavours, combinations and ingredients straight from the earth in our kitchen garden.
"The turning of the seasons from spring to summer means we have so many incredible ingredients to play with right now, as well as excellent produce from local suppliers.
"This year we've been experimenting with different herb and veg variations, and the additions of things like aromatic orange mint, red spring onions and the pink tips of tree spinach all made this a great menu for a feast in the Folly."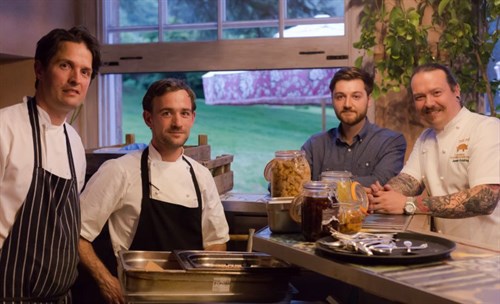 To find out first about our future 'Chef Meets…' events at THE PIG- at Combe, sign up-to our newsletter here.
If you're stopping by any PIGs in our litter for a long weekend, or even just a long lunch, don't forget to share your snaps on Facebook, Twitter and Instagram – and tag your shots with #ThePigHotel and #piggythings