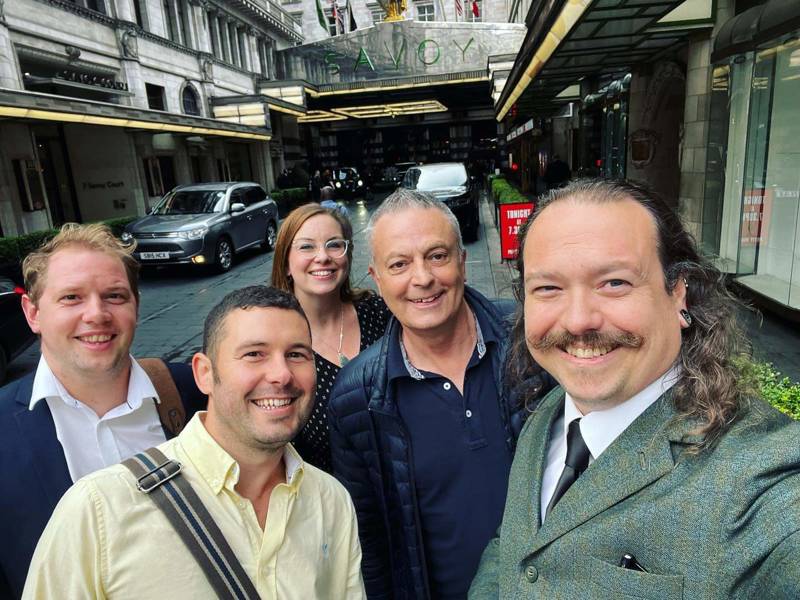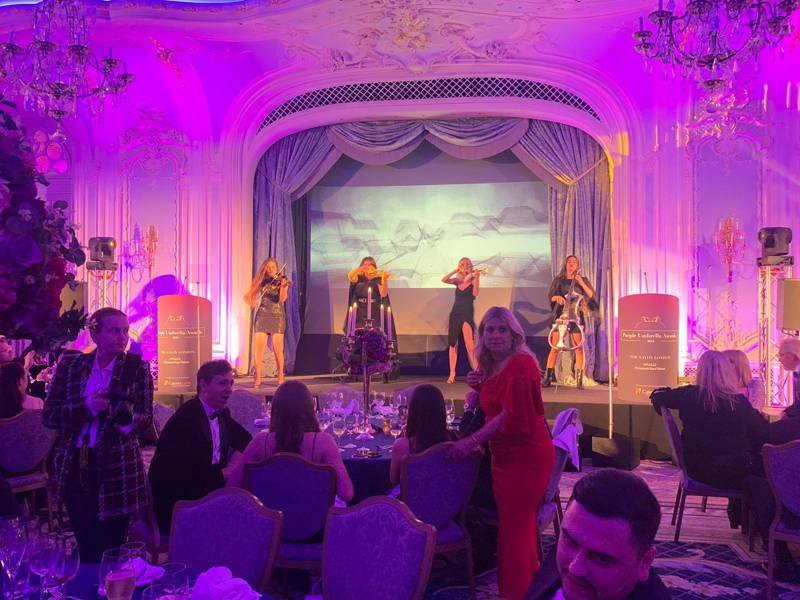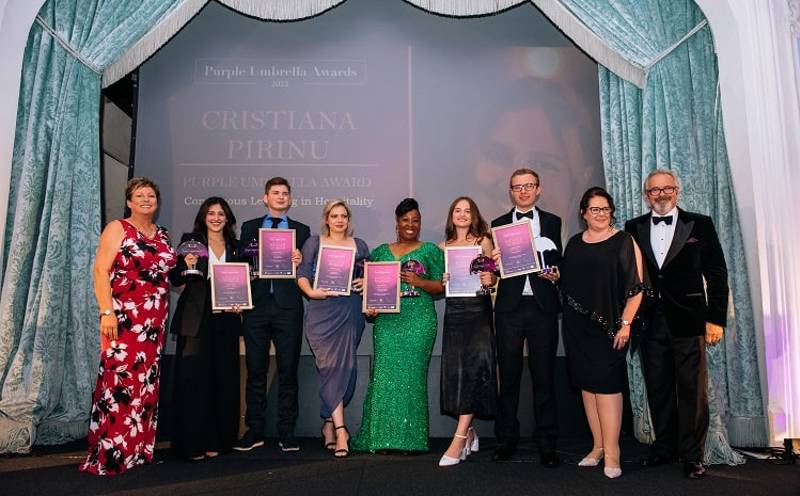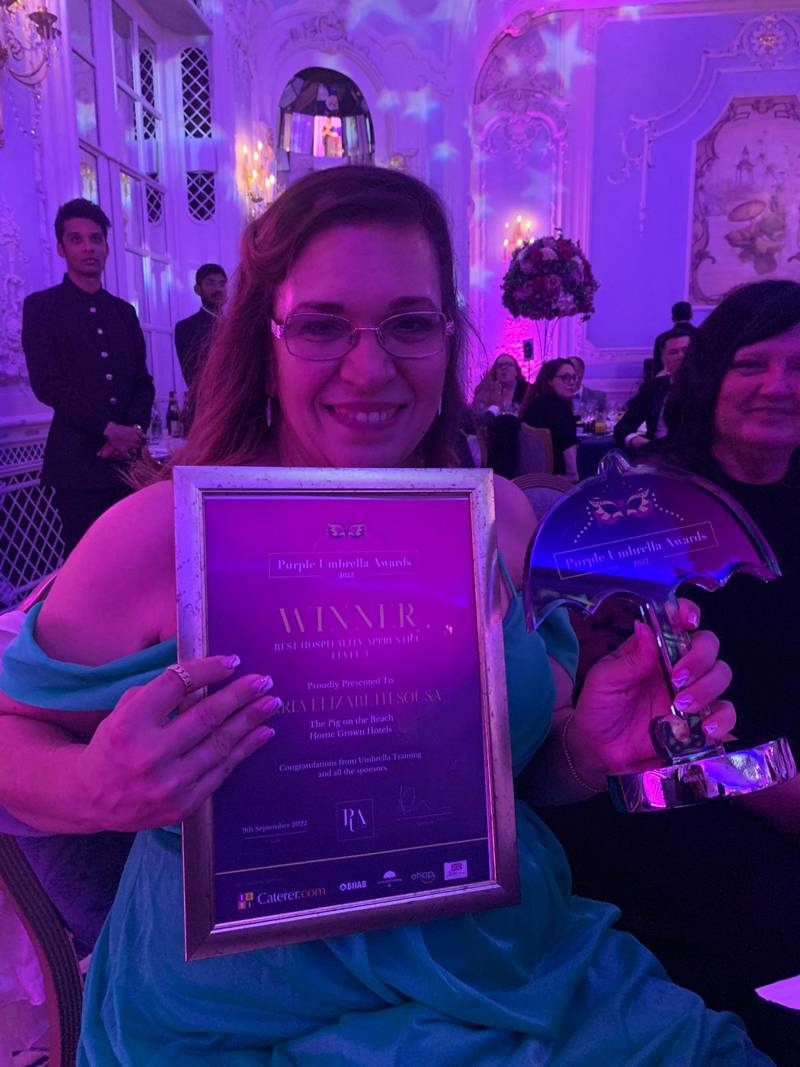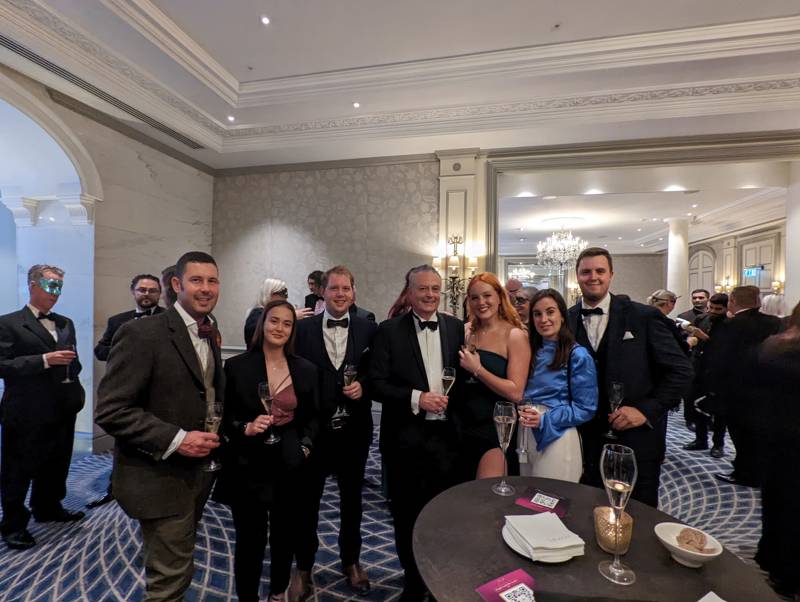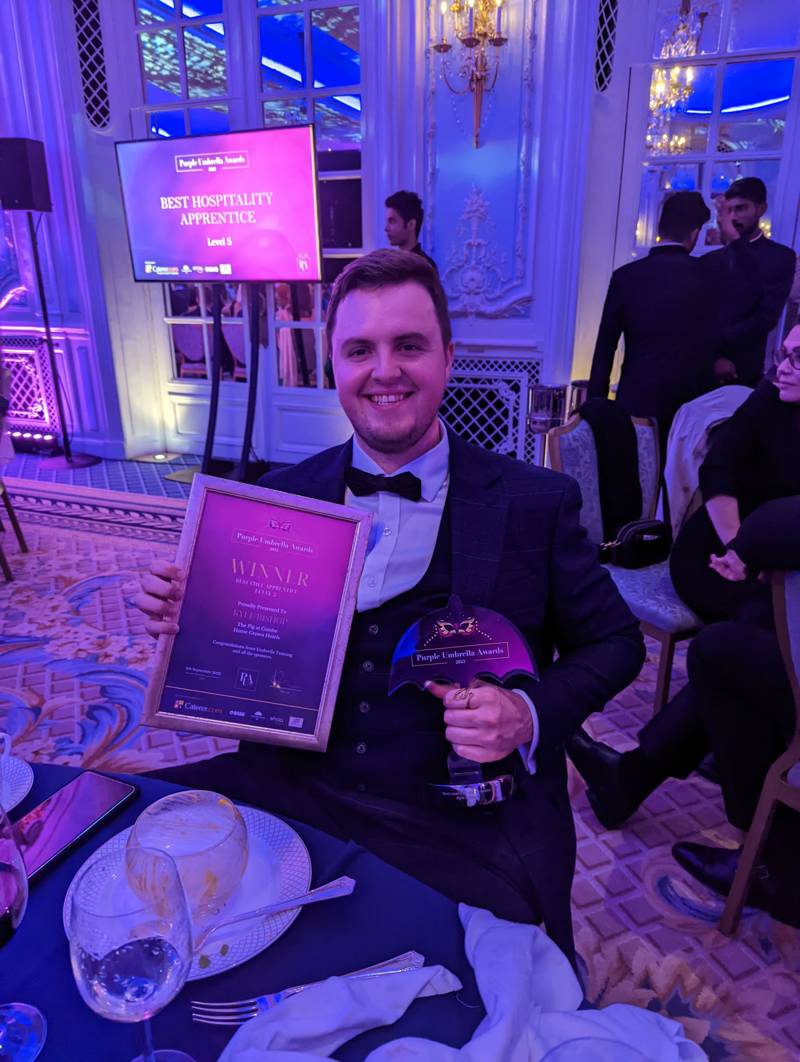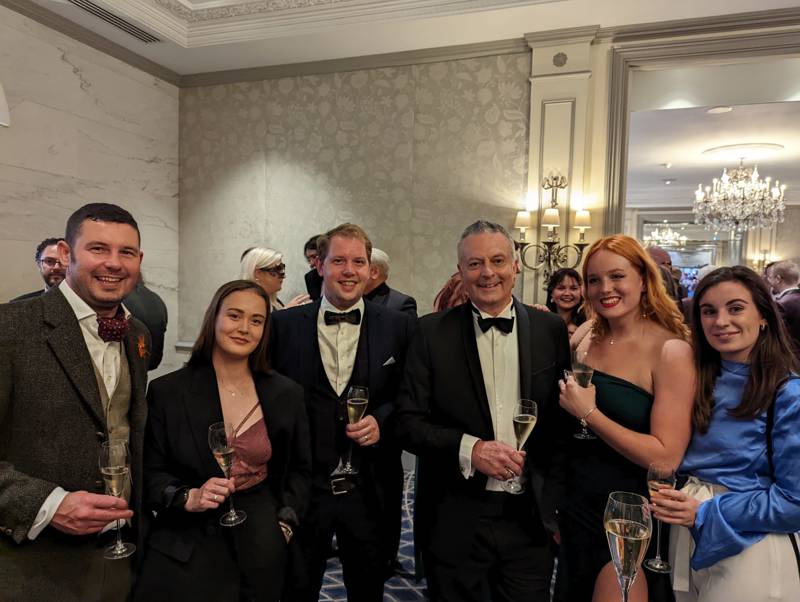 It's that time of year again - the Purple Awards! Hosted by our apprenticeship training provider, Umbrella, who are an industry leader in apprenticeships; the annual ceremony is a celebration of the brightest prospects in hospitality, with over 500 apprentices on their books.
The glitzy event took place last Friday, at The Savoy - which of course, came just a day after news of The Queen's passing.
Many discussions took place the evening before, as to whether to continue with the awards; but after a lengthy debate, it was decided that the show would go on, as it would provide an opportunity to take some time to reflect on the incredible life she led, and pay tribute collectively as an industry, whilst also bringing us all together as a community.
Those of us who arrived a couple of hours early, walked over to Buckingham Palace to pay our respects and stopped in an old English pub on the way back to watch King Charles' first address to the nation - a historical moment we won't forget.
As we trotted into The Savoy, glad rags and all, we immediately noticed the magnificent painting of Queen Elizabeth II - which was unveiled by The Queen herself at Windsor Castle in 2016, to commemorate her 60-year role as the patron of the British Red Cross. It has since been put on permanent display at the hotel.
After a drink's reception, we shuffled into the ballroom to our tables, and a two-minute silence commenced for Her Majesty, before tucking into a 3-course dinner whilst enjoying live music by Vesper - an electric string quartet.
And finally, the moment we'd all been waiting for - the awards presentation. This year across THE PIGs, we had five Apprentices shortlisted in their respective categories... 
Best Commis Chef (Level 2 Kitchen Apprentice): Kyle Bishop from THE PIG-at Combe and Lottie Hicks from THE PIG made up two out of three finalists for this award, alongside an Apprentice for Shepherd Neame Pubs.
Best Chef de Partie (Level 3 Kitchen Apprentice): Nichola Davis from THE PIG-on the beach and Ella Hands from THE PIG-near Bath were both shortlisted, up against an Apprentice for Thyme Hotel.
Best Hospitality Supervisor (Level 3 Front of House Apprentice): Maria Sousa from THE PIG-on the beach, along with 16 other apprentices from Brown's Hotel, CH&Co, Luxury Family Hotels and The Dorchester Hotel to name a few. This has always been by far the most challenging award to win, as Umbrella always receive a huge number of nominations for this particular category.
There were 15 awards up for grabs, and winners were handpicked by a panel of judges, made up of key industry figures and the team at Umbrella.
So, we could not be more thrilled to walk away with three awards! 
Kyle Bishop picked up the award for Best Commis Chef, whilst Lottie Hicks achieved Highly Commended in this category.
"The distance this person travelled on their apprenticeship and their personal growth, increased confidence and passion for the industry is obvious. They are a real success story for apprenticeships, and so humble in their application that the judges felt that they had even surprised themselves with their success." - The Judges 
Maria Sousa was named Best Hospitality Supervisor - our first-ever win in this extremely busy category and our first housekeeping finalist! 
"This winner showed what an all-rounder they are and had been on a journey through the apprenticeship which inspired others along the way. The entry hinted at how the winner was previously discouraged from working in hospitality but in retrospect, hospitality gave them the opportunity and direction they needed in life and work to succeed - and they got there because the industry is a "meritocracy". - The Judges
And Nichola Davis (pictured in the middle, in a fabulous green dress!) received one of seven Purple Awards given out that evening - the Hospitality Passion award. 
"I have learned that you can teach an old dog new tricks." - Nichola's passion for her new role was felt throughout her nomination form. Having left another sector in management after 20 years, Nichola enrolled on a cookery course and soon realised her passion for cooking! This has resulted in Nichola starting her journey as a level 3 apprentice and bringing amazing skills to her employer." - The Judges 
A huge congratulations to our winners, Kyle, Maria & Nichola, and a big well done to Lottie & Ella who achieved Highly Commended in their categories - meaning not one of our five finalists left empty-handed! 
"Our Apprentices are a vital part of the kitchen team and winning these awards confirms just how outstanding they are (but we knew that already!). I'm so proud of their achievements and can't wait to see what the future holds for them" - Lex Bartlett-Woodnutt (Chef Apprentice Co-ordinator) 
Other winners from the night included Apprentices from CH&Co, The Ritz and The Royal Household - the latter receiving a mega cheer and standing ovation from everyone. Lorraine Copes, the founder of Be Inclusive Hospitality, received the Special Award for her work accelerating race equity across the hospitality, food and drink sector - presented by Mark Lewis, Chief Executive of Hospitality Action.